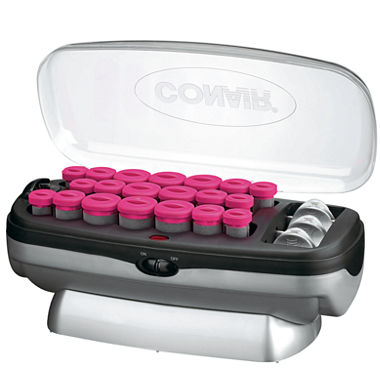 Conair® XTreme Hair Rollers CHV26
web ID: 8642031
Look great with no delay with the Conair XTreme Instant Heat Hairsetter.
super-fast heat-up in just 75 seconds
ceramic technology produces longest lasting curl with hottest roller and clip; clips are heated to provide extra hold
20 flocked rollers include 8 jumbo 1¼"; 6 large 1", and 6 medium ¾"
20 heated clips and stay-cool end rings
Conair XTreme Instant Heat Hairsetter is 400W.
Rated

5

out of

5
 by
sg4ever
Best Hot Roller Set I've Ever Owned !
I've owned so many hot roller sets over the years, and this one is the best I've ever owned. I researched for a hot roller set for hours on the web, and finally decided upon this Conair product. I'm glad I did ~ it is worth every penny!! I have problems with my hair going limp and getting frizzy at times. These rollers take care of both those problems! Trust me on this -- the CERAMIC rollers are worth every penny! And this set offers a variety of sizes, includes alot of rollers, and the entire unit doesn't take up much storage space. Some rollers burn your fingers easily while trying to roll your hair with them; these don't! The coated rollers don't damage your hair like others hot rollers do. I've used mine almost daily for over a year now, and it still looks new and works perfectly. If you purchase this product, you won't be disappointed. I love mine!
October 4, 2011
Rated

2

out of

5
 by
JanCava
Clips are clumbersome. Rollers too small
Hard to visualize the size of hair rollers online but I have hair length just pat my shoulders and all the curlers are too small except the largest size - which are just enough.. I'm basically homebound so I can't get out to show and look in person. They added several other items all loosely packed from somebody elses order (working on that now).
May 1, 2015
Rated

3

out of

5
 by
hrm3789
not for me
First of all I'd like to say I have never used hot rollers before, only velcro rollers, and thought that these would be convenient. I wasn't impressed by the curl that it gave my hair, and the clips left marks in my hair. Also, although having a variety of sizes would seem versatile I would have rather all had one size for a consistent look. I wasn't crazy about the look it gave me, maybe if i had given them more of a chance I could have gotten the hang of it, but alas, I am a woman after all with no patience and will stick to a curling iron.
April 5, 2013
Rated

5

out of

5
 by
ColBookLady
Make sure you unplug when done. Excellent product
Growing out my hair after several years of a short cut due to medical problems brings back the maintenance of longer hair into the daily routine. I did not want to burn the ends of my newly longer hair so I ordered the curlers. Great product. The foam protects the hair from burning. 3 sizes of curlers for convenience, but I find I gravitate towards the medium so I will be ordering extras. Make sure to unplug the appliance when finished per the manufacturer's safety recommendation. The results of the new hairdo - nothing but compliments.
July 18, 2012
Rated

5

out of

5
 by
Bjd24
Love how if heats fast
There should be smaller clips for the small rollers. Other than than I like them a lot
December 31, 2014
Rated

4

out of

5
 by
AidaAlejandra
Extremely Happy with this Product
These rollers let me get up in the morning, and in a matter of twenty minutes, have perfect hair. After they heat up (6-12 minutes), I roll up my hair, leave them on for 15 minutes, and then I remove them. It's great. I have curly hair, and love to wear my hair curly, but I hate product. These rollers give me the best of both worlds. The clips take a little while to get use to, but other than that, no complaints. Best part, you never burn yourself!
April 4, 2014
Rated

5

out of

5
 by
DoubtingDeb
Very nice set!
I am very pleased with my purchase of these hair curlers! Fast to heat, easy to use and curls lasted even overnight! Warning, however! Other reviews state that curlers do not get too hot, but I find that these rollers, like all others, will be uncomfortably warm against your scalp if not rolled properly!
June 14, 2012
Rated

5

out of

5
 by
slowtrtl
Great result that last
I have thick long hair and this product works really well for me! With the price I paid for this, I'm very impressed! It made my hair bouncier and more healthy looking. But where do I get the curlers for long hair for this??
April 24, 2012