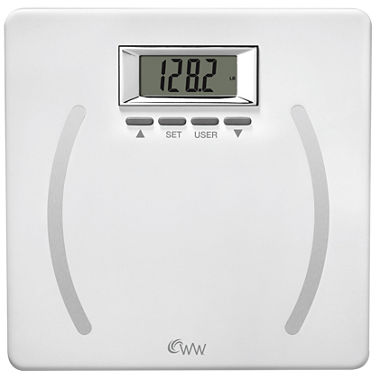 Weight Watchers® Body Analysis Scale
1bb89de
PRODUCT DESCRIPTION
This WeightWatchers® digital body analysis scale includes 4-user memory to help your entire family stay healthy and fit.
monitors body fat, body water, BMI, bone mass and weight
easy-to-read 1.3" LCD display
white with polished chrome bezel
long-life lithium battery included
displays either pounds or kilograms

12x12". Sturdy, impact-resistant plastic platform with stainless steel electrodes. Wipes clean. Max. weight 350 lbs. 10-year manufacturer's limited warranty.
Rated

5

out of

5
 by
Ncslownez
Scale is very accurate!
If you want a scale that is accurate then this is the one for you. I see others saying that it is unstable but I have had no issues with this at all, or the issue that it is hard to turn on either. I have no problems with this scale and have had it for quite some time now. When I weigh myself at home, and then go to the hospital's very elaborate scale it comes out with the same weight so I am positive the scale is accurate.
July 25, 2016
Rated

1

out of

5
 by
Debb
I would not recommend this scale
I bought one scale and you could not tap on the top like it said to get it to come on. I returned that one and bought another. It won't come on properly either. We have learned that if you raise the bottom with your foot and let it drop down, it will come on, but it is an aggravation. Will probably return it too.
December 16, 2015
Rated

2

out of

5
 by
aseel
weight watcher scale
not accurate scale gives three different readings in one minutes
December 23, 2015
Rated

5

out of

5
 by
Bettiru
This product is accurate-WeightWatchers digital body analysis scale
After reviewing many weighing scales, even the expensive ones, I found the reviews on this scale to be excellent with no complaints. After using the scales for the last couple of months, I have found the scales are accurate and easy to operate. It is important for health reasons and psychological reasons to know you are getting an accurate reading when you are trying to get down to a healthy weight. Thank you Pennys for offering this scale. You can always depend on J. C. Penny
August 8, 2013
Rated

1

out of

5
 by
jungkat
Must have gotten the one dud
After reading all the positive reviews, I was surprised to find that the one I ordered refuses to be programmed. Works fine as a scale and I like the slim design, but the other functions just go 'round and 'round and do not let me enter any data. Should return it, but all I really need is the scale function.
May 20, 2015
Rated

4

out of

5
 by
Radichat
The features on this product meets my expectation
I find these scales to be very accurate. The only reason I Haven't given a five star all the way is when anyone in the household step on the scale if you're not very careful it will move under your feet. It's a problem if you don't pay close attention, perhaps it's my hardwood floors, otherwise I would recommend this product...
April 10, 2015
Rated

1

out of

5
 by
dlbs
Unstable
Very unstable tips when you get off the scale unless your feet are in the middle of the scale.
August 21, 2015
Rated

5

out of

5
 by
love2decorate
Easy to learn how to use. good features
I really like the design and looks of this scale. I have tried others but I like the features this scale has. It is also very lightweight which I like because I store it in the closet so I am constantly bringing it out to use.
July 2, 2015