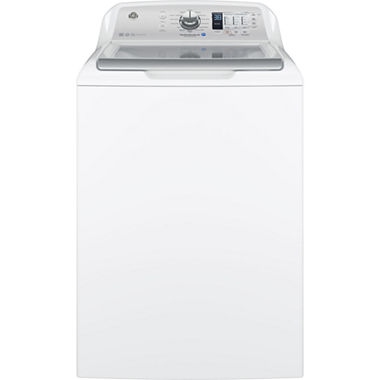 GE® ENERGY STAR® 4.6 DOE cu. ft. Stainless Steel Capacity Washer
pp5006462277
shop matching items
PRODUCT DESCRIPTION
true
This 4.6 cu. ft. DOE stainless steel washer features a stainless steel tilt wash basket to keep even your most delicate clothing from snagging in the wash while the 14 wash cycles optimize settings to customize your cycle for a better clean.
4.6 cu. ft. DOE capacity
14 wash cycles: Active Wear, Bulky Items, Casuals, Cold Wash, Colors/Normals, Dark Colors, Delicates, Drain and Spin, Heavy Duty, Jeans, Sanitize with Oxi, Speed Wash, Towels & Sheets, Whites
stainless steel drum
electronic controls with LED display
spin speeds up to 800 RPM
Sanitize with Oxi removes 99.9% of bacteria with a dedicated cycle that uses an Oxi additive to boost your detergent's cleaning power, while keeping fabrics looking and feeling their best
stain removal guide assists removing tough stains with preprogrammed settings that modify your cycle to treat the four most common stains
warm rinse removes any leftover soap residue
deep fill customize your water-fill levels with just the touch of a button. Add a little extra or fill the tub to wash the way you want
deep rinse removes any leftover soap residue
auto soak loosens stains by soaking up to 2 hours
fill hoses are required for installation (sold separately)
Product Specifications
DIMENSIONS

| | | | |
| --- | --- | --- | --- |
| Capacity | 4.5 Cu Ft | Door Opening Width | N/a |
| Depth (in.) | 27 Inch | Height (in.) | 46 Inch |
| Depth With Door Open | 25 1/4 Inch | Height with Lid Open (in.) | 56 Inch |
| Door Opening Height | N/a | Width (in.) | 27 Inch |
DETAILS

| | | | |
| --- | --- | --- | --- |
| Agitator Type | Infusor | Matching Pedestal Model Number | N/a |
| Amperage (amps) | 120a | Max. Spin Speed (RPM) | 800 Rpm |
| Appliance Series | Not Applicable | Portable | No |
| Appliance Types | Top Load Washers | Programmable Wash Cycles | No |
| Control Location | Back Splash | Rinse Cycles | 1 |
| Control Types | Knobs | Rinse Temperatures | Perfect Temp |
| Cycle Status Lights | Yes | Stackable | No |
| Cycles | 10 | Stacking Kit Model Number | N/a |
| Energy Consumption (kWh/year) | See Energy Guide | Temperature Control Type | Adjustable |
| Features | Balance Sensor, Vibration Reduction, Noise Reduction, High Efficiency, Control Lockout, Auto Temp Control, Energy Star Cert, Top Load | Voltage (volts) | 120v |
| Finish | White With Silver | Wash Cycle Types | Delicates, Whites, Sanitation, Drain And Spin, Normal Wash, Heavy Duty + Bulky |
| High Efficiency | Yes | Wash Cycles | 14 |
| High Efficiency Detergent Required | Yes | Wash Temperatures | Perfect Temp |
| Included Items | None | Washer Dispensers | Fabric Softener, Detergent Powder, Detergent Liquid |
| Interior Finishes | Stainless Steel | Water Levels | 3 |
| Interior Lighting | No | Window In Door | No |
| Matching Electric Dryer Model Number | Dcch480ekww | number of Wash Speeds | Variable |
| Matching Gas Dryer Model Number | N/a | | |
WARRANTY/CERTIFICATIONS

| | | | |
| --- | --- | --- | --- |
| ADA Compliant | No | JCPenney Exclusive | No |
| CEE Tier Qualified | Not Cee Rated | Labor Warranty | Limited 1 Year Entire Appliance |
| Certifications and Listings | Energy Star Certified | Parts Warranty | Limited 1 Year Entire Appliance |
| ENERGY STAR certified | Yes | | |
Rated

5

out of

5
 by
MooMoo
This product has great features!
I was TOO excited when I realized it had a size sensor so I no longer needed to select small, medium and large load. It was also really nice that it allows you to time your cycles. And it looks really great, too! My kids love it!
September 26, 2016
Rated

4

out of

5
 by
jg24k
Love it!
Have not regretted buying this. Reasonably priced and has all the features needed in a good washer. Large enough to do huge loads.
September 26, 2016
Rated

5

out of

5
 by
ThorJ
Quick wash times, large capacity, and cleans well!
This washer was selected based on the 35 to 40 minute full wash cycle and being top load. Most of the other washers out there had wash cycles of well over an hour. It can be slightly noisy when it is sensing and balancing the load at the beginning of a wash cycle, where the water goes on and off and the washer spins and stops several times as a normal function prior to washing. It spin dries so fast at the end of the cycle, it sometimes seems like it is going to shake across the floor, but it stays in place on my linoleum floor. It washes very well and the clothes are fairly dry after the wash from the fast spinning. If there are sheets or towels being washed, on occasion the sheets or towels may twist around other clothing during the spin cycle and end up as a twisted ball at the end of the cycle, but it is not too difficult to untwist and separate. I have been using this washer for 4 months now, and it is amazing. I hope it holds up well past its 10 year powertrain warranty.
June 23, 2016
Rated

5

out of

5
 by
Mainer DIYer
Good Traditional Machine
I purchased this machine a couple of months ago after my 30-year-old one rusted out. It has large capacity for its small dimensions and no-frills choices for wash cycle types. GE is made in America and this machine feels quality in how the lid closes and knobs and push-buttons work. My drain pipe is high off the floor, so I had to order the drain hose extension recommended in the manual which is the only way to go (do not try substitutes). I sawed the original hose that came with the washer in half at the "smooth" area (not smooth exactly but smoother compared to the rest of the hose) and clamped the extension hose in between where I had cut. The nozzle end of the original hose then goes into the drain pipe. Works like a charm. My washer leaked out the back slightly at the top left at first try. However, this issue went away when I leveled out the machine using the adjustable feet.
September 21, 2016
Rated

5

out of

5
 by
tracey
I like how clean my clothes are now.
I went looking around at washers before I picked this one. It it digital push button. You can program your own favorite setting. You can even tell it how dirty your clothes are and what kind of stain. haha I am happy with my new washer.
August 15, 2016
Rated

3

out of

5
 by
jlukondi
Nice features
I've had it since February, and about a month later, every wash results in a very small but noticeable leak from under the unit. A few times I've had to re-spin a load, because certain items at the bottom of the tub were still soaking wet. I never do a full load, so this was strange. I'm also not completely convinced that the agitation does enough to move clothes around the tub. I've spent enough time watching the process to see that some things don't get pulled to the bottom of the pile. It takes (in my opinion) a long time to get the wash actually started - the balancing and weighing process seems to be extremely slow. I distribute clothes evenly, and it does the "test" spins almost perfectly every time, without bumping the inside of the unit. Why does it need to "test" spin 3 times, every time? The dispenser tray seems especially flimsy, and it's inconvenient to have it placed in the back. The alert tones are useless because they're too quiet to hear unless you're in the same room.
June 15, 2016
Rated

5

out of

5
 by
DIY PRO
Great Machine
My wife and I have both been looking for a while for a good quality washer and dryer set, as we had our original set since before we were married. Our Original set was GE and we loved the quality in the brand. We chose this washer as it was a fairly large capacity with a family of 3 girls and constantly washing clothes. The Washer is great and we couldn't be more satisfied. we have used it for a day and I am already impressed with the continued quality of products that GE produces. I like to think that I am an experienced installer as I have installed many washers and dryers for family members and myself in the past. The installation was quick and easy as it only took a few minutes to attach the water inlet lines along with the drain hose. I do recommend using a level to adjust the feet to ensure the motor doesn't get strained due to uneven feet. simply turning the feet clockwise or counterclockwise ensures that the washer sits level and helps with reduced noise and strain on the motor. Overall we are very satisfied with the washer and the matching dryer is a must. Both are great products and would recommend them for anyone with a new home or replacing old units.
September 12, 2016
Rated

4

out of

5
 by
Bether0907
Overall great but...
Bought this almost a month ago after a Whirlpool broke down...again. This is a great machine. Easy to use, gets things very clean and spins out so much water I almost don't need the dryer. It is louder than previous machine but as it's in the garage I don't mind. I have no issues with the preset amount of water or agitation. The only reason I'm not giving it 5 stars is the balance issue. If it can't correct itself it stops which is fine but the error message doesn't stay on long. I wish it stayed on till you redistribute the load. It's only in the last few minutes that this seems to happen but just looking at it, it seems like the load is finished. If you aren't paging attention you have to unplug it to reset everything.
September 17, 2016
pp5006462277
8550484
Protection Plans
true
select all options before proceeding
select all options before proceeding
select all options before proceeding
Questions?
1-844-JCP-APPL
(1-844-527-2775)