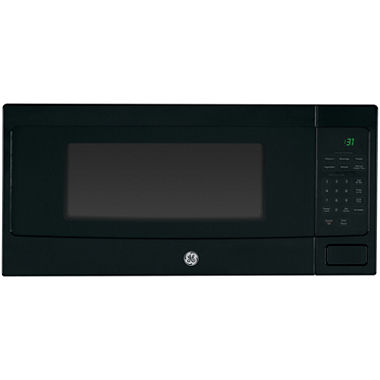 GE Profile™ 1.1 Cu. Ft. Countertop Microwave
pp5006300451
PRODUCT DESCRIPTION
true
Countertop microwave has sensor cooking controls to automatically adjust time and power. There are 10 cooking levels for boiling, reheating and defrosting.
1.1 cu. ft. capacity
800 Watts
add 30 seconds button for reheating
kitchen timer helps keep you on track
turntable on/off
control lockout helps prevent accidental activation
Product Specifications
DIMENSIONS

| | | | |
| --- | --- | --- | --- |
| Capacity | 1.1 Cu Ft | Height (in.) | 12 1/8 Inch |
| Cut-Out Height (in.) | 15 Inch | Max. Air Flow Capacity (CFM) | N/a |
| Cut-Out Width (in.) | 24 7/8 Inch | Microwave Size | 24 Inch |
| Cut-out Depth (in.) | 18 Inch | Turntable Diameter | 10 5/8 Inch |
| Depth (in.) | 12 7/8 Inch | Width (in.) | 24 Inch |
DETAILS

| | | | |
| --- | --- | --- | --- |
| Appliance Series | Ge Profile | Finish | Black |
| Appliance Types | Counter Microwaves | Oven Settings | N/a |
| Convection Type | None | Power Levels | 10 |
| Door Release | Push Button | Wattage (watts) | 800w |
| Features | Timer, One Touch Cooking, Sensor Cook, Clock, Trim Kit Available, Turntable | | |
WARRANTY/CERTIFICATIONS

| | | | |
| --- | --- | --- | --- |
| Certifications and Listings | Ada Compliant, Ul Listed | Labor Warranty | Limited 1 Year Entire Appliance |
| ENERGY STAR certified | No | Manufacturer Warranty | See Written Warranty For Full Details |
| JCPenney Exclusive | No | Parts Warranty | Limited 1 Year Entire Appliance |
Rated

3

out of

5
 by
alsanity
why the different hanging brackets?
This is the third space saving ge microwave that I have bought since 1987 when I remodeled my kitchen which I hung under my cabinet to save counter space. This one they changed the configuration of the hanging brackets so you would have to buy a different set to hang it! Why? The size is the same it must be so they will sell you another bracket set and you will have to drill more holes in your cabinets or is it just the money? Being a hobbyist machinist I modified the old brackets to fit (I did have to drill different set of holes in the bottom of my cabinet to line up the screw holes-they offset the hanging plug holes on the top of the unit)but it is in and secure and only took me a few hours and some swearing but it is done. The only reason I buy this unit is because I can't find another unit that mounts under the cabinet without a built-in shelf to have the unit sit on. Overall I get enough use out of the unit (in years) to keep me coming back even though the features have not changed but they are all basic and enough for me.
July 17, 2016
Rated

5

out of

5
 by
CajunHugh
Fit's Perfect
I ordered this unit to replace my Hotpoint microwave. I ordered this particular model because I needed an under cabinet mounted unit. 2 of the previous hole matched perfectly according to the template, so i only had 2 new holes to drill. I am by myself so had to figure out how I could install it by myself. I used my set of encyclopedias to hold the unit up and they were an excellent choice in that I could use the different volumes to get the correct height. After that, it was a breeze. Just a note, I'm 67 years old and a Cajun, proving that we can fix/install just about anything.
September 15, 2016
Rated

5

out of

5
 by
Michael M of Tulsa
Works Good
I bought this GE Microwave oven in March 2016. It has been a good replacement to it's GE predecessor (which we also liked). At the time we purchased the oven, the dimensions provided were incorrect. Those dimensions were given as 24 x 12-1/8 x 12-7/8. We thought we would have to make a major alteration in our cabinet to install it. Upon receipt, we only had to cut some grooves, about 1/8" deep and the oven fit without further work.
September 12, 2016
Rated

4

out of

5
 by
HomerOdysseyFamily
Powerful!
My nearly 30 year old GE Profile microwave gave up the ghost. I wanted the same one again. This is the updated model. It is a little longer, so it takes up more of my counter space. It is a little more powerful, so cooking time is less. It is hard for me to see and read and push the buttons due to old age failing vision, but I can manage. It fits my dinner plates. The turn table is good. The salesman said it would last 10 years. I plan to last longer, so I hope the microwave does, too! It looks nice and works good. It is basic, which is just what I need.
September 6, 2016
Rated

4

out of

5
 by
Fred64
Perfect size
I liked the earlier version of this microwave for about 5 years until it died. For our tight space these models are the best fit. I don't see much beyond that to justify the price premium compared to other microwaves. Although the keypads look similar the new layout and functions are different than before. Some things require more keys. For example we were able to simply hit reheat and it would reheat. Now You hit reheat, select a number then hit start. I also notice this unit is not as quiet as the previous unit it clunks and rattles a bit louder while cooking. Some features are a little better, like the ability to turn off the turntable. All in all it works fine and food is heated evenly. One issue for me is the timer function. The old unit would alarm until you shut it off. Not so with this unit. So unless you are within earshot, you miss the alarm. I overflowed my pool one day discovering that.
June 13, 2016
Rated

5

out of

5
 by
tomtue716
perfect fit
Fits in perfectly with our kitchen décor. Very functional and easy to operate.
September 9, 2016
Rated

5

out of

5
 by
tomtue716
perfect fit
Fits in perfectly with our kitchen décor. Very functional and easy to operate.
September 9, 2016
Rated

3

out of

5
 by
Pabbird
Nice under cabinet microwave.
Like that we don't have on counter that we installed under cabinet. Have the same features as our 23 year old that we had before this one. Hope this one last as long. The only bad thing is we can't see the numbers to press very well. It needs a back light. I have to get a flashlight to tell where the 30 second or 1 minute etc buttons are. We actually went back to store to see if this needed to be sent back to be fixed. We were told that's how they are made now. Very disappointed in this product.
August 29, 2016
pp5006300451
8630164
Protection Plans
true
select all options before proceeding
select all options before proceeding
select all options before proceeding
Questions?
1-844-JCP-APPL
(1-844-527-2775)