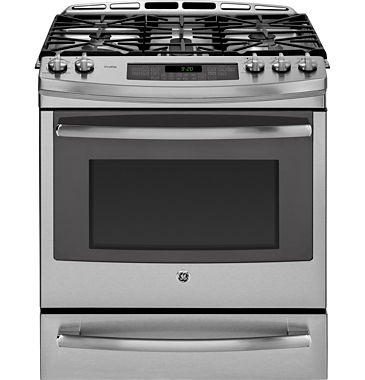 GE Profile™ 30" 5.6 Cu. Ft. Slide-In Gas Range with Warming Drawer
pp5006332282
PRODUCT DESCRIPTION
true
GE® Profile™ series offer the best in contemporary design matched with the latest in technology to fit all of your family's needs.
5.6 cu. ft. oven capacity
electronic touch control panel
20,000 BTU Tri-Ring burner
stainless steel, deep-recessed cooktop contains spills for easy cleaning
precise simmer burner provides low, even heat distribution for delicate foods and sauces
fast preheat means less time preheating
built-in warming drawer keeps dishes warm while others cook
heavy duty, self-clean racks stay in oven during self-clean cycle
Product Specifications
DIMENSIONS

| | | | |
| --- | --- | --- | --- |
| Capacity | 6.8 Cu Ft | Depth (in.) | 29 3/8 Inch |
| Cooktop Size | 30 Inch | Height (in.) | 39 1/4 Inch |
| Cut-Out Height (in.) | 39 1/4 Inch | Range Size | 30 Inch |
| Cut-Out Width (in.) | 30 Inch | Width (in.) | 30 Inch |
| Cut-out Depth (in.) | 29 3/8 Inch | | |
DETAILS

| | | | |
| --- | --- | --- | --- |
| Amperage (amps) | 15 | Cooktop Surfaces | Deep Recessed |
| Appliance Series | Ge Profile | Downdraft Exhaust | No |
| Appliance Types | Gas Ranges | Electric or Gas | Gas |
| Application Type | Residential | Features | Not Applicable |
| Broiler Location | Oven | Finish | Stainless Steel |
| Burner Grate Type | Cast Iron | Fuel Type | Gas |
| Burner No.1 BTU | 11000 | Ignition Type | Electronic |
| Burner No.2 BTU | 20000 | Included Items | Lp Conversion Kit |
| Burner No.3 BTU | 9100 | Installation Type | Slide-in |
| Burner No.4 BTU | 5000 | Interior Lighting | Yes |
| Burner No.5 BTU | 10000 | Number of Burners | 5 |
| Cleaning Type | Self Cleaning | Number of Ovens | Single Oven |
| Color of Cabinet | Black | Oven Convection | Yes |
| Color of Handles | Stainless Steel | Oven Racks | 2 |
| Control Location | Front | Oven Settings | Dual Broil, Convection Bake, Convection Roast, Sabbath Mode |
| Control Types | Glass Touch | Power On Indicator Light(s) | No |
| Convection Type | Convection | Voltage (volts) | 120v |
| Cooktop Features | Continuous Grates, Indicator Light, Lp Convertible, Built-in Timer, Sealed Burners, Digital Display, Griddle | Window In Door | Yes |
WARRANTY/CERTIFICATIONS

| | | | |
| --- | --- | --- | --- |
| ADA Compliant | Yes | JCPenney Exclusive | No |
| Certifications and Listings | Not Available | Labor Warranty | Limited 1 Year Entire Appliance |
| ENERGY STAR certified | No | Parts Warranty | Limited 1 Year Entire Appliance |
Rated

3

out of

5
 by
Val Q
So so
Love cooking in it. But within 3 months of purchase the oven bulb went off, after using the oven about 4 times. The bulb isn't easily accessible, it's behind a glass that's screwed in. The manual said before changing the bulb to turn off the electrical power (?). It's a gas range. I don't remember it to be connected to an electrical power. If not turned off, I could get electrocuted, it said. Since I'm electronically challenged, im of course afraid to touch it. And it's quite silly to hire someone to change a bulb. So I'm without a bulb for a few months now. If I have to buy again, I may prefer the smudge proof one as this one constantly needs to be wiped off. At the time of purchase, in January 2016, I was told by the agent that GE does not carry a smudge proof finish. A month or two later, a new GE smudge proof line came out. The first disappointment really came when it was delivered. The warmer drawer had two long deep scratches on both (front) sides of the drawer. They did replace the warmer drawer a couple of weeks later.
July 27, 2016
Rated

3

out of

5
 by
RAJEA
Well ... at least it's pretty.
LOVE the look of this range, but the touchscreen lacks responsiveness. It can take up to a second to respond and sometimes requires 3-5 taps to get it to take our entry. Worse when dirty, like while cooking, but even when clean. The oven cooks inconsistently. Things burn on the bottom even when the pan is on top, so we have to adjust our cooking times down and check repeatedly as we near completion. Even then, rarely do we have browning on top AND bottom ... it's always darker on bottom. Normal Bake vs. Convection oven setting doesn't seem to do anything different. Everything still burns on the bottom, though by using two racks, and swapping the places of the food (which can be a pain), it seems to help. Love the 5 burners! The Timer Set button is a pain because you have to press it (which doesn't always work) then enter the time, then press START, not the Timer Set button again - which we invariably do because START is also for the OVEN. So we end up turning OFF the Timer accidentally. That has resulted in some burned food, too. The GE microwave works like this so it seems the range would work the same way. Just so unintuitive that even at the 6 month use mark, we still mess up. Burners are almost more powerful than we can handle! Would give it a 3.8 if I we could. Would still recommend it with these things as long as people know what they are getting into.
September 19, 2016
Rated

5

out of

5
 by
DELLIS
Great Product
I've only been using this new range for a few days, but love the quality. The reversible griddle is really heavy and easy to clean. I like the multiple burner options and the convection oven. Overall, I am glad I opted for this product over the more expensive options. This is perfect for my cooking style.
September 20, 2016
Rated

3

out of

5
 by
Bikash
Very hard for cleaning and maintenance
I bought this product hoping that the stainless steel surface would be easy to maintain. GE has used very low quality steel and it is very easy to scratch the surface while cleaning.
September 20, 2016
Rated

4

out of

5
 by
Hardrock
Gas vs Electric
We just had the stove installed (bought the same model but in Canada) and previously had a standard electric coil stove. I was excited to try gas for the first time and made boiled eggs this morning only to realize that the handle of the pot got too hot to remove the pot without an oven mitt. My kettle handle also got too hot. I made sure the element was not larger than the bottom of both so am quite surprised about this fact, never read anywhere when I was researching that this is the case. In comparison as well, our 13 year old coil electric stove boiled water much faster. It looks great, I guess it will be a learning curve I will get used to, have to get up earlier now to make my breakfast before work!
August 25, 2016
Rated

4

out of

5
 by
GalleyKitchenGuy
Great oven
We used it for thanksgiving. Griddle is awesome. The flexible burner on the left (small, vs. large vs. power boil) is an excellent feature. The oven probe we noticed didn't work if the oven was already hot. The controls keep saying "insert probe", but it is inserted into the oven wall's socket. oh well. minor issue. Baking pizzas and pies and cookies..all comes out perfectly browned all all sides. MUCH improved over our old, conventional gas oven. The oven knobs do NOT get hot, nor melt (as on previous models I read from GE). YAY! The control pad is glass and has a few microsecond delay. not sure if that's by design, but it's not responsive like a smartphone's touch screen. A little annoying until you get used to it. Wish that were customizable as I could see some cooks wanting the delay because if it were too sensitive, brushing up against it might change things on you accidentally. The control lock on the controls in order to clean it is an EXCELLENT idea. Glad you thought of that GE!
December 6, 2014
Rated

4

out of

5
 by
Ace3
Nice Look
Unit looks and works great, but be careful that heavy grates can scratch the stainless steel easily.
September 20, 2016
Rated

3

out of

5
 by
Mheiser333
Good stove but few issues
The look of the stove is nice and the gas elements work well however the touch pad controls are VERY sensitive!! You can just run your hand across it and it turns on the stove. Needs to definitely be fixed for future models. Also after having the stove for 8 months I started to get an F76 error code. When researching online apparently this happens and its an issue with the control panel and will continue to happen if not replaced. Approximate cost to fix is $600 when out of warranty. Mine was still under warranty however when I called GE they insisted that I just unplug it and that would fix the issue it did not. Service person is coming but we shall see.
August 24, 2016
pp5006332282
8630747
Protection Plans
true
select all options before proceeding
select all options before proceeding
select all options before proceeding
Questions?
1-844-JCP-APPL
(1-844-527-2775)