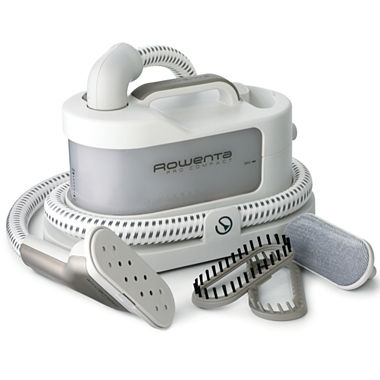 Rowenta® Compact Garment Steamer
web ID: 8010512
This compact powered steamer from Rowenta® makes it easy to look your best anywhere, anytime.
ready to use in just 2½ minutes
provides a high and wide steam diffusion
includes a 360° swivel base with cool-touch fabric hose, upholstery brush, lint pad and crease attachment
33-oz. water tank
1400W power. UL listed.
Rated

2

out of

5
 by
DFWTX
Steam did not come out the right spot
The design is great. It's light and compact. The hose is long enough to maneuver around with ease. It has a compartment where you can tuck in the cords. It's great in every way on the design. The first use was for 5 shirts. It was awesome. Everything went smoothly, until two days later. The steam did not come out at the steaming part. Instead it comes out at the base. I take the hose off and put it back on again, it still doesn't work. I checked and made sure that it is attached correctly. The steam still did not come out at the correct place. It all leaked out at the base. I will RETURN this for sure. Too bad it was a great design...
July 2, 2015
Rated

3

out of

5
 by
MaptheWorld
Dripping
I would have given a better rating except for the fact that there is too much dripping water when steaming articles. It does heat up quickly and does a fairly good job considering the price. But I don't like an iron that drips water and the same with this steamer I don't like it dripping water on what I'm steaming.
July 20, 2015
Rated

4

out of

5
 by
Malani
It is good 4 home user
It is good 4 home user, I chose it because it was relatively small . It made in China not German. And I think the design of the machine can be better.
May 6, 2015
Rated

1

out of

5
 by
Cynth8
JCP shipped me a used one
I've been waiting for this thing that I ordered online a few weeks ago, I finally received it tonight via UPS. It came in a cardboard box, with the product in it's box inside (bottom of product box opened#, I noticed immediately that it appeared used. The bag that wrapped the main unit was torn and dirt, there were dirty finger prints all over it and then I found a small broken piece of plastic off the bottom of the unit. I will take it back to the store tomorrow and hopefully the next one #I still need one) will be new.
November 27, 2012
Rated

5

out of

5
 by
happy1daughter
This steamer is saving a lot of time and money
I got this for my daughter as a Christmas gift. She didn't ask for it, I just thought it might save time on ironing her bussiness shirts. She has let me know how much it has saved her in time and money. She can steam her shirts and out the door even before her iron would be ready to start ironing. The money part was for not having to take so much to the dry cleaners just for a press, her steamer does that.
January 16, 2013
Rated

5

out of

5
 by
lukwai
IMPRESSIVE
I recieved this steamer today.I started with a wrinkled denim jacket and then went to a new cotton tee that was creased from being folded for a while.I was extremely impressed how all the wrinkles came out.Tomorrow I'm doing my micro fiber couch.The pillows have no zippers and I'm sure the steam will refresh the fabric.I would highly recommend this steamer and the price was right.
May 14, 2010
Rated

5

out of

5
 by
gbabbott
This product is so easy to use
I bought this yesterday at my local JC Penney store. I couldn't be more pleased. It is light weight and really has the steam power. I used it on a shower curtain I just purchase and it took out all the fold lines and wrinkles in a snap. I will probably never iron again since I have my Rowenta garment steamer!
May 1, 2014
Rated

3

out of

5
 by
dimples2300
Ok product
I used this product in my bathroom to steam wall paper off the wall. Maybe it is not hardy enough for that. The hose is popping off of the connector. I can duck tape it, but I have only had it for 2 weeks. The on and off button will be the next problem, it is plastic and feels someone cheap. The rest of the unit is quite sturdy but I am wondering how long it will hold up.
March 20, 2013