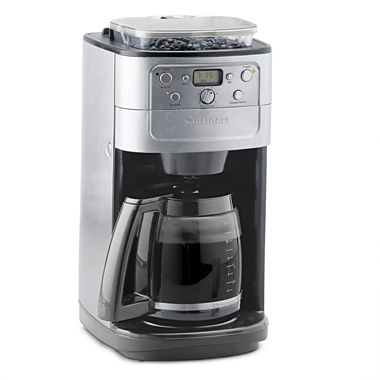 Cuisinart® Grind & Brew™ 12-Cup Automatic Coffee Maker
web ID: 7806037
Bring the fresh flavor of your neighborhood coffeehouse right into your own kitchen with the Cuisinart Grind & Brew coffee maker.
special burr grinder automatically grinds beans right before brewing for freshest taste
charcoal water filter helps remove impurities for great-tasting coffee
strength selector and grind control to choose flavor intensity and quantity from 2 to 12 cups
gold-tone commercial-style permanent filter
brew pause; enjoy a cup while coffee is still brewing
adjustable auto shutoff
glass carafe makes it easy to see how much coffee is left
10⅝x8½x16⅜"H. Imported.
Rated

3

out of

5
 by
Coffeeholic
Makes the best coffee...until it doesn't
I had this coffee maker for about 2 1/2 years. Its integrated hopper means you add the beans once a week and you're ready to go. The burr grinder releases amazing flavour, but you have to be very careful not to let water go into the grinder when you are filling the reservoir, a design flaw. Sadly, the front-facing door that holds the filter stopped started opening in mid-brew and eventually would no longer remain shut, so we had to throw it out. Maybe that was just bad luck... I may still buy it again, the taste was unbeatable.
November 7, 2015
Rated

5

out of

5
 by
Suzie
Love this coffee maker
This coffee maker has been making great coffee for us since 2008. We have had no problems with it whatsoever. The coffee tastes delicious and fresh because the beans don't get ground until you use it; and the thermal carafe keeps it tasting fresh, because the coffee stays hot without getting baked. You definitely should try to keep the chute clean. Every time we fill the grinder, or every other time, depending on how oily the coffee beans are, we pull off the coffee bean bin, and brush out the chute. The grounds from oilier (darker) beans really stick together sometimes and I think if we didn't do that, the grounds would tend to compact and cause problems.
October 18, 2015
Rated

5

out of

5
 by
Jbuckle
Keeps the fresh coffee flowing
Very convenient machine, tuneable to your desired strength of coffee. Minor maintenance required- bi weekly cleaning of the grind chute-no biggie. Looks sharp and works. Best coffee maker I've had yet.
November 8, 2015
Rated

1

out of

5
 by
RONALD
i MADE 4 POTS OF THE BEST COFFEE, THE GRINDER STOPPED. NO MORE COFFEE
August 19, 2015
Rated

1

out of

5
 by
rcmp
USE A TRAY
We are on our second machine after the first leaked frequently, without warning and without any appreciable reason. We sent it back and in due time received a new machine, which now also leaks. It leaks more frequently when we load ground coffee than using beans but can go 4 or 5 times without a problem then leak for the next several uses...or not! It makes good coffee but we lose a lot in the tray that we now rely on.
July 30, 2015
Rated

5

out of

5
 by
Lois V
Excellent machine!
We are very pleased with this particular model vs the older version. They've done a good job of completely separating the water reservoir from the grinder so there is no build up of grounds due to moisture or condensation. I had received another one that we barely used but stopped drawing water, still under warranty. I simply returned to to the manufacturer without any hassle was replaced. Well done & highly recommended.
August 7, 2015
Rated

5

out of

5
 by
Coffeelover1
Can't Live Without It!
We have had this coffee maker for about 8 years - we use it everyday of the week - it's also gone through several adult parties as we like to entertain and have a large family and a few teenage kids parties and after prom parties where it's probably made 8 pots of coffee in a row without fail. It faithfully woke my daughter up at 6:30 every morning as she slept on the main floor :) That was her only complaint - the noise it made. However, the lovely fresh brewed coffee highly outweighs the noise. You'll need to make a few pots of coffee with it before you get the right strength control. But when you get it to where you like it, you'll never go back to a regular coffee maker. You'll also want to play around with different types of coffee. We are pretty particular and this coffee maker has not let us down no matter the type. My husband and I will never buy another type! Best ever.
May 26, 2014
Rated

2

out of

5
 by
Garpy
No Longer Happy
We had one of these units for aprox 8 years and used it everyday. I made a mistake of trying to clean it out with CLR and it caused a leak so had to buy a new one. SAME one of course. This new one is terrible. The chute has to be cleaned out for every use as it get plugged up unlike the first one which was not often. The WORSE problem is that this one randomly leaks half or more of the coffee onto the counter-top causing a huge mess and NO COFFEE. After 8 years of using the other one no-one can say we don't know how to use it. This one is clearly a faulty machine or they have changed the design somewhere I would no longer recommend this product. I have had enough and will be looking into a new one (different brand though I'm sure)
January 3, 2015
$4.95 oversized item surcharge

An oversized item surcharge may apply to some heavy or bulky items due to size, weight or special handling required. This item surcharge is in addition to standard shipping rates.