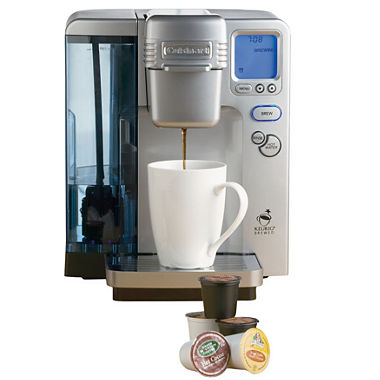 Cuisinart® Single-Serve Coffee Maker
web ID: 7806040
At the touch of a button, enjoy a hot beverage in under one minute with this single-serve coffee maker, perfect for people on the go.
hot water button for instant coffee, tea or cocoa
rinse control instantly cleans inside of brew chamber to keep every cup as delicious as the first
extra-large removable 80-ounce water reservoir eliminates the need for frequent refills
adjustable brew size including iced beverage setting allows you to choose from 5 cup sizes
includes My K-Cup® reusable coffee filter, 12 Keurig® K-Cups starter variety pack and charcoal water filter
1025 watts. Metal/stainless steel/plastic. Measures 10.25x13.5x12.10"H.
Rated

5

out of

5
 by
coasterwoman
This coffeemaker is the bomb!
This coffeemaker is the bomb! Worth every penny! You won't be disappointed.
November 24, 2015
Rated

4

out of

5
 by
Faith
Excellent, full-featured machine
I go this for Christmas in 2013. I use filtered water in the reservoir and I have had no problems with it. Everyone thought I was NUTS for wanting one, and now everyone in the family uses it. Not only for coffee, but also tea, cuppa soup, hot chocolate, and whatever else we can think of. The ONLY complaint that I have is that this thing is FULLY programmable - so why not allow the temperature to be raised to higher than 192 deg.? Why not 201, for better black tea and coffee outside of K-pods? I can see having the default set lower, but why not allow a higher temperature with a warning if your legal department requires it. That option would make it the perfect machine. Otherwise, I LOVE IT. I like that I can set the defaults to my preferences, and still modify on the fly for those times when I need a change - smaller cup, lower temp for herbal tea, changing the times for energy saving shut downs at night. I like that I can do a quick rinse before making tea after brewing coffee, and go straight into tea mode by pressing the hot water button without having to lift the lid first. So many useful features.
August 27, 2015
Rated

5

out of

5
 by
LongIslandDad
Better than my Breville
After four years, my beloved Breville K-cup machine pump is working intermittently, so I replaced it with the Cuisinart model. While the Breville's design is more sleek, the Cuisinart design is quite attractive and has a classic appeal. The Cuisinart model features delighters such as: hot water dispensing and a water filter. I am generally not a fan of its blue backlit screen, for it is harder to read than a white backlit screen, but that is a trivial point. The unit heats more quickly than my former Breville and appears to be working as advertised. The Cuisinart, like the Breville, boasts a quality feel. Given that Breville discontinued its k-cup machine, I believe that the Cuisinart is a superior replacement overall with more features, a competitive price and an attractive design to boot.
October 8, 2015
Rated

4

out of

5
 by
Hippo53
Operational Time
Bought this Four years ago. About amonth ago it started acting up and finally today it took forever to get a cup of coffee. I descaled it every month, so I guess that is why it lasted for four years. I was very happy with it while it worked.
September 22, 2015
Rated

5

out of

5
 by
W8out
Great machine
We got our Cuisinart approx 3-4 yrs ago and have probably brewed between 14000 - 16000 cups of coffee. We don't use tap water (bottled only), and have de scaled maybe 3 times. Sorry to say that it is on its' last legs though but we will replace with same model. :)
September 2, 2015
Rated

5

out of

5
 by
JS1977
Best Quality Brewer on the Market
I bought this model in October 2010 after going through two Keurig Platinum brewers, and it's still working. The first Keurig Platinum was replaced under warranty when it was less than a year old. The replacement one was barely used and also failed in under a year. So I bought the Cuisinart. It's starting to pump water slowly and makes some funny noises now, but I can't complain as it's almost 5 years old. Definitely worth the money! You get what you pay for.
August 21, 2015
Rated

5

out of

5
 by
Mack01
LYK BARBERRY I LYKD SO MUCH I BOUGHT A 2ND ONE!
OH MY WORD! I HAVE HAD SEVERAL VERSIONS OF THE KEURIG -- THE PERSONAL SIZE, THE K12, THE K65 AND THE PLATINUM SERIES.....I KEPT SELLING ONE MODEL AND UPGRADING TO ANOTHER....AND WHILE I FOUND NOTHING REALLY WRONG WITH ANY OF THEM THEY JUST DIDNT 'FEEL RIGHT'.....FINALLY I REALIZED IT WAS THE SHAPE OF THE KEURIG.....TOO MANY CURVES, TOO MANY PROTRUSIONS.....MAN OF MAN BUT THIS IS A CLASSY MACHINE! SLEEK, SILVER, BEAUTIFUL PROFILE -- NOW THAT WE HAVE THE AESTHETICS OUT OF THE WAY LETS TALK BRASS TACKS! SOOOO MANY FEATURES! I LOVE THE OPTION OF 5 CUP SIZES, HOT WATER FEATURE, LARGE RESERVOIR AND THE MY K-CUP -- IT EVEN HAS A HIDDEN PANEL ON THE SIDE TO HOUSE YOUR MY K-CUP --THAT WAY ITS OUT OF SIGHT BUT YOU ALWAYS KNOW WHERE IT IS! THIS MAKES - IN MY OPINION - A MUCH BETTER CUP OF COFFEE THAN ANY KEURIG I HAVE OWNED AS WELL AS IT JUST LOOKS DARNED NICE ON MY COUNTERTOP! I LIKE THIS ONE SO MUCH I BOUGHT A SECOND JUST IN CASE SOMEWHERE FAR, FAR DOWN THE ROAD THE FIRST ONE DIES OUT -- FROM FREQUENT USE!! LOL -- .....DONT WAFFLE ON THIS ONE! BUY IT!
September 17, 2014
Rated

2

out of

5
 by
Golfinmomma
In love but disappointed
had machine for a year and a half, and I loved it, even bought one for my sister for Xmas. Sorry I did as I gott up in morning and turned it on and it just made a grinding noise and leaked out all the water that was in it. Ruined the table it sat on and floor was covered in water.
August 3, 2015
Product Q&A
Ask your questions. Share your answers.
1 month, 1 week ago
by
Fort Worth, TX
How often do you shop at JCPenney? 
Occasionally
0
out of
0
found this question helpful.
Was this helpful?
helpful
0
unhelpful
0
http://answers.jcpenney.com/answers/1573/product/259512/question/2446257/undohelpfulness.djs?format=embeddedhtml&sessionparams=__BVSESSIONPARAMS__&return=__RETURN__&innerreturn=http%3A%2F%2Fanswers.jcpenney.com%2Fanswers%2F1573%2Fproduct%2F259512%2Fquestions.djs%3Fformat%3Dembeddedhtml%26scrolltotop%3Dtrue%26expandquestion%3D2446257&user=__USERID__&authsourcetype=__AUTHTYPE__&submissionparams=__BVSUBMISSIONPARAMETERS__&submissionurl=__BVSUBMISSIONURL__
Answers
Answer: 
I have this machine (love it) if you remove the silver tray there is a black tray underneath (to give you more room for taller cups) it measures 7" .. So you could use a cup/tumbler up to 7" tall..I hope this helps.. For what it is worth I love this Coffee Maker extremely durable..Mine is 4-5 years old and still works perfectly and we use it alot on a daily basis..
1 month ago
by
Nevada
How often do you shop at JCPenney? 
Frequently
0
out of
0
found this answer helpful.
Was this helpful?
helpful
0
unhelpful
0
http://answers.jcpenney.com/answers/1573/product/259512/answer/2432922/undohelpfulness.djs?format=embeddedhtml&sessionparams=__BVSESSIONPARAMS__&return=__RETURN__&innerreturn=http%3A%2F%2Fanswers.jcpenney.com%2Fanswers%2F1573%2Fproduct%2F259512%2Fquestions.djs%3Fformat%3Dembeddedhtml%26scrolltotop%3Dtrue%26expandquestion%3D2446257%26expandanswer%3D2432922&user=__USERID__&authsourcetype=__AUTHTYPE__&submissionparams=__BVSUBMISSIONPARAMETERS__&submissionurl=__BVSUBMISSIONURL__