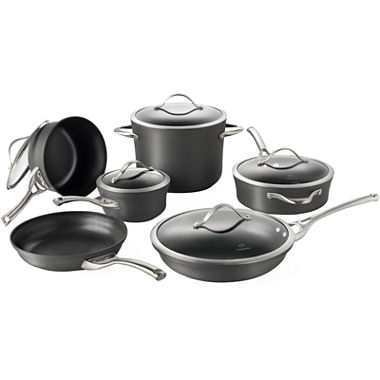 Calphalon® Contemporary 11-pc. Nonstick Cookware Set
web ID: 7823900
With this complete 11-pc. nonstick cookware set, you can make everything from omelettes to spaghetti and more. The heavy-duty aluminium pans provide long-lasting durability and ensure high-quality cooking.
heavy-gauge aluminum for even heating
multi-layer nonstick coating for lasting release
oven safe up to 450ºF
stay-cool, brushed stainless steel handles
11-pc. cookware set includes:
1½-quart saucepan with lid
2½-quart saucepan with lid
3½-quart saucepan with lid
8-quart stock pot with lid
10" omelette pan
12" omelette pan with lid
Aluminum. Dishwasher safe. Imported.
Rated

1

out of

5
 by
Rhonda Spontak
Not so good!
I have had this product for several years, and after taking care of these pots and pans as directed, the finish is coming off the inside of all of them. The bottom of the interior is pealing away and is very flaky. I've had a few of them replaced and it still keeps happening. Haven't lasted but maybe 6 months.
November 14, 2015
Rated

3

out of

5
 by
Laura
Disappointed
I originally liked this set of pans and was taking good care of them always waging them by hand. However, since it says they can be put in the dishwasher, I tried it and now the finish seems to be coming off and they look awful. They apparently are NOT dishwasher safe.
November 12, 2015
Rated

5

out of

5
 by
ajhphoto87
Amazing so far!
We got this set as a wedding gift and have only been using it for about 3 weeks, but so far using these to cook with have been amazing! A little spritz of oil goes a LONG way and cleaning them is a breeze. I like a nice heavy pan when I cook and these are perfect.
September 15, 2015
Rated

5

out of

5
 by
Babyjazz
Cookware
Awesome product would recommend to anyone that wants to buy cookware
October 15, 2015
Rated

5

out of

5
 by
Randi442
Never Knew What a Difference Good Cookware Makes
When my second husband and I got married several years ago, we registered for Calphalon cookware and Wusthof knives. Although we didn't receive any as gifts (it was a pretty small wedding), we decided to treat ourselves by buying this set. Both of us had used medium-grade cookware before (not the grocery-store stuff) - but what a difference the Calphalon made. Both of us like to cook, and the quality of our cooking has improved tremendously because of this cookware! In addition, it is just more fun to cook using quality products! We are so glad we decided to invest in this set (and we have added other pans to the set over the years). My husband was determine to learn how to make omelets, flipping them in the air, after our first cruise. Now, any time we are going to one of our timeshares where a full kitchen is available, he insists that I bring the omelet pan (we finally bought a second one that just stays in the suitcase)!
November 20, 2014
Rated

3

out of

5
 by
jenikat
Sturdy but not invincible to regular use
I was excited to buy this set because of their lifetime warranty. I spent $1,000 for a complete set. I was surprised they did not last as long as I thought they would. It was only a few years before there were problems.  All my pots and pans have had issues even though I have followed instructions washing them and have not used anything in them except what is recommended. I looked on the website about turning some of my pans in for the warranty. There are a lot of disqualifiers for the warranty and I would have to pay for the heavy pans to be sent in. I have elected to not go through the problems of trying to get them replaced since I would be really upset if they did not replace them since I didn't do any damage but I decided there was too much anxiety involved in trying to get them replaced. If I had it to do over again I would not purchase this brand but a cheaper brand I could afford to replace after a few years. 
September 10, 2013
Rated

5

out of

5
 by
drksde21
World's Greatest Product!
As being an amature chef, since age 14 and now 62, I have used every kind of cookware imaginable. When became an adult I bought and used all kinds of cookware available. To my disappointment, I never found one type that was totally satisfactory. One day I walked into a store and saw this set of cookware. I asked one of the employees there about this product and this nice lady could not say enough good things about this product. When she told me that this store had a satisfaction guarantee, as well as a lifetime warranty, l was sold. That was three years ago and I am a very happy cook. I love my cookware set and have since, added a few pieces more. I would and have reccomended this product to all of my friends. My son, who also cooks, has his own small set and loves it as well. This will be the last set of cookware that you will ever want, or need. Buy it!
November 24, 2014
Rated

5

out of

5
 by
AMPY66
I love my Contemporary pots and pans
I have moved around quite a bit over the last dozen years and my pots and pans have experienced extended storage as well as a lot of daily use and my Calphalon Contemporary pots and pans are still performing extremely well. I did to buy a set, but have accumulated my set by buying individual pots and pans. I now have almost the full set of Contemporary offerings except the stew pot and the 1 1/2 quart sauce pan. They have always performed very well and I have never had a failure with any of the Contemporary products. I love them and would happily and proudly recommend them to anyone. By the way I am a bachelor who entertains fairly often and fancies himself a pretty good cook. I could have had anyone's products, but I am happy that I have chosen Calphalon Contemporary.
November 20, 2014
$9.95 oversized item surcharge

An oversized item surcharge may apply to some heavy or bulky items due to size, weight or special handling required. This item surcharge is in addition to standard shipping rates.