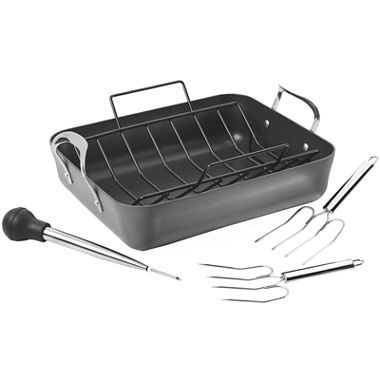 Calphalon® Classic Hard-Anodized Nonstick Roaster and Rack
web ID: 7823734
If you've never tried slow-roasted foods, now's the time to start with the Calphalon nonstick roaster. Once you see how juicy and mouth-watering your turkeys and roasts turn out, you'll wonder why you haven't done this sooner.
muti-layer nonstick coating for lasting release
heavy-gauge, hard-anodized aluminum for even heating
low sides let air circulate freely around your roast for even cooking
U-shaped rack makes it easy to transfer meat from the roaster to the carving board
brushed stainless steel, stay-cool handles
forks and baster not included
oven safe to 450°F
Aluminum/stainless steel. Rack measures 13x16"; pan measures 13½x16½". Hand wash. Imported.
Rated

4

out of

5
 by
Becca60
Love this Roaster....but one flaw
I needed a bigger roaster for roasting bigger dinners, esp. Thanksgiving and Christmas. My first use was near disaster. I was attempting to turn the bird and the rack kept moving and sloshed juice and hot fats everywhere. It made it literally impossible to use my favorite brining recipe because turning the bird is a must. Finally, my engineer husband came up with the idea to tie the roaster rack to the pan with string. OK, no more movement but am I the only person with this problem? I love everything else about the pan, clean-up is great, nice and big but I wish there was a way to clamp the rack to the pan so there are no accidents in even removing it from the oven. Are there any fixes for this besides string?
November 5, 2015
Rated

5

out of

5
 by
JCPHomeshopping
This product is easy to use and clean.
I have been married 24 years and have never owned a roaster of my own. I had to make Christmas dinner this past year and used my aunt's roast. She has a Calphalon nonstick roaster and it was so easy to use, but the best part was the clean up. It is so easy to clean. I liked it so much that I purchased one for myself. Can't wait to use it again.
March 18, 2015
Rated

5

out of

5
 by
Lilyrose
One set w/all the tools I needed for family meals
Let me start by saying-I love Calphalon and I trust their products. We purchased several Calphalon pots and pans when we were first married 11 years ago and I am STILL using them because they still perform well (and I'm an active cook!). As our family has expanded and the holidays are all celebrated at our house, I needed something that would allow me to cook larger quantities of food. This roaster set has it all. The rack works great for everything from a small chicken to a 20 lb turkey (!). It allows the heat to circulate the meat for even cooking and makes room in the bottom of the pan for vegetables. The lifters made it easy for me to place the bird onto a platter. Then I put the pan on my stovetop (covering 2 burners) and made a gravy right there without having to get out a separate pan! And cleanup was a breeze because of the non-stick surface. I used to have to let my old roasting pan sit in the sink soaking overnight (or longer) to get everything off but it was not a problem with this pan. Love it! Highly recommend.
March 30, 2010
Rated

5

out of

5
 by
Love2cook
Awesome to Use
My hubby and I took a Thanksgiving cooking class and loved it. No more letting grandma and mom do the bird. However as newly weds we had the Calphalon starter,basic pan set but not the roaster and rack. Our recipe we learned used the rack to do the veggies under the turkey to keep it moist and generate yummy flavors without getting it wet (has a french name I cannot spell)!. So shopping we went. Thanksgiving has never been the same again. So fun and yummy. When not cooking turkey, we bake large quantity of homemade dog food for our Labrador retrievers. Big meat eaters mixed with veggies, fruit, rise, eggs, squash. They love it. Big pan means more and since they eat so much it saves time. Don't use the rack for this:) The pan is clean and looks brand new every time, the nonstick work great. We never by a pan if it's not Calphalon. Good quality and like everything to coordinate.
November 15, 2014
Rated

5

out of

5
 by
Bart351
The roaster impressed my daughters
It worked very well and cleaned up easily. Looks nice in the kitchen and fits easily in the oven.
January 7, 2015
Rated

5

out of

5
 by
CGOLF
Superior quality and value
Calphalon is known for the highest level of quality, and this roaster does not dissapoint. This roaster will do the job for very large turkeys, as well as smaller beef or pork roasts. All meats are cooked evenly. It is excellent for the roasting of vegetables, while the meat is cooking. With the hard-anodized coating, cleanup is very simple. The service and price from JCP on this item were the best.
January 22, 2014
Rated

5

out of

5
 by
KK428
Absolutely wonderful!
I have purchased at least three nonstick roaster pans within the last four years, getting rid of all of them. Used this pan yesterday, and it was great; the only set back was the rack I traditionally use did not fit, but that is minor. Love this pan, can use it on the stove top also!
December 26, 2013
Rated

5

out of

5
 by
xvegan
My First Pork Loin Roast-Fall Down Good!
"Fall Down Good" is a phrase my 8 year old and I have had for years to show that something is so good that you just have to fall down! The Calphalon Roaster is our new Fall Down Good ticket to a tender, moist, first-time-I-ever cooked-one-Pork Loin Roast! I know the pan size may seem like overkill for such an item, but I figured all the great features might apply to a smaller item too-and they do! Using a recipe as a launching point from a Kathy Maister blog on How-to-Cook-a-Pork-Roast, I made a coconut oil and spice rub for top and bottom and poked garlic clove halves in the ends. Although this roast was so perfect that it did not need any, I finished it off with some gluten free coconut milk gravy just to give the pan a spin at stovetop use on my glass top stove. Everything washed up quickly and completely. The hard anodized, non stick Calphalon Roaster feels sturdy- both the pan and the handles. The meat lifters are very sharp and flat on the ends like a knife-a bonus detail although I haven't tested them on a big bird yet. As a newbie Calphalon user, I am thrilled with the results and on the lookout for the next pan upgrade.
April 26, 2010