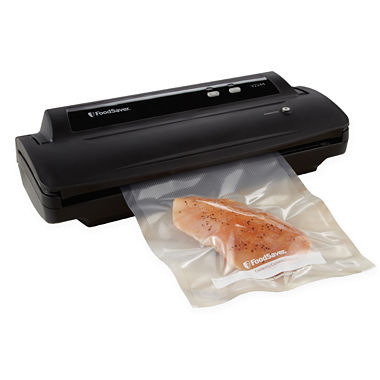 FoodSaver® Vacuum Sealer Kit V2244
web ID: 7805100
The FoodSaver Vacuum Sealer Kit preserves foods using an airtight seal that keeps them fresher up to five times longer than ordinary storage methods.
space-saving compact design
easy latch and lock operation
CrushFree™ Instant Seal
includes a bag starter kit with an 11"x10' roll, 3 quart bags and 2 gallon bags
Plastic. Imported.
Rated

5

out of

5
 by
AshMarieB
Excellent product and wonderful space saver!
This is my first time purchasing a Foodsaver Vacuum and I'm so glad I finally did! I love the idea of sealing an array of items for keeping them long lasting and fresh! Also, not only does sealing food for your freezer enable you to utilize much more space, the Foodsaver Vacuum itself is wonderful compact size that doesn't take up an overbearing amount of room on your countertops!
March 11, 2015
Rated

2

out of

5
 by
sunshine
It's great when there is suction
I don't know why it works sometimes and then other times it doesn't I did let it rest in between the packing as it said to do, but last night I must have tried to pack a steak at least 10 tmes with no suction at all. I followed the directions each time, maybe I got a bum machine???? I hope their exchange policy is good because I can't keep a machne that doesn't work.
November 21, 2015
Rated

2

out of

5
 by
Calebsgrammy
I loved it until......
I purchased this and was so excited because I always buy my meat in the bigger family packs even though it's just my husband and I. I would buy these big packs, get out the freezer bags, portion into meal size potion, put the meat into the freezer bag and get a straw to draw all the excess air out of the bag. I finally decided to buy a Food Saver Vacuum Sealer and rolls(so I could make my own size bag) and I loved it! No more sucking out the air from a freezer bag! The sad part, I hadn't even used up all the rolls I purchased and my sealer quit! It wasn't a slow dying process, it was just one day I went to use it and it just wouldn't work! No sound what so ever and it was barely over a year old! I purchased the smaller one because I knew it wouldn't get a lot of use. I guess in the long run I should have purchased the bigger one even though I didn't need it. But they say hind sight is 20/20, spending a little more I might still have a Vacuum Sealer instead of a straw,,,
March 21, 2015
Rated

5

out of

5
 by
Shadow
The Foodsaver is really great
I bought the foodsaver to help save money instead of throwing out things. When I buy in quantity I can freeze meal portions instead of wrapping and chancing freezer burn and having to throw out. The food will keep longer in food saver bags,
November 12, 2015
Rated

1

out of

5
 by
MaSha
***Do NOT Purchase this item***
I bought this food saver for my mom to make things easier and to do an overhaul of her deep freezer. I purchased the V2244 because of the great reviews but I am very disappointed. It seals the bag fine but does not vacuum(wet) and seal properly. I purchased many pounds of meat when I went to visit my mom and spent almost the entire time there trying to properly seal it for storage. I wasted most of the bags in the process. This was a waste and I am seeking to return it ASAP!
September 9, 2015
Rated

5

out of

5
 by
LindaB
Easy to use
This FoodSaver is great and so easy to use! fast and efficient with a good seal. no issues at all and the removable drip tray is handy for easy cleaning. Very convenient for bulk purchases that I want to package into smaller serving sized and look forward to using it for produce from the garden.
November 10, 2015
Rated

5

out of

5
 by
Shopper
Great sealer.
I bought this sealer to work with the mason jar sealer attachment and It works great. It seals the jars quickly and very easy to use.
June 25, 2015
Rated

1

out of

5
 by
Alli13
Check your product after you receive it!
I got mine as a gift for Christmas this year - not sure when it was actually purchased for me, though. Hoping it isn't past the point of being able to return it! I fired it up, and it worked wonderfully - ONCE. I let it sit for 20 minutes while I prepared the next items. When I closed it all up and latched it down to commence the second bag ever, nothing happened. No lights, no power, etc. :( I have checked and flipped all of the gaskets, pushed down on the lid to see if it just wasn't registering that it was closed, checked for any other visual issues - no go. All day, I have taken it back out, and tried again, thinking it must have been a fluke - no power. Tried different outlets in my home, nothing. Is there a fuse? Contacting customer service for replacement. :( Will update my review (if possible) after the issue is resolved! My product ratings are only valid if I get a working unit! I IMAGINE that it will be wonderful when it works! :)
January 16, 2015