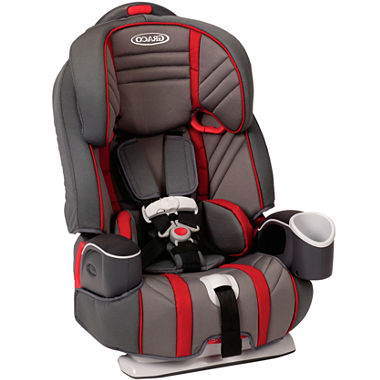 Graco® Nautilus™ 3-in-1 Car Seat - Garnet
web ID: 3433017
It's a car seat that truly grows with your child. It converts from a car seat (20-65 lbs.) to a belt-positioning booster (30-100 lbs.) and finally to a backless booster (40-100 lbs.).
5-point harness system
3-position recline
one-hand, adjustable headrest
contoured armrests with cup holder and storage pockets
steel-reinforced frame
side-impact tested
EPS, energy-absorbing foam for effective impact energy management
for children 20-100 lbs. and up to 57" tall
partially assembled; instructions included
removable, washable seat cushion
29x20x22"
polyester/cotton seat pad
imported
Rated

5

out of

5
 by
Gama
Awesome Car Seat
This Car Seat is great, just what I was looking for. It was easy to install and I love the fact that the straps are easy to adjust. My 2nd car seat purchase for my first Granddaughter. It is on the larger scale but it still fits in my Chrysler 200. I feel this is a very safe Car Seat. And she loves it, she even helps Grandma to get her straps in place to buckle up.
August 20, 2015
Rated

5

out of

5
 by
Kira6981
Fantastic Seat
We love this seat. My son is finally ready for a booster seat and this is perfect to start the transition.I'm a huge fan of products that my child can grow into and this is perfect for that. He is just starting in this seat and I love the five point harness system. I get the safety I want and he gets to feel like a "big boy" in his new seat. When he is older and ready it will convert into a high back booster to be used with a car seat and then finally just a booster. This feature saves money and that works for us! My son loves the cup holders. Right now he loves using them to hold his toys but they will be perfect for our next car trip. I love features that make long rides easier and this is definitely a favorite. The padding on the belts is has a velcro closure so it comes off easily to clean. I don't have to disassemble the whole seat to take them off. Love that! ***While I received this product for free, the opinions and thoughts included in this review are my own**
September 10, 2015
Rated

5

out of

5
 by
Marina J
Finally a car seat that is toddler approved!
I was sent this carseat to test out and review but all opinions shared in this review are 100% my own. When we received the Graco Nautilus the first thing that struck me about the seat was how heavy, sturdy and durable it was. First glance at the padding on the seat made me feel that this could finally be the seat that my daughter would be willing to sit in, without a fight, and I was right. The seat is wide allowing her to sit comfortably and the side wing protrusions on the adjustable head rest prevent her head from flopping out when she falls asleep in the seat. Pricewise this is a great investment considering it can be used for the next few years, transitioning into a high back booster and later a backless booster when she meets the age, height and weight requirements. This is a car seat you would leave in your car and not swap between cars daily as it is heavy and requires a little fastening to secure the same onto the main passenger seat.
September 17, 2015
Rated

4

out of

5
 by
EllenTCMom
Great grow with me option
This 3-in-1 option grows with your child from 5 point harness to high back booster and then booster seat. I keep my kids in a 5 point harness until 6 or 7 years old and this seat easily accommodates them which I love. My daughter appreciated the extra details that made this car seat comfortable like the arm rests and nicely padded sides. I love knowing it keeps her safe. Installation and adjustment as the child grows is very user friendly. The cup holders were also a big hit with my daughter and provide the perfect, drink, snack and toy holder for her. All the great color options are a hit with mom too and it's super easy to install so if I need to send it with grandma, no big deal! While I received this product for free, the opinions and thoughts included in this review are my own.
November 5, 2015
Rated

5

out of

5
 by
CourtneyCal
The only car seat my 2-year-old will need!
I have three small children and we have car seats in both my car and my husband's car. As you can imagine, purchasing 6 car seats can be expensive. And while it's costly, it's important that I choose safe, sturdy and highly-rated ones for my kids. We are in love with the Nautilus 65 3-in-1 Harness Booster. Besides it being attractive, it's functional because it's a 3-in-1. I do not need to purchase another two car seats for my toddler. He's using it as a harness booster right now, and eventually we will use it the other two ways as well. That just saved me money right there! And because it has a steel-reinforced frame, it's going to go the distance and last me through the years. It's heavy and durable. My son is super comfortable in it and usually falls asleep in car rides. He loves the cup holder too, he keeps all of his die-cast cars in there while we are on the road. I highly recommend this seat and the price can't be beat! While I received this product for free, the opinions and thoughts included in this review are my own.
August 20, 2015
Rated

5

out of

5
 by
mummyknows
Best car seat I ever had
I have to first saying putting this seat together was not as hard as I thought... still I got to the bottom clip. I had to somehow take it out and make it bigger for my son. After about 5 mins of trying to get it out, I did fix it. Now he fits into it great. I love the color on the car seat. It went into our truck with no problems at all. I love how easy it is got get him in and out of the car seat. I am going to get another one when my youngest turns two. I love that it goes from a 5 point to just a butt booster! I will never have to buy another new one! And the price is a good deal. I have just loved all things graco they really know what is good and safe for babies. If you are looking for a good car seat that is not only easy to get in and out of a car but also easy to get your kid in... this is the one! While I received this product for free, the opinions and thoughts included in this review are my own
September 8, 2015
Rated

5

out of

5
 by
Kari85
Great Car Seat
I have the older Nautilus version for my 7 year old who is now in the booster seat, but when this new one came out I had to have it for my 2 year old. This new one is just as easy to install as the old one, but the major difference is the no re-threading. I hated having to take the old one out every time I needed to adjust the harness straps. Just move the head rest and the straps move with it. Love it!! And the temp fabric is comfy, my son loves it too.
November 16, 2015
Rated

5

out of

5
 by
EmmaRose
Best car seat yet!
My in-laws bought us this car seat when pregnant with our son in 2009. I have yet to find a car seat better. A lot of people complain it's hard to install but I have no issues less than 5 minutes it's securely in my car. My son absolutely loves it, he loves the hidden holes under arm rest, likes that he can have his own drink, and he finds it very comfortable. My only issue is you can't take the bottom cover off to clean. But besides that amazing seat would buy again and would highly recommend it to people!
November 16, 2015