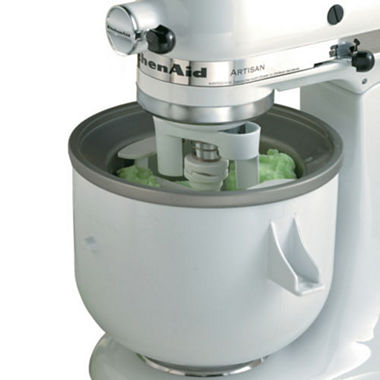 KitchenAid® Ice Cream Maker Mixer Attachment KICA0
web ID: 7804157
This ice cream maker attachment fits all KitchenAid stand mixers for delicious homemade ice cream anytime.
just freeze bowl ahead of time, add your favorite ingredients, attach to mixer and turn on
makes 2 quarts of delicious soft ice cream in about 20 minutes
includes instructions and recipe book
Imported.
Rated

5

out of

5
 by
pastrychefNtrainin
great product!
I LOVE making ice cream instead of buying it, and this product is perfect! I've used similar products in commercial kitchens, so I know how easy it is to use! It attaches effortlessly to KitchenAid mixer. Just keep it stored in the freezer when not in use so that it's always ready!
April 9, 2014
Rated

1

out of

5
 by
Tiger Fan
Blue Liquid Problem Strikes Again!
I'm unfortunately joining the ranks of those who are experiencing blue liquid leaks from this unit. I found a ring of blue liquid on the surface of the shelf where I had stored it (a portion of the area is permanently stained now) from around the seam ring on the bottom of the unit, and on one of the protruding parts on the upper side, as well. There are no cracks visible. This is a frustrating development for sure. Of course, my unit is several years out of the warranty period, but, frankly, I expected it to last many more years, especially as I have been careful to treat it per instructions in the manual, and also because it is a product from a company known for durability and quality. It has produced many batches of ice cream, which my family looks forward to on special occasions. It is difficult to arrive at a rating when the unit becomes unexpectedly defective with what now appears to be a common problem. Otherwise, it made pretty good ice cream, although at times it seemed to be slow to freeze the mixture.
August 11, 2015
Rated

1

out of

5
 by
Bryan the Dad
Blue Nightmare
After 7 uses it leaked blue fluid all over our freezer. What a mess to clean up!
October 15, 2015
Rated

3

out of

5
 by
Cj
Paddle meets mixer slips. Can't continue to mix
I'm having a problem when the ice cream is nearly ready the mixer paddle starts to slip and cannot finish the mixing
September 30, 2015
Rated

2

out of

5
 by
MP
Great while it lasted....
I too experienced the 'blue goo' - so disappointed! I used this only a couple times and hand washed it and stored it very carefully. Overtime something must have happened because one day I opened the cupboard and the maker had cracked and the blue goo leaked EVERYWHERE - I now have a permanent blue stain in my cupboard. The bowl now has a full crack around it and has split horizontally. Still need to try and talk to customer service about this - they need to fix this because it's clearly a product glitch not user error! Very sad it only lasted a few times for the price and I expected a high quality product.
September 4, 2015
Rated

3

out of

5
 by
juljohnston
Can you believe it leaks? ....
Of course you can believe it; it's why you're here reading the reviews. You're not alone, my fellow Blue Leak of Death victims. Mine is under a year old, had been used about 10 times, and leaks enough to be a nuisance. I am afraid to use it now because I'm almost certain that being frozen one more time will crack it for good. Other than that, I love it.
September 18, 2015
Rated

1

out of

5
 by
Michele Ann
Blue fluid leaking
Very sad because this made awesome ice cream. After about 5 uses since we received this as a wedding present, it is leaking the blue fluid and now I have to clean my entire freezer.
September 17, 2015
Rated

1

out of

5
 by
Jordan
Horrible Attachment
Most of the KitchenAid appliances are good for the most part, however, this is the second ice cream maker we have owned and both have leaked blue liquid after only a few uses. DO NOT buy this product. You will end up wasting your money!
September 28, 2015