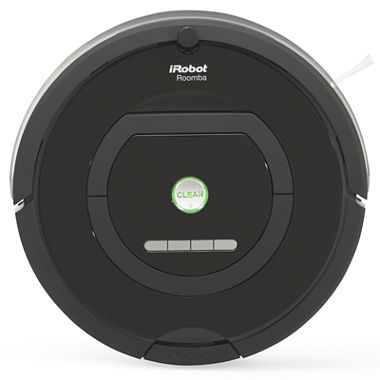 iRobot® Roomba® 770 Vacuum Cleaner
web ID: 8692000
The easy-to-use Roomba 770 vacuum cleans and removes dirt, dust and pet hair from carpets, hardwood, tile and linoleum floors without you having to lift a finger.
Dirt Detect™ Series 2 Technology uses an optical and audio sensor to concentrate cleaning on the dirtiest areas
iAdapt™ Responsive Cleaning Technology ensures every section of your room, including the hard-to-reach spots, are vacuumed thoroughly
2 Virtual Walls® keep Roomba where you want it and away from off-limit areas
AeroVac™ Technology maximizes air flow through Roomba's cleaning head to pull hair and debris off the brushes and evenly into the bin
on-board scheduling can be programmed to perform up to seven cleaning sessions a week
full bin indicator lets you know when the bin is full and needs to be emptied
Includes two brush cleaning tools, an extra set of two HEPA-Type filters and a rechargeable battery with extended-life power management. Each Virtual Wall requires two "C" batteries, not included. 120V. Imported.
Rated

2

out of

5
 by
Bob
Not that great
My roomba is set to vacuum my (not too big, not too cluttered living room) twice a week, which is plenty for the amount of traffic in my house. More often than not, I come home to find the roomba stuck on... nothing. It'll just get itself stuck in a corner, or around a doormat, or I guess just run out of batteries trying to find its charger. I go out of my way to tidy up before the roomba vacuums, and to arrange cables so that they're out of the way, but the roomba invariably manages to grab a cable and drag it around, and unplug something. Its proximity sensors are inadequate, so it'll bump hard against furniture and sideboards and leave black marks. If you have paper-sided lamps that reach the floor, it will destroy those. If you have furniture that's just the wrong height, it'll get itself stuck under there (can get in but not out). This thing is more trouble than its worth, and I guess I'll have to go back to my regular old vacuum cleaner. Maybe in a decade these things will be usable.
April 15, 2012
Rated

5

out of

5
 by
Katy
Best Birthday Gift Ever!
Who really wants a piece of household cleaning equipment for their birthday . . me! My husband and I work long hours plus we have 4 shedding terriers and 3 cats who seem to be in a constant state of molt. I asked for the Roomba for my birthday last April. It is just amazing. It never gets lost, although one time, it accidently shut the door, closing itself into the bathroom. We have programmed Roomba to come on at 9:00am every day. It never returns to the dock before 10:30, but once in awhile, it will go up to three hours before it returns to charge. Why the difference? Who knows and who cares; because the amount of dirt and hair it picks up is just amazing. Every day the dustbin is full. The hepa filters work well. Roomba is so easy to maintain. Works equally well on hardwood floors, tile and carpet. Quickly learned the house and it spends more time on the rug where the dogs go to chew up leaves and twigs they bring in from outside. It has become an appliance that I could no longer do without.
July 24, 2012
Rated

5

out of

5
 by
sunny FL amy
Love this little robot!
My husband and I finally decided to purchase a Roomba 770 (after much discussion about the price, do we really NEED it, etc.). Can I just say I am sooooo glad we did!!! This robot is an absolutely amazing cleaning machine! Not to mention very entertaining and exciting to watch the first several times you let it loose! We have a yellow lab, so one of the main reasons I wanted the Roomba was for in-between cleanings, just to help with the hair that sheds CONSTANTLY.....and I am happy to report it does a wonderful job! And now I'm not so sure how often my vacuum cleaner will be coming out!! LOL!! I put can get stuck as a con, however that is just a part of the learning process for me, not really a negative thing for the robot.. One of my bathroom throw rugs got folded over and it got stuck on that, and it got tangled in my curtain that hangs to the floor..Just be aware of what you have in the rooms it will be cleaning. I truly don't have any complaints as of yet, easy to use, easy to clean does a great job!
December 8, 2012
Rated

5

out of

5
 by
WALL-E
Absolutely LOVE this thing
This machine is wonderful! I love the thought of a "helper" and he works while you do. If I am on the phone, cleaning another room, or whatever, I can hear him in the other room and feel like something is getting done. I have bought one for my daughter for Christmas. She didn't think much of this thing (and neither did I .. because when my husband got it for me, it sat around for weeks unopened, until HE got the initiative to open the box and set it up .. I was like ..Good God another toy for him and probably a problem for me. NOOoooo way! I have fallen in love with this thing and so did my daughter over Thanksgiving, helping me clean. One thing, you have got to be sure all the junk is off the floor, especially any string type trash. (i.e. fishing line, small toys like Barbie shoes or Polly Pockets, etc) Once a bungee cord got in it .. but it was fine, just had to remove it. I wish I could afford to get these for all my friends ..I could sell these things.
November 28, 2011
Rated

3

out of

5
 by
Co Gal
A little disappointed
I purchased this product because I work full-time and have a large home to clean on my own. I also have a couple of dogs and found myself vacuuming twice a week or more sometimes. I had high hopes for the Roomba. This model had good reviews and I thought how wonderful it would be to have help vacuuming the floors. Pros: -For a small vacuum, it picks up pretty well. -It does a good job picking up pet hair and dirt on my wood floors. -Sort of hands free (except when it get's stuck under furniture) Cons: -Every time it switched from wood floor to area rug it left a big pile of dog hair behind. -It couldn't handle my plush area rug at all. It got stuck and told me to move it. -It got stuck under furniture easily, even when I tried to use the virtual wall. -I had to empty the debris bin frequently. -It didn't transition well between different flooring.
July 19, 2015
Rated

4

out of

5
 by
GeekSweep
iRobot Roomba 780
I own a iRobot Roomba 780 for just under 2 years. It works as described. It is best on hardwood or tiled floors. Timed starts works well. Edge sensor is so so. I had to catch it from falling down the stairs a couple times. I suggest to place the virtual walls or something to block from falling off the stairs. Thick or small rugs are an issue. It will chew it up and get stuck. Remove any cables off the floor. They will get chewed up and or the Roomba will pull whatever it is connected to onto the floor and possibly damage it. Pick up any small toys (Lego pieces) Roomba will sweep that all up. I'm not sure if you want to sift through the catch to retrieve them. Just wish Roomba can get into tighter spaces. I usually manually place Roomba back onto the base, but the (find its home) works when Roomba has any more juice left in it to get home. All of a sudden the base stopped charging. That's the reason I am on the site today. To buy new base. I hope that's the cause. I'm not sure if I would ever buy another because cost for it on the high side.
May 29, 2014
Rated

5

out of

5
 by
Cindy
Great Vacuum
Our household has 2 cats, a dog and a teenager. Our 770 robot is scheduled to run 3 days per week. I clear the floor as much as possible, i.e., toys, stools, chairs, etc. The robot can and does clean around things, but I prefer it to have as much floor space as possible, the same as when I vacuum with another machine. While it is running I will stop it to empty out the bin 2 to 3 times, again this is my preference. Our furniture was low to the floor, but I purchased new legs that raised it off of the floor enough for the robot to go under. Occasionally, I unplug the docking station until it has run for close to an hour. The robot will not get within a 4 ft range of the station until it is ready to dock and then it goes straight to it and leaves the rest of that area untouched. With all of that said, I wish I had bought this sooner. The robot cleans our carpets and tile floors wonderfully, picking up all of the cat/dog hair, dust and dirt. The battery last 1.25 hours. Sometimes we let it have the run of the house, other times we use the virtual walls.
June 27, 2012
Rated

5

out of

5
 by
Dusty
Happy wife, happy life.
A few months ago, my wife had back and neck surgery. The doctor told her that she had to limit her activites and she couldn't vacuum or sweep along with a ton of other limitation. So she told me that I needed to start doing these chores every day, to keep up with all dirt and dog hair that accumulate. I went into panic mode, because my schedule was pretty full with every other task I was having to take on, while she was recovering. So I ran to the store and bought the Roomba 770. Best money I ever spent. I'm amazed at how much dirt and dog hair it picks up everyday. Now, it does get caught up on some small rugs and cords. Just Roomba proof the space. It would take me 30 minutes a day to do the job my Roomba does. So in the last 90 days since I have owned it, I've saved 45 man hours of labor and my wife is happy with the results. If you can afford it, it's money well spent. Of course, now my mother in law has bought one too
January 29, 2013