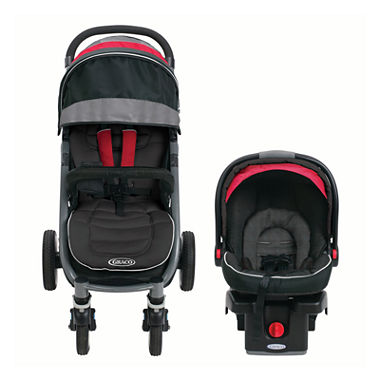 Graco® Aire4™XT Performance Travel System
pp5006750304
PRODUCT DESCRIPTION
Our Aire4™XT performance travel system features never-flat tires and an extended canopy to keep the ride smooth and your baby comfortable.
UV 50+ protection to keep your baby shaded from harmful rays
never-flat tires for a smooth ride
performance fabrics and reflective material for added visibility outdoors
multi-position reclining seat flips up to create a cozy bassine
extra-large storage basket holds your travel essentials
polyester/metal/plastic/foam construction
some assembly required
wipe clean
28.75x24x40.5"H
imported
Rated

4

out of

5
 by
mr_circuit
Epecting this to be a great stroller
Loved the price online for what this stroller offers. Tested many strollers at retail stores and so many had flimsy rims and wanted one a little better built for off road and on road use. Would have been nice to have the adjustable handle bar for the parents and a snack tray for the child later on when not using the car seat with the stroller but for the price we paid for the stroller I can live without the adjustable handle bar. Graco if you make a snack tray with a cup holder to mount in place of the bar in the $20-$35 range I would purchase one for this stroller for use later on. Also I found when testing the stroller with the car seat when removing the car seat it likes to stick and not remove easily to the point you can lift the entire stroller up with the car seat. I noticed this in another review online also. The engineer in me wanted to know why it was sticking. The lower catches it seams one was molded with a slightly larger bump on one side than the other. I am sure this is due to a slight variation in the mold used to mold the plastic parts. Not a big issue for me. I did notice to help it not stick and to remove the car seat more smoothly if you just apply a slight amount of downward pressure to the car seat handle while using your other hand to pull the red release handle it will allow the lower catches to not snag this slight bump made on the catches so the catches can retract fully and the car seat releases easy doing this. I am sure when the plastic gets lots of use it will "wear in" and release a lot easier over time. The car seat uses a second set of catches for attaching to the car seat base and these don't seem to stick like the other set for the stroller on the one we have. I hope this stroller will hold up over time like I think it will. It will definitely get tested thoroughly.
September 9, 2016
Rated

5

out of

5
 by
Libby Lou
Great for big brother & little sister!
I have a two year old daughter and a five year old son. While the big guy loves to walk most of the time, once in awhile he wants to trade places with sissy. Before we had the Aire4 XT stroller, it wasn't an option. However, with the Aire4 XT he now has the option to climb on in thanks to it's 50 lb. weight limit! Being able to let the little one stretch her legs from time to time and give big bro a chance to relax has saved me a meltdown or two! My youngest loves that the stroller allows her to lay down if she wants and she can block out the sun. We used it this fall for a handful of events and the ability to shade her when she got tired was such a blessing. Missed nap times can make her a bear so I'm thankful we found a stroller she'll nap in. I've owned a few different stollers since my kids were born, but this by far is the easiest to manuever, the easiest to get into my vehicle, and the easiest to assemble....my five year old even helped!
December 2, 2015
Rated

5

out of

5
 by
Julie531
Great Product
I received this travel system as a gift for my baby shower and I love it. The car seat is easy to clean and adjust the straps and clicks easily into the car base and stroller! The stroller is easy to drive, turns on a dime, and is extremely easy to push on the street or grass. I love how easy the stroller is to collapse and open and how light it is in general! Great product ..I'm very happy with this seat and stroller combo!
July 29, 2016
Rated

2

out of

5
 by
Sjagga
Exciting to see but not good to USE !!
I got the Aire4 -XT Travel system in Dec 2015 for my new born instead of the MODES, liked the MODES earlier but just because of Sturdy tyres i got the AIRE4. After using it for a while we noticed the front tyres shaking and bubbling, the front tyres are totally out of alignment. Specially the right one. We were traveling to the US for a holiday when we bought it, we realised the issue when we reached back India. The car seat is good and comfortable, the base is also good. The stroller claims to have good sturdy tyres with shockers but what if they aren't aligned properly. They bubble because of which the stroller shakes a lot and doesn't move straight.
June 20, 2016
Rated

5

out of

5
 by
Newma2016
So easy to use!
We bought this while expecting our little bundle and couldn't be happier! We love the features that it has and is so easy to handle all by yourself. I am able to easily and quickly snap her into the stroller or base and just as easy take her out or fold up the stroller one handed. Only problem we have had is sometimes the latch sticks on the care seat base and when snapped in the stroller but overall not that big of an issue. Also we do a lot of camping and because the stroller doesn't have hard wheels but are air it provides a smooth ride for our little one and makes hiking or walking over gravel a breeze!
June 28, 2016
Rated

5

out of

5
 by
Hannah1
Great customer service
My husband and I ordered this travel system after testing it out in the store and deciding that it had everything that we wanted - car seat, base, and a stroller that all fit together very conveniently. We really liked how light the car seat was, how easily and compactly the stroller folded up, and especially the never-flat wheels and the suspension that made it seem like the stroller would handle any terrain really well. However, when we received the travel system that we ordered, the car seat did not clip into or come out of the stroller easily at all. It required some serious tugging and would most often release and come out with a big jerk - not ideal at all if we had a sleeping baby in there! Since that was not the experience we had with the system in the store, we thought something must be wrong. I contacted Graco Consumer Care on Monday about our problem, and after some reasonable requests for more information and a bit of documentation, they had paid for a shipping label to mail ours back and we had a new one on our doorstep by Thursday. This one works great, and I really appreciated their helpfulness in resolving our problem with great convenience and no extra expense.
May 13, 2016
Rated

5

out of

5
 by
EmilyM
Sturdy and fantastic!
I received this travel system free of charge in return I agreed to review it, however all thoughts and opinions are my own. I want to start by saying I am very picky when it comes to strollers-- so when I say this is a great stroller, it really is. To start, it is easy to assemble, just a few clicks and you are ready to go. I took my one year old daughter for a ride down our very bumpy sidewalk and it was an incredibly smooth ride, very sturdy. My husband who is tall did not mind pushing the stroller either, perfect for all heights. I felt that this stroller had the ease of a everyday stroller with the solid build of a jogging stroller. I was able to fold it up, and put in my car easily for day to day life-- something I look for in a stroller. The carseat was just as great, very padded and lightweight. My daughter enjoyed it! This is truly a fantastic travel system, I know it will be put to good daily use.
October 15, 2015
Rated

5

out of

5
 by
niu mom
Good product
Everything is like what I expected! Good experience!
June 16, 2016
$10

An oversized item surcharge may apply to some heavy or bulky items due to size, weight or special handling required. This item surcharge is in addition to standard shipping rates.

?
oversized item surcharge