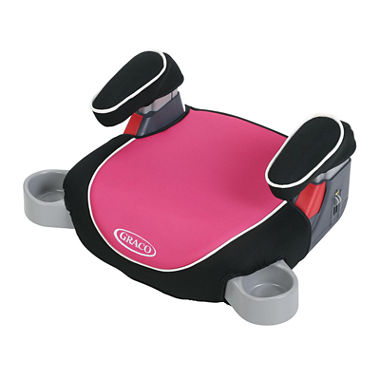 Graco® Backless TurboBooster Car Seat
pp5007130250
PRODUCT DESCRIPTION
Seat your growing child comfortable and happily in our backless booster, with padded, adjustable armrests.
crash tested
hide-away cup holders
for children 4-10 years, 40-57" tall, 40-100 lbs.
meets CPSC and FMVSS213 standards, FFA approved
15.5x16.25x8.64"H
polyester/metal/plastic/foam
washable seat cushion
imported
Rated

4

out of

5
 by
sleekun
So far so good
We now have two of these, we first tried one just to make sure our daughter would like it. We ordered this one because of some reviews on a big name online site that said it had a seat belt height adjuster, we didn't know exactly what that meant, but we knew the seat belt would need to adjust. The only problem is the seat belt adjuster is just a nylon strap that goes from the middle of the booster seat up behind the child and then attaches to the seat belt at the shoulder, it makes it a little ackward for our daughter to get into and the strap she says is kind of annoying. We tried a 3rd party seat belt adjuster that just goes in the front but it was even harder for her, so shes just using the nylon strap for now. So in summary the booster seat is great, it attaches to the latch system which keeps it from moving around, our daughter likes sitting up higher, but the seat belt adjuster could use a little work. We ended up getting a second.
September 10, 2016
Rated

5

out of

5
 by
Hawks3
Perfect for my growing boys!
We had two of these for my older son already. We love the cup holders in it and how easy it is to lift and transfer to other vehicles. Perfect and well priced!
September 14, 2016
Rated

4

out of

5
 by
nayeyi19
Does what its made for
Bought this a week ago. Overall it does its job. The arm rest covers come off easily. The seat belt latch could be worked on since it become difficult to use if the seat is in the middle
September 12, 2016
Rated

5

out of

5
 by
byMel
Works Great and my niece loves it!
Was simple to put together & the directions were easy to understand. It moves between vehicles easily. Really awesome it has 2 cup holders she can slide easily(we use 1 for a drink 1 for a snack or toy). Not shown is a clip attached with a strip of material to the middle of the back of the booster seat which attaches to the car's seat belt to hold the seat belt down away from the neck which is very helpful and she actually likes using it too! Also all the cloth comes off for easy washing too!
September 1, 2016
Rated

5

out of

5
 by
Kris7174
Easy to use!
We bought this booster for our second vehicle. It was extremely easy to install, and our 4 year old son is very comfortable in the seat.
September 14, 2016
Rated

5

out of

5
 by
Kat52
Love the look
I just bought this for my grandson, I Love it for a few reasons, it has an attachment so the seat belt won't ride up into his neck, its5padded enough for him and tbe bottom has no sharp edges to cut into my car seat...
September 8, 2016
Rated

4

out of

5
 by
Pfidlin
Simple, great seat!
Very easy to operate and does a good job of keeping my daughter safe.
September 7, 2016
Rated

4

out of

5
 by
mperrenoud
Love the armrests and cup holders!
We acquired a booster like this from a friend. It is lightweight, durable, and SO EASY to get in and out of car or to get a child into it. We thought about getting a replacement cover for the one we have, but found THE PRICE TO BE SO GREAT that we just decided to replace the entire unit. In fact, we got TWO more - so grandpa and grandma could have one each too! I like the simple color scheme - especially for my dad's car. ;) The arm rests serve to provide COMFORT for little tired arms (However, they need to be able to rise a little higher or be removable for taller or larger children.). Additionally, the armrests create greater stabilization (i.e., ADDED SAFETY!) for the rider. I am so glad they are there! And, the cup holders...I wouldn't want to live without them!!! They are great for drinks, snacks, and even as a compartment for little toys, crayons, or stuffed animals! Thanks for including two in your design! Overall, I am very pleased!
March 30, 2016