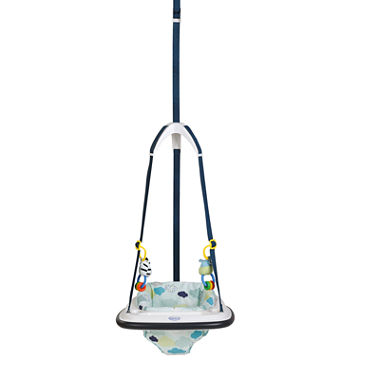 Graco® Bumper Jumper
pp5007130149
PRODUCT DESCRIPTION
Keep your baby safe and entertained in the Bumper Jumper doorway jumper!
sturdy bounce spring with hidden safety cord for nonstop little leg action and jumping joy

keep doorways mark free with our no-mark clamp

non-twist straps allow quick, easy in and out

meets CPSC standards, FFA approved, meets FMVSS213 standards

assembled

polyester/metal/plastic/foam

17" diameter

cushion: machine wash, line dry

frame: wipe clean

imported
Rated

5

out of

5
 by
Marrose2
Great product!
I bought this for my baby and she loves it! She really enjoys bouncing and jumping around. I love it since it keeps her occupied so I can get a few things done and still have her in sight. I love that I can move it around easily to whichever doorway is closest to me. It is also very sturdy and I don't need to worry about her while she's sitting in it. The seat is a soft fabric, machine washable which is also a good feature. Overall I am very happy with this product.
August 1, 2016
Rated

5

out of

5
 by
NannyMom
Easy setup - Easy Fun
This product was quick to setup and easy to take down. My daughter enjoys it and it allows me to watch and interact with her while cooking or cleaning. The hooks for the toys are a nice feature and the tray catches most toys instead of them falling all the way to the floor. I like the product so far!
August 4, 2016
Rated

5

out of

5
 by
Bestie25
Great entertainer!!!!!
I got this as a gift for my baby & she loves it now she's outgrown it so I put it away for the future ones to come!!!!!
May 2, 2016
Rated

5

out of

5
 by
Polhemjo
Child will play for hours
Our child loves to bounce in this all the time. It's convenient to let her play in this while I make supper.
May 2, 2016
Rated

5

out of

5
 by
JWoods
Moms you can shorten the straps more!
I love this jumper! My son is a big boy too and it looked like would quickly outgrow the height of this product. I thought, this can't be all, so I went on a search for the manual. (I purchased mine used so it was without). I found it online and ah ha! You can shorten the strap more than just the initial loop that is there. Under the instructions tab you can download the PDF. It may take a minute to figure out the picture, but basically you can pull the inside loop through, making it shorter, as much as you need to, all the way until the two plastic blocks are touching. That puts the seat at 2.5 feet off the ground, plenty of available hight for even the tallest little baby. I hope that the moms that wrote about height issues see this so that they don't have to turn in their jumper before it has truly been outgrown. Enjoy!!
August 8, 2013
Rated

5

out of

5
 by
AquinoAR19
Convenient for parents, More fun jumping for baby!
I love this Grace Bumper Jumper because its so convenient for me as a mom plus more fun for my baby. The spring-loaded clamp is so easy to put on the door frame and it's really safe. It has a high back nylon seat pad that is machine washable and two soft removable toys on both side. My daughter is enjoying jumping while interacting with these cute toys! The seat is very soft and comfortable for the baby. It has an all-around bumper that protects the woodwork and a plastic dome that keeps straps apart. This feature helps me to get the baby in and out easier. Our baby can stay there for a longer time enjoying jumping. And because its a compact activity baby gear, we can bring it with us everywhere we go!
September 17, 2015
Rated

5

out of

5
 by
Fun LMT
Hours of Fun!
We loved having this for our son. He built up the muscles in his legs to walk fast, days before his first birthday. We got the one that has the dance mat underneath which helped him to develop his musical ear and rhythm. He is a great dancer now. As he got older, he became more adventurous and did a lot of spinning and jumping in place. We watched him spin real fast and he loved to make himself dizzy. At 3 years old we put it away and he still asks to spin in it. We think he is too big for it, so we got him a mini trampoline to do jumps on instead. Thank you, Graco, for helping to develop our son's real since of adventure and music! We love this and will definitely save it for the next one.
September 17, 2015
Rated

4

out of

5
 by
Tskro
Awesome Buy!
Our Little girl Loves, loves, loves this jumper! She has been using it solidly for 3 months and has no signs of getting bored of it. It is super easy to clip onto door frames, letting me move it to different door frames if necessary. The only quibble I have is that it can be difficult removing her from the unit , and adjusting it when she gains weight. My husband and I have figured out how to do this, but Graco should make the adjustments on the strap and seat to make it easier. Despite these complaints, I would not hesitate to purchase this jumper again even if the design was exactly the same. I feel she is really safe and having a great time! Its a well made and sturdy. Seeing her daily delight using this jumper, I believe is priceless!
November 26, 2012