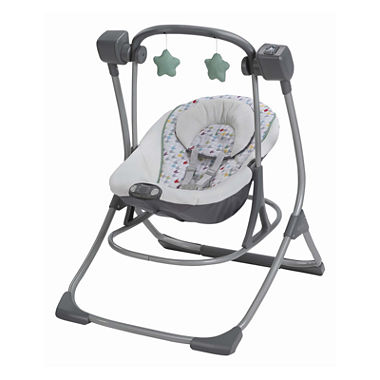 Graco® Cozy Duel Swing and Rocker - Lambert
pp5006150724
PRODUCT DESCRIPTION
Soothe your little one with the 4 swinging speeds and 5 delightful songs and sounds of this duel swing and rocker from Graco.
removable swing seat doubles as portable rocker
carrying handle
4 swing speeds
5 songs and sounds
plug-in or use batteries
for children 5.5-30 lbs.
batteries not included
29.25x27.72x38.1"
some assembly required, instructions included
plastic
wipe clean
imported
meets JPMA/CPSIA/CPSC/CARB requirements
Rated

2

out of

5
 by
Addiebug
Lemon
We must have received a "Lemon" because the moment my husband put this together, it made a horribly LOUD vibrating noise, as if the motor was broken. We received it as a gift just before our daughter was born, so needless to say, there wasn't any time to return the swing, so we just used it, loud noise and all. But when our daughter was 3 months old, the swing no longer "swung". That was the part of the swing/rocker that is operated by a power cord. Overall, it was just disappointing, because now that we have the time to get it replaced, she's too big for it, and she hasn't been able to use it in 3 months.
August 6, 2016
Rated

5

out of

5
 by
Melissa16
Works great but baby hated it :(
We did not register for this product but received it as a gift for our baby shower and loved the swing immediately. We tried so many times to get our baby to like swinging because once he fell asleep in it, he would stay asleep so much longer than in his bassinet. Unfortunately, our son hated the swing but I still loved all the features. Love that it vibrates. A HUGE plus was the fact that the swing can be plugged in instead of Strickly using batteries.
September 5, 2016
Rated

5

out of

5
 by
Julissag
So easy!
I just received this today, and I am loving it, so is my baby! It was super easy to connect everything! No Hassel at all. My baby loves being in the bouncer everything time,. we put her in it
September 1, 2016
Rated

4

out of

5
 by
parents16
Perfect for small houses
The swing and rocker combination is a good option, instead of keeping multiple equipments at home. It was easy to set up. The only reasons we are giving it 4 instead of 5 stars - 1. we have not used it as yet since our baby is due next week. 2. All the colors available are light, wish they had darker color options since they are bound to get dirty with daily use. But it is easy to remove the cover and throw it in the washer, so it is definitely not a big issue. Overall, happy with the purchase. It is small and compact for apartments, has a good swing motion, light enough to carry from room to room.
August 28, 2016
Rated

5

out of

5
 by
Alicia for Izzy
Works beautifully!
I was skeptical this would work but I ordered it anyway! Mainly because of the 2 pieces. The fact that I can pull the swing off and take it to any part of the house with me while she is in it. I was amazed that she actually liked it. It bought me time to get stuff done. She is 7 weeks old so I use the 1 or 2 setting only since the higher settings are too fast for her right now. If she wakes up. I put the vibration setting on and she falls asleep again. The music also helps her fall asleep since she wakes up if it stops lol. Worth every penny!
August 17, 2016
Rated

5

out of

5
 by
LUV2SHOPATJCP
This product has excellant features
This swing is awesome.Has 2 excellent features.It runs on electricity not just batteries.Also seat removes from swing and you can take baby into any room with you and it rocks.My grandson loves it.Makes my daughter happy too.
August 5, 2016
Rated

5

out of

5
 by
lulubell
Great 2-in-1 Swing!
My husband was able to set this up within 20 minutes. The instructions were a little wonky, so he had to keep undoing and redoing the snaps. One of my favorite features of this one is that you don't have to use batteries! The lowest speed has been plenty for our 2 month-old daughter, so I anticipate that this will keep her happy for quite a while! Plus, the sound of the motor is hardly noticeable! Though we haven't used it for it's intended purpose of rocking baby in the seat, I love that it's removable! It makes a fantastic portable seat for going between rooms when you don't need/want to move the whole swing. She hasn't paid much attention to the stars on the handle, so I put a bright toy (the type that would go on a carseat handle) up there, which she seems to like. I love that the color scheme is neutral so it doesn't look totally out of place in our living room! This swing met all of my must-haves, and then some. While I received this product for free, the opinions and thoughts included in this review are my own.
October 7, 2015
Rated

2

out of

5
 by
Afrostee
Not the best
I received the swing as a baby shower gift. Fast forward 2 months later and the vibration on the rocker is barely working. I've replace the batteries and checked the contacts but still barely vibrating, which is my daughters favorite feature. I would return it but threw the box away and I don't have the receipt. I'll have to find a different swing/ rocker.
August 6, 2016