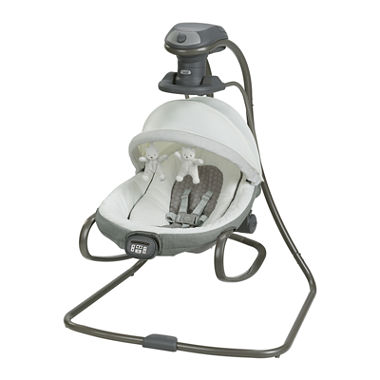 Graco® Duet Oasis with Soothe Surround Play Yard
pp5007130174
PRODUCT DESCRIPTION
Make the most of your precious time with baby by using our Duet Soothe Play Yard, the swing that lets you keep baby by your side. This ingenious swing has a seat that doubles as a rocker, giving you the flexibility to move around the house while keeping baby cozy and close.
in swing mode, 3 seat positions give baby the option to sway side-to-side or swing back-and-forth
in rocker mode, the carry handle makes it simple to keep baby by your side
optional plug, vibration and music
plug in will save you on electricity or use batteries for convenience
vibration with 2-speed settings
swing: for infants 5.5-30 lbs.
rocker: for infants 5.5-18 lbs.
swing: 33x34x43"H
rocker: 28x22.5x30"H
batteries required
meets CPSC standards; meets FMVSS213 standards; FFA approved
polyester/metal/plastic/foam
clean with soap and water
Rated

5

out of

5
 by
Parrish
We love this swing!!
We love this swing!!! I had previously purchased a swing for my son and it just always seemed so small and he never seemed comfortable in it. This Duet Oasis Swing is amazing!! He has plenty of room in it, he is so comfortable in it and I love the canopy with the little bears hanging from it and so does he. I really like that it rocks side to side instead of back and forth like other swings, it is a more natural movement that puts him to sleep instantly. The vibration and sounds are so cool! Its got options like heart beat and car ride which are super soothing to him and provide enough white noise to keep him asleep. Also I was super surprised to find out that you can remove the seat and it turns into a rocker/bouncer which is very convenient! I love love love this swing and we use it multiple time a day, I am so happy with it! While I received this product for free, the opinions and thoughts included in this review are my own.
June 14, 2016
Rated

5

out of

5
 by
HayleyN
So many useful features!!
Since we have limited space in our home, I was hesitant to use a multi-use product like this one, but I am so glad I did! This swing is so plush and comfy (but also has a 5 point harness for safety) and the different swinging options are really amazing for determining which one my baby prefers! My favorite feature of all has to be that the rocker is removable and comes off with such ease! This allows us to keep the base of the swing in our common living space, but then carry the rocker to different rooms as we take showers, fold laundry, etc., which is beyond amazing!! Lastly, there is an electric plug included which saves you having to worry about batteries dying at a bad time and saves money since you don't have to replace the batteries often! I have been so happy with this swing and like all of our other Graco products, it's well made so I know it will stand up well to lending it to other momma friends, as well as any more of our children!! While I received this product for free, the opinions and thoughts included in this review are my own.
June 16, 2016
Rated

4

out of

5
 by
lore10
Great swing.
Its very great swing, we just wished it was louder on the sounds. We got a crooked leg so the swing hits the leg when its on.
August 11, 2016
Rated

5

out of

5
 by
Elia
Soothing embrace for little ones.
Although I received this product free of charge, All opinions are 100%mine. Being a new mom comes with a lot of stress including finding the time to soothe your baby while still being able to do everyday things. That's why this product is a life saver! The Graco - Duet Oasis Swing with Soothe Surround Technology provides baby with various soothing features like 6 separate speeds to fit baby's mood, to Sound and movement are matched to soothe baby in a new way. Best of all you can remove the rocker and take it anywhere with you. Your little one will feel nestled and safe in the comfy and plush seat giving for a great and soothing experience for baby and a much needed rest for mommy. I love this product and wish I would have found it with my first, however super glad I have it now.
June 13, 2016
Rated

5

out of

5
 by
TLouise
Excited to Use!!
I do not think I bought this particular model, but I can not find the exact one I did either (mine has elephants i/o teddy bears) Regardless, the swing is amazing!! Fairly easy to assemble, I recommend waiting until you have the batteries until you put it together :) I impatiently did not & it was a bit harder to get to the battery location once it was assembled. My version has 6 speeds, nothing too crazy, but I can see how it will easily swing baby into relaxation. It does take up a bit of space, but, you're going to have that with most baby products and gadgets and this one is worth it! The swing looks like it will be very comfortable for baby & I can not wait until I get to try it out with her in July!
June 21, 2016
Rated

5

out of

5
 by
LandonsMama
The best swing for your little one, pure comfort
While I received this product for free, the opinions and thoughts included in this review are my own. I'm the busy mother of 3 little ones with a new baby boy and having a swing and bouncer that I can rely on is so crucial. Babies love to be rocked and swayed back and forth but realistically it's not always ideal when you have other kids to tend to, showers to take, bottles to make, laundry to do and lots more. The Graco Duet Oasis Swing with Soothe Surround Technology is a dream come true. The color combinations are fantastic for both a baby boy and baby girl and the sound and movements are on key with my babies liking. No matter how picky your baby is they'll love the sounds and movements and with soothe them to sleep. We have found that the moving car sounds and movement is the best one for soothing little man to sleep when he is irritated or cranky in the middle of the night. I love how easy the rocker is to clean and I love how I can easily take the rocker from one room to another so baby is always near me. This swing has been a complete lifesaver and we're completely in love with it. Can't wait to get lots and lots of use out of it as little man gets bigger and bigger.
June 5, 2016
Rated

5

out of

5
 by
LLamb2016
Our Go-To Swing!
While I received this product for free to review, all opinions are my own. This was a product that I honestly didn't know I needed until we had it! My son is currently 4 months old, so I thought we were all set in the baby supply department. Little did I know how much he would love this swing! The Duet Oasis Swing with Soothe Surround Technology is a 6-speed swing with sound and movement that are matched to soothe the baby. My son preferred the highest setting, but the lowest is great for a really gentle rocking experience. He absolutely loved the vibration feature as well - it seemed to really soothe him! At this age, he rarely naps outside of his normal cradle anymore…this is the exception. The swing and vibration feature seem to lull him right to sleep. I love that the seat portion can be rotated in different directions, depending on where you need the baby to face. It can also be removed to make for a rocker that can be carried into another room! The innovative seat shape and extra plush fabrics made for a super comfy spot for my son, while the 5-point harness made for a secure swing experience. If you're in the market for a baby swing, look no further…this is one of the highest quality swings I've ever seen and it's available for a fantastic price!
June 16, 2016
Rated

5

out of

5
 by
shazia
A must have for a happy baby
My child gets cranky when its time for him to sleep and he needs me to sway and rock him to sleep which is frankly quite a tiring task. I was pretty impressed and relieved after having this product. It makes my job so much easier for me. And my child stays pretty calm on this swing. This is a well made product and is quite sturdy as well. It can hold weight between 5.5 to 30 pounds. My most favorite feature in this product is that this swing can be converted to a rocker within seconds. Its a two in one which gives this a lot more flexibility and portability. I can simple remove the rocker and carry with me in different rooms if my kid is sleeping and keep and eye on him. The other features are pretty good as well which include the soothing sounds and vibrations that can help your child really be calm. The fabric is very safe for the child and the cushioning is well done. The swing can sway front and back and also side to side. This has made life much easy and I recommend this for every parent. I do wish that the rocker has an automatic operation as well for rocking motion as once detached from the swing the rocker needs to be used manually. But it is not a let down for me. Disclaimer- While I received this product for free, the opinions and thoughts included in this review are my own.
June 9, 2016
$10

An oversized item surcharge may apply to some heavy or bulky items due to size, weight or special handling required. This item surcharge is in addition to standard shipping rates.

?
oversized item surcharge
true