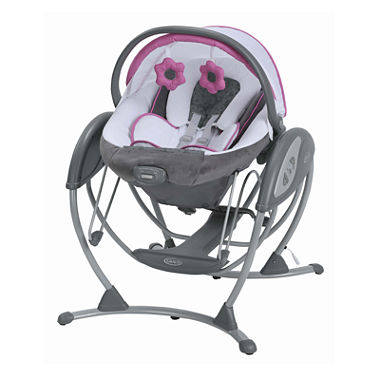 Graco® Glider Elite™ Gliding Swing - Pierce
pp5006150727
PRODUCT DESCRIPTION
Soothe your baby and accomplish your to-do list at the same time with this elite gliding swing. It features 6 swing speeds, 10 classic songs, 5 nature sounds, doubles as a bouncer and is designed to easily move around the house.
seat doubles as a bouncer
2 vibration speeds
6 gliding speeds
22.6x8.82x28.94"
for children 5.5-30 lbs.
some assembly required, instructions included
plastic
wipe clean
imported
meets JPMA/CPSIA/CPSC/CARB requirements
Rated

5

out of

5
 by
msjj
Glide Away!
I have used this glider since my baby came home. She is now 5 months old and still loves to sit and swing in it. I really like that I can lift up the seat and also use it as a bouncer. This allows me to keep my baby close to me when I have to move about the house. We have even take just the bouncer seat with us when we need to travel to family's house overnight. It also includes music and soothing vibration. It has proven to be very functional and helpful for our family.
July 28, 2016
Rated

5

out of

5
 by
aisley
Convenience at its finest!
Let me start with assembly of this product. First, I was surprised at how small the box was which let me know immediately that there would be some installation on my part. Thankfully, it wasn't too bad...30 minutes tops. I did find some of the illustrations that were provided to be somewhat confusing but was able to figure it out. Regarding the actual swing...so many positives. First, it's very quiet when simply using the gliding motion. Next, the detachable bouncer is a life saver. So easy to pick up and take to any room in the house. Also, the option to use batteries provides flexibility and money savings. Lastly, the music. I've read reviews about some folks not caring for it but I personally love it. A good variety...nature, music, heartbeat, etc. I highly recommend this product. It's also a great space saver (I've got a small home). While I received this product for free, the opinions and thoughts in this review are my own.
September 22, 2015
Rated

5

out of

5
 by
ramblinbetty
Thank goodness!
At two weeks old my baby boy was inconsolable, and we were exhausted and desperate. I held our screaming child while my husband put this together. It took maybe 10 minutes. The instructions are very clear and the parts mostly snap. Our son went to sleep almost as soon as we started it up, relief! My husband calls it baby crack. The music is horrible but the white noise/ nature sounds work for us. It operates pretty much silently. The fabric is pretty and very soft and plush. It also cleans easily. One week in we had a poopsplosion in it. The whole seat cover is machine washable and was brilliant again in one wash. It's line dry only and I even dried it on low for a couple of minutes, because we need it. Seriously. Other pros are the sun shade and toy bar, baby loves to watch the toys swing as he does. Also is high enough off the ground that my large dog can't loom over the baby, the edge of the seat is about 2 feet off the ground. Overall, wonderful.
July 23, 2013
Rated

1

out of

5
 by
Sad mommie
Loved it the time it did work
 i've had issues with the glider working properly. at first we thought maybe the batteries had died, so we plugged it into the wall to run with the cord,  but still would barely swing even on speed six. Please help baby upset im upset just got it less then 2 months ago hope to hear from you soon p.s music sounds stop working all together :,(
July 17, 2016
Rated

1

out of

5
 by
JayF
Stopped Working
Swinging and sounds stopped working with battery or with the power cord. Read other s having the same issue, wish these models we're recalled or fixed some how.
July 9, 2016
Rated

2

out of

5
 by
proudmomma1115
mixed review
I purchased this product a little over 6 months ago for my son who just turned 6 months old. When he was a newborn I didn't notice any issues with the product and absolutely loved the 2 in 1 aspect as I don't have much room in my living room. Unfortunately by the time he was 2 1/2 months old the swing would lose its swinging motion randomly even in the highest setting and it makes the MOST ANNOYING noises with every swing. Also the vibrate in the chair is SUPER loud. My son loved this swing but with the amount of noise it makes just trying to use the features my son cannot sleep in it as it just is too noisey. I paid ALOT of money for this product being that it wasn't on sale and I have to say I'm quite disappointed. The idea of it is great, if only the product held up to the idea.
March 22, 2016
Rated

5

out of

5
 by
Lizzy325
Soothes my Colicky Baby!
While I received this product for free, the opinions and thoughts included in this review are my own. I received the Graco Elite Glider when my newborn was 5 weeks old and extremely colicky and it's been nothing but helpful! The Elite Glider was easy to assemble with the instructions given and it took only 30 minutes. The features it comes with are fantastic! It can swing, vibrate, play sounds and songs, and the seat is also a bouncer that can separate from the glider which is my personal favorite feature. I can take the light weight bouncer seat with me to other rooms so I can keep my baby close and safe. Since getting this glider, my baby has been happier, because the glider is able to soothe him when I am incapable or running around with my busy toddler. I couldn't be happier and it's neutral colors and modern design fit seamlessly into my decor style. I recommend it to anyone!
November 2, 2015
Rated

4

out of

5
 by
MrsWrightWrites
Easy To Assemble, Great Features!
I received this product for review, and absolutely love it! I put it together as soon as I received it, and found it fairly simple to put together. I couldn't have done it with the instructions and the couple of tools it required, but following along with the instructions made it a breeze. The detachable chair comes out very easily, without need to push any buttons or anything. It's still was very sturdy when docked into the screen. The cushioning is also very comfy and my baby seems very comfortable. This is her first swing, and she took to it very well. The music features are awesome, although sometimes the down button for the volume has to be pressed a few times before it starts to quiet. Not a huge issue at all. I love that we have the option to use it plugged in, or with the batteries. We started off using it with the batteries, but now use it plugged in most of the time in order to preserve the battery. My daughter loves the bears that come with it as well, and the vibration setting. She is 3 months old and I can see her being able to fit into this swing and use it for many more months to come.
November 19, 2015