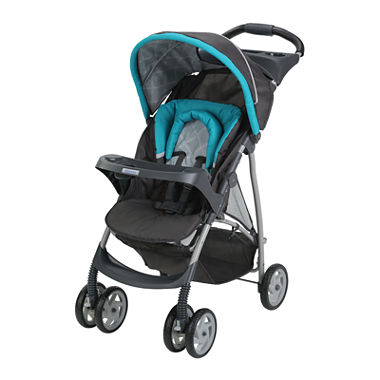 Graco® LiteRider® Click Connect™ Stroller
pp5007130210
PRODUCT DESCRIPTION
Keep things light and portable with Graco LiteRider® Click Connect™, the stroller with a one-hand fold and lightweight design that's ideal for on-the-go families
accepts all Graco® Click Connect™ infant car seats with a secure one-step attachment to create your own travel system
weighs less than 20 lbs., so it's ultra-portable and perfect for moms on the go
holds child up to 40 lbs. for years of comfortable strolling
one-hand fold with storage latch for easy-to-close convenience
deluxe padded, multi-position reclining seat allows your baby to ride in comfort during your explorations together
meets CPSC standards, FFA approved, meets FMVSS213 standards
assembled
polyester/metal/plastic/foam
27x19.5x40"H
seat: machine wash, line dry
frame: wipe clean
imported
Rated

5

out of

5
 by
amy09
Love this product!
I loved this product. It drives so smooth and easy. Super quick and easy to fold and unfold. Lightweight, and the design is adorable!
August 5, 2016
Rated

5

out of

5
 by
newmomkatie
Easy to use and put together!
I've not met my new son yet, but I can already tell this is going to be a great stroller. It was very easy to put together and I love how it works with the click connect car seat (we bought a snug ride 35 click connect). One thing we noticed was that the car seat "stuck" in the stroller at first, making it very hard to get out. But, with practice it would be easy to use. I love how this stroller travels with the child from infancy through toddlerhood!
May 24, 2016
Rated

5

out of

5
 by
MichelleFTM
The One Handed Folding Feature is Everything!
While I received this product for free, the opinions and thoughts included in this review are my own. It was super easy to install and the directions were so simple and easy to follow. I love that it reclines all the way back for when my toddler needs a nap. The handle bar is nice and high so that it is comfortable to stroll for a long time. I like the added tray for my toddler to put her sippy and snacks and for myself to put my drinks and phone. The under basket is huge so it is great for when you are shopping and need the extra storage. By far my favorite feature is the one handed folding feature. This is essential for me because I live in NYC and take public transportation. I love that I could hold my toddler with one hand and close the stroller with my other hand to get on the bus. I wish I would have had this stroller when my daughter was an infant because I love that you can click on a car seat.
May 31, 2015
Rated

5

out of

5
 by
jaba16
Fantastic stroller
I registered for this stroller because I already had a heavy duty stroller passed to me. I needed something that my click connect car seat could be used with. I needed it to be light weight and able to open and close with one hand. Assembly of this stroller was so easy and I did it in 10 minutes. Very easy instructions. I love the colors and I can tell this stroller will last me a while.
May 19, 2016
Rated

5

out of

5
 by
krispex
easy to use
i bought this because i recieved a graco click connect carseat at my babyshower so i i thought i would buy the stroller that went with it. assembling the stroller was a bit of a hassle. the wheels were tough to get on. i dont know if we were doing something wrong or if we're just stupid but we really had a rough time getting them on but other than that it was easy to get together. its a little hard to make sharp turns with it. the wheels dont want to turn to sharp. the stroller is pretty light and easy to carry around. its also really easy to fold and unfold. i wish it folded a little flatter than it does because it takes up my entire trunk but other than that i really like it.
March 23, 2016
Rated

5

out of

5
 by
FreeForAll
Lightweight and Great For Travel!
I love the LiteRider Click Connect Stroller especially the ease of which it folds up. You can fold with one-hand and easily store it using the storage latch.The deluxe padded, 2-position reclining seat keeps baby comfy and the extra-large, drop-down storage basket makes taking what you need for baby wipes, diapers etc. easy and hassle free! I use the parent's tray with storage and 2 cup holders for on-the-go convenience most. Since we usually use our stroller most for strolls in the park on hot days. The removable child's tray helps get baby in and out of the stroller easily. I think Graco covered everything when they made this stroller it is not big and bulky or hard at all to use and is great for a mom on the go a lot like myself!. While I received this product for free, the opinions and thoughts included in this review are my own
May 30, 2015
Rated

4

out of

5
 by
MichH
So lightweight and easy to fold down
I have had this stroller for almost a month now and it has become my go-to stroller for just about everything. It is so lightweight-I can easily pick it up in one hand with my 2-yr-old in the other arm. Being so lightweight, it is also incredibly smooth to push. It turns easily, even with just one hand. I love that the child's snack tray is a substantial size-larger than my other strollers-so he doesn't accidentally push his snacks or toys off the edge. I also love the placement and size of the adult's tray. It has two cupholders, 1 deep one and a wide area to put keys or phone. My favorite part of this stroller, though, is the deep basket being on an angle. It is SO easy to get shopping bags or the diaper bag or blankets, etc, in and out of the basket, even when the child seat is reclined. The only challenge I've had with the stroller was putting the front wheels on during assembly. It takes a hefty amount of pressure to click them in. I don't think it's a flaw, but would just advise users to not be afraid to put some muscle in it. Once they're on, the stroller is great! *I received this product to review for free in exchange for my own honest opinions*
June 2, 2015
Rated

4

out of

5
 by
CoraDad
Great value
Much more useful than the heavy expensive strollers that eventually get stored in the garage. Got this stroller because it works with the Graco infant car seat. Very practical.
March 2, 2016