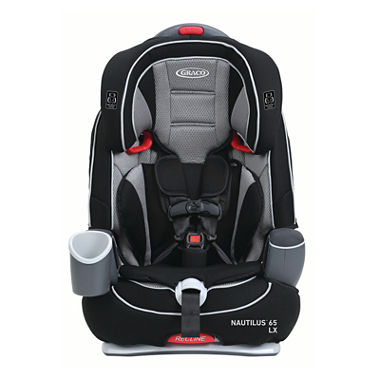 Graco® Nautilus 65 LX 3-in-1 Harness Booster Seat
pp5006750337
PRODUCT DESCRIPTION
Our 3-in-1 harness booster helps protect your child with a durable steel-reinforced frame and a fully adjustable headrest to help keep them at their most comfortable as they grow.
Simply Safe Adjust™ harness system adjusts the height of harness and headrest in one motion
side-impact tested for extra safety
polyester/metal/plastic/foam construction
some assembly required
wipe clean
18x20x28"H
imported
Rated

5

out of

5
 by
Meggpie84
Love Love Love
I have the original Nautilus not the LX but that one isn't on here. My mom bought it for my son when he was about a year and a half. He is now almost ten. I was able to keep him in a harness till he was seven and he used the high back booster till he was eight when I moved him to a different booster. That seat has lived through him and I now use it for my nephew. It did finally out date last year but my sister and I gave it a very thorough look over and it is still in like new condition other than a few fabric stains. We aren't a family to abuse the seats our kids go in so I feel confident that my nephew will be safe in it till he out grows it. I will retire it when he's done with it. So far he loves it just as much as my son did. They like the cup holder and side cubbies and I like how easy it is to get them in and out. I don't like how heavy it is when I have to move it but I know it helps with the safety and I like that. I recommend this seat to anyone looking for a great car seat. We love our Graco products.
July 20, 2016
Rated

5

out of

5
 by
Vjck
Great features...my baby loves it.
Very nice and easy installation.great safety features
September 14, 2016
Rated

5

out of

5
 by
Treehugger
Excellent chair!
I first bought this chair for my SUV. We love it so much that we bought another for my husband's car. We contemplated between this style and a turbo booster style chair. We decided on this one because of the harness and its overall a better built chair. I plan to keep my 3 1/2 year old son in a harness for as long as possible as it's the safest option. But when it's time to use the car seat belt this chair will easily convert. The harness gets removed and the seat belt slides right in. My son says it's very comfortable and he loves the two side compartments for snacks and toys. He gets in and out with ease. Our neighbors have this chair for their 5 and 7 year old girls, and it still fits them well. It's also easy to clean which is always a plus! We are very happy with both of our chairs.
August 11, 2016
Rated

4

out of

5
 by
angelgurlbelle21
Awesome
I bought this for our daughter and I am so happy we got it!! It securely fits in the car and you can decline the bottom to adjust to the seat. We had issues with another 3 in 1 because it wouldn't fit securely in my car because my car seat it slightly inclined but the Nautilus adjust to fit all type of cars and it secures wonderfully. Everything about the car seat adjusts to fit your car and your child. I am so pleased with my purchase!!
September 5, 2016
Rated

5

out of

5
 by
MsMoore2706
Love the colors
I like that this will be the last car seat that my daughter will need. She loves the cup holder and the side cubbies to put her things in.
September 1, 2016
Rated

5

out of

5
 by
Ash1985
Great seat
Just bought this car seat. We love it so far! My daughter is big for her age but this seat is a perfect fit.
September 7, 2016
Rated

5

out of

5
 by
Britt25
Love this car seat
I got this car seat for my 4 year old daughter who is approx. 42 inches and 41 lbs. I wanted this to be the last car seat that I will need to buy for her and it will be. It will take her through the point of being able to no longer need a car seat and it doesn't expire for 10 years so I am pleased with that. I think that this car seat is easy to install and tightens well so it is very secure with the latches. It fits well in my small car (Nissan Versa) which is a huge plus for me. It's not big and bulky and really heavy which is nice when I have to move the car seat in to another vehicle. The straps are easy to adjust as well as the headrest height. My daughter thinks that the cup holder is the greatest feature of this car seat on the planet! The only thing I had an issue with was adjusting the buckle at the crotch when I first got the seat so it fit my daughter properly. It took me a few minutes to figure out how to get to it so I could adjust it but once I figured it out it was easy. I would absolutely recommend this product.
March 7, 2016
Rated

5

out of

5
 by
Angie77
I love how it's easy to adjust the height
Bought 2 month's ago and I love it I've used different car seats in the past having 9 kid's and I love this one the most.
August 26, 2016