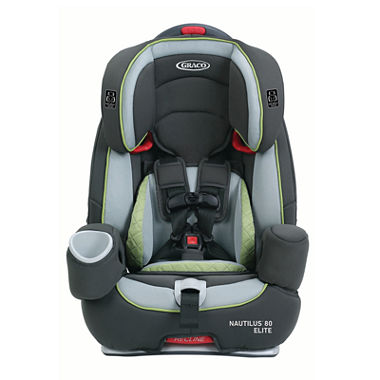 Graco® Nautilus 80 Elite 3-in-1 Harness Booster Seat
pp5006750338
PRODUCT DESCRIPTION
Our 3-in-1 harness booster helps protect your child with a durable steel-reinforced frame and a fully adjustable headrest to help keep them at their most comfortable as they grow.
Simply Safe Adjust™ harness system adjusts the height of harness and headrest in one motion
side-impact tested for extra safety
polyester/metal/plastic/foam construction
some assembly required
wipe clean
18x20x28"H
imported
Rated

4

out of

5
 by
B3laine
Comfortable, have patience w/ install
I bought these are month ago after owning a nautilus 65, it did its job we were involved in a high speed collisions, a driver wasn't paying attention to traffic slowing down on the highway and rear-ended us at 70mph most of the impact was on my daughters side in the rear, my car had frame damage and busted the back glass out. Daughter came out okay except for being freaked out when driving for a while. When it came to buying a new carseat I was no doubt going to get a new graco, I chose this one because the crotch strap comes out farther than on the other. It makes it easier to strap in with out digging under her but to get the strap. Only thing I don't enjoy is the new lock off guides, makes it so much difficult to install, I have two my daughter uses the belt install took for ever to install correctly, and the other one is installed with latch, it was pretty easy to install. I would still recommend this seat, just have patience when installing it.
July 24, 2016
Rated

5

out of

5
 by
Jessysue81
Comfortable
My best friend had these car seats for her boys and they are so comfy,and I really liked the features so I bought two for my two little ones. They love them!! No issues getting them in their seats. (Last seats were uncomfortable and they used to not want to get in)
August 23, 2016
Rated

5

out of

5
 by
Firsttimemommy305
Great price!
Very compact, not bulky, lightweight car seat. My 22 month old is very comfortable in it.
August 19, 2016
Rated

4

out of

5
 by
Macys Mama
Great product at a great price!
We purchased this car seat after doing quite a bit of research through multiple safety sites and user reviews. It is very easy to install and can be removed with little effort, when changing cars or travelling. The sides are much higher than our previous seat and so we struggle to squeeze our child in over the arm rests. However, with the cup holder and added padding, she is much happier! We look forward to having this seat for years to come!
August 1, 2016
Rated

5

out of

5
 by
Kristina8845
Easy to adjust
The Nautilus is easy to install. It is comfortable for my son, who is four and tall for his age. I like that the headrest is easily adjustable by sliding up and down without needing to re-thread the harness. We bought the Argos 80 last year for our Ford Focus and liked it so much we bought another Graco, the Nautilus, this year before we head out on a long trip in our Chrysler Pacifica. The seats fit well in both cars. We expect to use this car seat for our son until he is ready to ride in the back without a booster.
July 19, 2016
Rated

5

out of

5
 by
FranB
very well made
I purchased this two days ago. I have looked at a lot of seats but this one had all the features I wanted and is very well made. Lots of padding too.
June 26, 2016
Rated

5

out of

5
 by
Judy69
Many features
I just bought this car seat and have not used it yet. I did need to get professional help that is offered in my city to get it in the car -- but it was a benefit to me to truly understand what the car seat has to offer. The gal that is registered to put in car seats told me that it was a very good seat and she truly likes the Graco product. I am still learning to figure out everything because I am the Grandma and when my son was little -- things were SO much easier!! But it is coming along! I do like the car seat and the fact that I can make it as comfortable as possible for my sweet Granddaughter.
June 9, 2016
Rated

5

out of

5
 by
drwren17
Great design!
Just bought this car seat after spending an hour in the store (while another mom was doing the same thing). I had my 4-year old daughter sit in 4 different car seats while there and immediately she loved the comfort of it! As a mom, I love the design! My favorite feature is the convenience of adjusting the shoulder straps. You just click the handle on top of the headrest and it adjusts up and down. As an extra bonus, it's rated #1 in car seat safety...can't go wrong with that! It's also very reasonably priced.
June 16, 2016