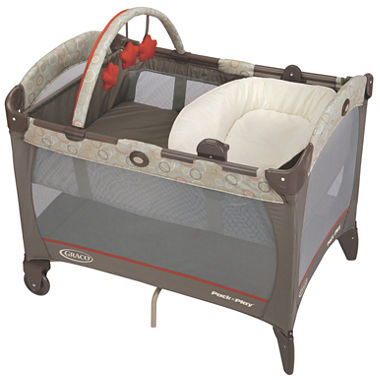 Graco® Pack 'n Play® Playard - Forecaster™
web ID: 3431055
Sleek and stylish Pack 'n Play playard provides all the essentials in one portable package.
changing table makes diaper changes a snap
reverses to a napper so baby can snuggle and fall asleep
removable infant bassinet provides a cozy sleeping spot for baby, at home and away
mobile with soft toys amuses and engages baby
quilted bumpers and mattress pad for comfy napping; airy mesh on all sides provides maximum ventilation
signature Graco push-button fold makes closing your playard quick and hassle-free
carrying bag included
40x28½x33¼"H
bassinet and changing table for infants under 15 lbs.; playard for children unable to climb out and under 35" tall
comes partially assembled; instructions included
polyester/cotton pad
machine wash, line dry napper
imported
Note: If playard gets sandy, carefully remove sand from all surfaces as it can damage top rail lock.
Rated

5

out of

5
 by
bunny
excellent pack n play
We bought this pack n play to replace a babytrend one that we baught when our first child was born and i am so glad i switched to graco .firstly i could never set the bt up easily it always took forever the graco is so easy it takes seconds to get the sides locked in place, secondly the graco goes down so easily to no more getting my husband to push the buttons for me just lift, squeeze and drop love it. Thirdly the napper/changing station love the fact that when my little man was 1-3 months old he could sleep in the napper and it helped with his acid reflux because of the slight raised back. Most babys could probably use it longer but my boy is 3 months and just about to start wearing 6-9 month cloths heis very long. One last thing we are a military family and this pack n play has already been taken accross 7 states 6 hotels and been used non stop for 6 weeks now (were moving) with no issues absolutely love it and will recommend graco as a first choice to everyone i know who is expecting.
July 17, 2015
Rated

5

out of

5
 by
amblurr
Great Features
Love that the napper and changer are reversible and not another bulky thing to take up space. Switched to the always trusted Graco brand from another brand that had all the bells and whistles however i felt it was unsafe because of the way the boards were placed, loved that it was completely all washable but after putting my son in it it was uncomfortably hard and leaned in places it shouldn't. My mother in law and my mother both had a Graco brand playard and they looked safe and when checking them out at the store we too decided to go with this trusted brand. SO HAPPY WITH OUR DECISION TO PURCHASE GRACO. The whole playard was easy to assemble and break down folds right back up perfectly and goes into the supplied carry bag very neatly. Love that there is an optional bar of plush toys for the child to look at. Checks off all of the basic necessities required for spending the night away from home or while LO is still in the room with us until he is transitioned to his own room, with number one being SAFE!
July 23, 2015
Rated

5

out of

5
 by
MommaJ2B
Freedom and Peace of Mind
We are first time parents and just brought our little girl home last week. We live in a two story apartment and when we were downstairs it was stressful because one of us would always have to hold her so we couldn't really get into the swing of life back home. That was until we got our Pack 'N Play. It was super easy to assemble, I did it while daddy held the baby and once we got it set up and aired out we set her in it and both sat down with our hands free. It was wonderful. We can see her in there due to the mesh sides and she is getting better at napping without being held thanks to having more options for places to lay. Also knowing that when she gets bigger we can drop the mattress and have it continue to offer her independence and safety with us not having to have hands on her. I honestly don't think we could have kept our sanity those first few days/nights without it and I know we will continue to love it for many many months/years to come.
August 4, 2015
Rated

3

out of

5
 by
New Mom 1215
Not very portable
Baby won't be here for a few more weeks so I can't review on how baby likes product. However, I can review on portability which is virtually non-existant. Wanted this item for overnight trips to Grandma's house. The play yard itself folds and fits into a supplied bag but the handle seems cheap. I can only imagine toting this item and a newborn won't work well- should have a strap. The added features (changer, napper, bassinet sling, mobile) does not fit into provided bag and will have to be carried individually which does not seem convenient with a newborn. Almost feel like the additional items were a waste because I know they will frustrate my caregivers more than helping them due to the inconvenience of bulky items that can't be packed away- Hense the "PACK-n-play" description.
November 2, 2015
Rated

5

out of

5
 by
lrcren
Very easy and convenient!
This was given as a baby gift and we are so excited. It is easy to put together. We can get it out, set it up and put it away very quickly! The reverse napper and changer is easy and quick to change. It just flips back and forth from napper to changer very easily. Our baby is not here yet, but we are sure to get a lot of use out of this pack n play.
November 16, 2015
Rated

3

out of

5
 by
Neko_Coco
An OK Pack n Play
It's a great pack n play if you don't need to travel with it often. It doesn't come apart easily with the changing table/napper and the sides don't snap in place easily either. Other than that it's a great and sturdy Playard.
November 12, 2015
Rated

4

out of

5
 by
Cebj2015
Seems to be a nice product.
Just purchased yesterday and assembled today. The bassinet napper/changer was the most difficult to assemble. Asserting the button housing tubes into each other made it difficult.
November 12, 2015
Rated

4

out of

5
 by
anuahsk31090
Great product!
We registered for this product and put it together shortly after our shower. While the baby isn't here to use it yet, I really like the features especially the reversible and removable napper/changer.
November 7, 2015
$10 oversized item surcharge

An oversized item surcharge may apply to some heavy or bulky items due to size, weight or special handling required. This item surcharge is in addition to standard shipping rates.