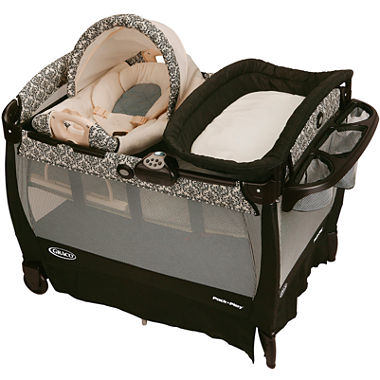 Graco® Pack 'n Play® Playard w/ Cuddle Cove™ Rocking Seat - Rittenhouse
web ID: 3433051
All-in-one playard has everything needed to help make your newborn's early days easier on everyone. The Cuddle Cove rocking seat is a cozy nest with soft fabrics, gentle vibration and carrying handles so you can move from room to room without disturbing your baby's slumber.
canopy on rocking seat shields baby from harsh light
changer has cushioned, quilted rim for more comfortable diaper changes
3 cubbies for essentials
plays 5 classical songs and 5 soothing nature sounds
carrying bag for traveling
for children 5-25 lbs. and under 35" tall
rocking seat and bassinet are for babies under 15 lbs.
changing table for babies under 25 lbs.
partially assembled; instructions included
3 AA and 1 D batteries required; not included
28½x40x33¼"
polyester/cotton
machine wash, line dry carry bag and rocking seat
imported
Rated

5

out of

5
 by
rowansmom1127
Wow
I got this free to review. All views are my own. I love it. With my first child the pack and play was so simple. I am a short person I couldn't use it as a travel bed. This solves that issue. You have everything you need on the go or in your bedroom. I am so odd I wake up and have to be able to look at my baby/kid the nightlight rocked no more waking the baby up just to check on them. I also love the vibrate setting great for gassy baby or getting them to sleep. Oh lets not forget the removable seat. I can to the baby everywhere I go as I do my work and house work. It is soft and washable which is huge when you got kids. At some point someone will leak,poop or puck never fails. This really is an item that will grow with them. Only things about is you will need pack and play sheets the broad is waterproof but doesn't have fabric to it. I did have a little bit of a hard time putting together, but not big issues well worth the price. Also this will last longer then the cheaper ones.
June 4, 2015
Rated

5

out of

5
 by
KatieD
PERFECT FOR US!
We love this playard! First, it's GORGEOUS. The rich, chocolate brown and cream with chevron is so pretty, and fits in very well in our home. The changing station is big and strong, and having the pockets on the side for storing diapers and wipes and things is awesome. The Cuddle Cove has become one of our favorite things. Baby rests in it quite comfortably. It's sturdy and the fabric is so soft and cozy. It's super-nice to be able to pull the Cuddle Cove out and move Baby around in it. She likes the rocking too! The playard is large enough for her to roll around and play, and is comfy enough for her to rest when she wants. Definitely recommend!
November 10, 2015
Rated

5

out of

5
 by
penguin707
Meets my expectations
This is a very functional and easy to put together. The colors are neutral, can go with any decor. Graco makes very smart pack 'n play, a few years back we used one for our first child also and loved the experience. The new design "Playard with Cuddle Cove Removable Seat" is all the more better, can't wait for my baby to be born, I'm sure he would be so comfy in this pack 'n play made with the softest material. -- It has four compartments to store all the basic necessity stuff like wipes, diaper, burp cloths, onesies, baby blanket. -- Removable seat can stand on its own and feels sturdy. -- Vibration in both seat and bassinet is an awesome feature, my baby can sleep peacefully. -- When my baby is little older, he can play in the playard while I finish my chores around the house. I will definitely recommend this product, high quality and best priced. Disclaimer: I received this product for free, but the opinions and thoughts included in this review are my own.
May 28, 2015
Rated

5

out of

5
 by
KCAycox2010
Easy to put together
My husband and I put this whole system together in about 25 min we liked how easy it was to put together
November 7, 2015
Rated

5

out of

5
 by
MomOfMiaAlina
Love the extra help!
I bought this Graco playard a few weeks ago. It took me a while to shop around, but when I finally found this playard, I knew it was the one! Literally! It has everything we need for our newborn & as she grows into a toddler. The first thing I like about this playard is the removable seat. I can take the seat anywhere in the house, even take it to grandmas house! This is where our newborn will sleep for a few weeks, instead of a crib because it's small and cozy where she feels like she is snugged up and not in a wide open space alone. The vibration & music sounds it has will definitely help everyone go to sleep, not just our baby. The second I like is the changer because it is very conveniently located right next to the removable seat. It also has storage space for diapers, wipes, cream, & whatever else you want to place there. This changer is also removable for when your baby gets a little older and is going to use the inside of the playard more. I also love the adjustable heights for they matt inside. The last favorite thing I like about this playard is how easy it is to travel & put away in the car.
September 17, 2015
Rated

5

out of

5
 by
AthenasMommy
Love, love, love it!
I received this play yard as a gift from my sister for my baby shower and I have got to say I just love it! We have it set up in our room right next to our bed which makes sleeping at night much more relaxing. The audio/night light feature is wonderful! Baby will not fall asleep without the nature sounds playing and when she fusses in the middle of the night all I have to do is turn on the low light night light and see what's making her uncomfortable without fully waking her up. I love the removable bassinet part, it makes nap and cleaning time a breeze because I can just bring it around the house with me. Another wonderful feature is the vibration it has! Oh how it's helped when she gets gassy! A few minutes in there with the vibration setting on and I have a happy farts-a-lot baby girl! Also when we are on the go packing it up is so easy! Did I mention it's also easy to clean?! I would definitely recommend this product to expecting mothers!!!
May 8, 2015
Rated

5

out of

5
 by
ihap4ml
Love it!
My newborn would nap in the seat next to me everyday. I loved taking it where I needed easily. I didn't even buy a regular changing table. I used this one. And the storage on the side was very handy for wipes and lotion. I still use the playard for traveling for my now 18 month old. It's been wonderful.
October 15, 2015
Rated

5

out of

5
 by
KristinS
Perfect for Newborns!
This is my third Graco Playard and, again, I'm thrilled! Both my kiddos used them and now that my newborn nephew has come along, he has a nice, new comfy place to sleep and relax in at my house! First, let's talk about the lovely neutral color (Glacier) palette. It goes in every room of my house, which is great because I move it around a lot, according to what I'm doing, so baby can be right next to me. Next we have the Cuddle Cove removable seat...It's perfect for those times I don't need the whole bassinet and playard, but do need a cozy spot for baby to nestle in. It even vibrates, which helps with those fussy times. And as far as set up goes, just like I've found with all my Graco playards, it's easy as pie. This busy mama (and new auntie) does not have time to fiddle around with hard to set up gear, so easy set up is very important pour moi! While I received this product for free, the opinions and thoughts included in this review are my own.
June 4, 2015
$10 oversized item surcharge

An oversized item surcharge may apply to some heavy or bulky items due to size, weight or special handling required. This item surcharge is in addition to standard shipping rates.