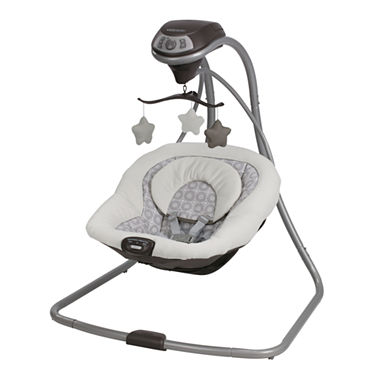 Graco® Simple Sway - Abbington
pp5005000207
PRODUCT DESCRIPTION
The deep, plush seat and gentle 2-speed vibration on this portable swing gives your baby maximum comfort, while its small-frame design makes it easy to store.
side-to-side swinging motion
30x31x38"
partially assembled, instructions included
5.5-30 lbs.
polyester
aluminum frame
wipe clean with soap and water
imported
meets CPSIA/CPSC and CARB requirements
Rated

5

out of

5
 by
cdnwjae
Perfect Buy for First Time or Seasoned Parents!
While I received this product for free, the opinions and thoughts included in this review are my own. This is a great lightweight, feature packed swing for your little baby. I am using it with my 5th baby (a girl) and I couldn't be happier. It was fairly easy to put together out of the box. It took me just under an hour. My daughter is just 3 weeks old and she has loved being in the swing. I really like all the features - the music and the water sounds. I also like that you can adjust the volume to suit your needs. And the fact that the unit can be plugged in and doesn't require batteries is AWESOME!! The swing seat is soft, plush, and a great neutral color. My daughter fits into the swing nice and snugly. This is a great unit to have in any size of home. We have it and keep it in our family's living room and it doesn't take up too much space and looks great with our neutral decor. Definitely a great buy for anyone who is expecting a baby! You can't go wrong with this swing purchase.
May 6, 2015
Rated

1

out of

5
 by
Mommy_NaNell
Seat sits baby up too much
I bought this swing because it plugs into the wall which saves a lot of money on batteries. The seat although sits the baby up too much, i had to get strap covers to help hold up my baby's head. It doesnt look comfortable at all for the baby shes sitting almost straight up. It's hard to place baby in without waking her. The nature sounds arent loud enough to hear. Not a good swing for a newborn. Pretty disappointed I wish I had my box so I could return it and get back my money.
September 6, 2016
Rated

3

out of

5
 by
ActiveBabyMom
Good overall, but not used long term
I really loved this swing in the beginning, when my baby was a newborn. But as she got more active, she wanted to sit up and this only reclines. Also the mobile doesn't move so she was not entertained by that for long unless we manually made it move. Great for little babies but needed more grow with baby features.
September 8, 2016
Rated

3

out of

5
 by
sandy1050
works well, terrible music arrangements
The swing works well, but I wanted to let you know that while the songs chosen are great, the arrangements of these songs are absolutely terrible. They are so bad that we elect not to play the music. It is too painful to hear them butchered.
September 5, 2016
Rated

1

out of

5
 by
sophiasmom
Creaks while using
I put this on my babies registry before she was born. Once she arrived we took it out of the box- she loves it. However, there is one huge and obnoxious problem. When she reaches the peak of the swing on each side the thing creaks like crazy. She loves it, almost starts to fall asleep sometimes and then the creaking starts and wakes her up. I wish I could return it and get a different kind because for the price my aunt paid it shouldn't be making this noise at all!
August 19, 2016
Rated

4

out of

5
 by
Nllafon
Simplicity!
Received this product as a baby shower gift. I am 8 months pregnant and have no energy half the time but was super excited when FedEx brought this to my door. The swing almost completely snaps together. The longest part was putting the seat cover on. The cover snaps over everything, do not try to wrap it though behind the part where the poles snap in, it doesn't fit like that. A MAJOR PLUS is the ac adaptor! No batteries required to run the swing! The seat vibratior requires batteries but to use the swing itself it runs on electric. The preset sounds are soothing. The motor isn't too loud. You almost don't notice it. Excited to see how my son likes it when he adrives.
July 21, 2016
Rated

3

out of

5
 by
ellie213
Nice Swing.
I received this swing with a defective part and the retail store i bought this from didn't want to do anything about it. I called Graco thinking I may have to pay for replacement parts and within a 10 minute phone call I had a replacement order put in and the parts on their way. Not only do I love the swing but i also highly recommend using Graco for purchases like these. I've bought from other retailers and had to pay for parts that were broke or missing before and with Graco they sent them with no hassle at all. They were also extremely nice about it.
July 19, 2016
Rated

4

out of

5
 by
MomToOneSon
Great price for a great product!
My son is in the 90% for weight and height so at only 5 months, he is 18+ lbs. The swing we had didn't have any "get up and go" to actually move him at all, even though it was a brand-new swing. My husband and I knew we needed something that had the momentum to swing a heavier (but still really young!) baby! This swing is perfect for just that! It rocks my son to sleep and calms him when it seems nothing else can. The mobile gets in the way of my son's head so if you have an older baby, perhaps keep the mobile off. But it is a great addition. The swing makes a gliding noise at it swings but honestly, every swing my son has ever been in does this. I think it helps to relax him anyways so it's not a big deal. You have to put the swing together yourself and it is not labeled in the best way so that can be a little challenging but it is not difficult at all and is relatively easy to do. All in all, we are pleased with the purchase! It is a great price for a great product! And my son LOVES it, which is all that matters!
June 23, 2015