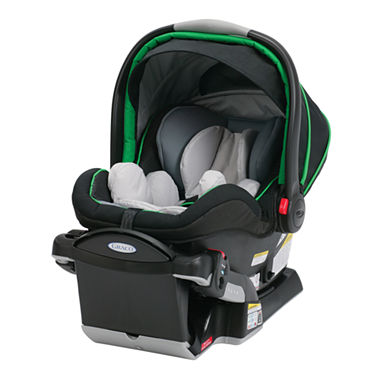 Graco® SnugRide Click Connect™ 40 Infant Car Seat - Fern
pp5004991288
PRODUCT DESCRIPTION
The only car seat designed for newborns to 2 year-olds, this SnugRide seat and base features 8 adjustable positions to give your child needed leg room, a reliable Simply Safe Adjust™ harness system and In Right™ latch system for easy attachment.
15.6x18.6x15.59"
partially assembled, instructions included
for rear-facing infants from 4-40 lbs.
polyester seat cushion
aluminum frame
wipe metal and plastic parts with soap and water
imported
meets CARB and U.S. safety standards
Rated

5

out of

5
 by
JenRioux
Best Car Seat
I know when you first see this car seat and how much it is for only a car seat it may alter your opinion to buy this one. You shouldn't let that happen. This is such a great car seat for so many reasons. First off it can definitely last a very long time. My son is now 14 months and has been in this car seat the whole time. He has always been between the 75th-90th percentile for weight and height so he is a bit larger than normal, and he still has room to grow in this car seat. I have never had issues with the buckle and it is pretty easy to take apart and put back together to clean it. The extra padding for the newborn/infant stage was also so nice to have. I have seen many friends and family members have to buy new car seats a few months after their baby is born because they outgrow their original one too quickly, and I don;t think many people would have to do that with this one. Thank you Graco for this car seat! I almost got a cheaper one but I am so happy I ended up with this one.
May 23, 2014
Rated

5

out of

5
 by
MW2014
Most secure feeling
We purchased this car seat after much research for the steel enforced additional head support and also the leg room extend ability. Since babies are to be rear facing for 2 years now, we wanted an option that allowed leg room growth. We also chose the gender neutral gray on gray pattern
September 17, 2016
Rated

5

out of

5
 by
Becky12
Love it!
We loved that the car seat was able to grow with our child till he was 2.
September 6, 2016
Rated

5

out of

5
 by
Momma Mia
Durable and easy to use
Bought this carseat because I loved the design and that it goes to 2+ years old. So far it's been great. Very durable easy to wash inserts and I love the head protection. Very easy to change height of straps. My last baby is tens years old. The things they have now are so much better!!!
September 12, 2016
Rated

5

out of

5
 by
Amber729
So thankful for this car seat!!!
My baby is now 16 days old and this car seat has been our best investment!!! We were backed into when he was 12 days old and he didn't budge. He was asleep and kept sleeping not aware that anything happened. On day 15 he was in his car seat connected to the aire3 stroller when we were in a mall during a lock down. My husband and workers had lift the stroller up and over boxes to get us to safety and yet again out baby didnt move. He continued to rest and sleep through all this chaos. My so glad to have a car seat that has kept my baby secure and will continue to keep him that way until he is 40 lbs.
August 14, 2016
Rated

3

out of

5
 by
jay8
Self heater
I loveven everything about this carseat except the headrest. It adjusts with baby but if your baby is a self heater, this carseat will not be for you. My baby is warm blooded. Any time the weather is warm. he sweats so much. It looks like I just gave him a bath and left his hair wet. If there was an option to remove the head piece I would be able to use it up to its intended age. Unfortunately were in the middle of summer and I'll have to replace it soon. He's only going to be one and I'm bummed to not get full use. But everything else is awesome. It's the perfect fit in my SUV, not to heavy. soft and padded. I love being able to remove it easily to wash. One of the best things is being able to adjust the harness straps
July 27, 2016
Rated

5

out of

5
 by
Eby mom
Easy to use
This car seat is amazing. I had a premie baby and this car seat allowed me to bring him hom. It is also very easy to use and easy to get in and out of the car.
August 25, 2016
Rated

4

out of

5
 by
JustBrit
Love it
I bought this car seat when it first shelves in BRU. My daughter is small for her age and it keeps it her well packed in there with all the padding. She did have a diaper explosion in her seat which was a bit of a pain because the cushy padding isn't waterproof so she had to sit in her mess until I could get her home. When I went to take the chair apart I was surprised to see that the seatbelts do not come off. I read the care instructions for them and found you are supposed to clean them with soap and water. I used Clorox wipes because I didn't want to leave soap on the belt. My other frustrating thing is that you can not use toys on the handle and have the sunshade open. I think a better designed shade would work a lot better. I do however Love that with the click of a button the head rest slides and adjust the seatbelt. I have leather seats in my car and it hasn't effected them in the least. I am hoping this car seat will hold her for a long time as other brand didn't hold my boys past 6months. Pretty decent car seat IMO.
June 2, 2013