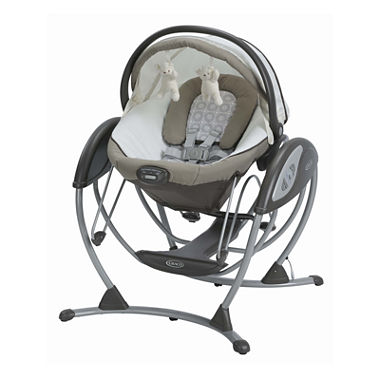 Graco® Soothing System™ Glider - Abbington
pp5006150728
PRODUCT DESCRIPTION
Soothe your baby with the 6 gliding speeds, 10 songs and 5 nature sounds of this innovative glider from Graco.
doubles as a swing, gliding bassinet and portable bouncer
carry handle
reclining seat
6 gliding speeds
10 songs
5 nature sounds
for children 5.5-30 lbs.
some assembly required, instructions included
plastic
wipe clean
imported
meets JPMA/CPSIA/CPSC/CARB requirements
Rated

5

out of

5
 by
StephanieAnnzzzz
The Whole Package
This was a gift and I'm so happy I received it. It's got everything! It's sturdy, it's quiet, it's soothing, it's multi-functional! I'd like to ad that Graco customer service is top notch as well. I needed replacement bears and they sent me 2 for free!
September 15, 2016
Rated

5

out of

5
 by
Jaynbert
Best Soothing System Ever!
I am a mother of 4 with another on the way. This is by far the most valuable soothing system in every way. Assembly is so simple I was able put it together in less than a half hour, without any help. Every piece seems well made and very durable. The print is soft, and so easy on the eyes. What better print and color option for baby that needs soothing? The Graco Soothing System has so many options for continual use. The bassinet is amazingly sturdy and stable. I could not possibly be more impressed. Why would anyone buy a traditional bassinet, when this system offers your baby a truly soothing and restful sleep? When it is time for play the bouncy seat is lots of fun and help to allow a baby to stretch, and strengthen their legs and back. If your baby gets a little fussy, all you need to do is change that bouncy seat to the swing option. This is sure to provide your little one with all the comfort, and soothing motion you provide in your own glider or rocker. When your baby isn't in your own arms, this Graco Soothing System really is the next best thing. My own children range widely in ages. Graco really has an innovative way of keeping up with the times! I could only dream of a product this functional 14 years ago, let alone 20 years ago! This soothing system is just another example of Graco greatness.
August 8, 2016
Rated

5

out of

5
 by
pearlsandparis
A must have product!
As a first time mom, I'm always on the look out for products that can help make my day go a little smoother when it comes to my baby. While I received this product at no cost, this review expresses my own opinion. With that being said - there are not enough words to describe how perfect the smoothing system glider is. While I was 39 weeks pregnant, I put it together all by myself. I don't consider myself to be handy but the setup was not complicated nor time consuming. This system is a gliding swing, sliding bassinet, portable bouncer & bassinet in ONE! There are multiple speed settings as well as songs and nature sounds that seems to calm and soothe the baby. My absolute favorite feature is the sliding bassinet. Besides his crib, this is the only other product we own that he stays calm in and sleeps in between feedings. The canopy also is a plus as it blocks the overhead lights in our living room from disturbing him. If you are looking for a glider or swing for your baby, I HIGHLY recommend this one. You will not be disappointed.
September 30, 2015
Rated

5

out of

5
 by
SmartShopper
Great Product
This bouncer, glider, bassinet was one of the best purchases I made for my baby.
June 22, 2016
Rated

5

out of

5
 by
EricaDHouse
This first time mom loves it!
I was given this set to review and am SO glad I did as my baby boy loves it! I was fortunate to get a great sleeper and haven't had too many issues getting him to sleep at night. By 2.5 weeks he was sleeping 4-5 hours at a time at night, and now (at 5 weeks) he normally sleeps 7 p.m. to 7 a.m. with 2 feed breaks. We use this primarily downstairs for his naps during the day. He loves the rocking. Most of the time we leave it at the slowest level rock but if he's fussy we'll crank the rock level up and he calms right down. He enjoys listening to the sound effects. They don't really help him get to sleep or stay asleep, but I can tell he just enjoys listening to them when he's awake and looking around. The vibrating seat is great for babies who like being in their car seat since it's such a similar design. My son loves looking at the little hanging teddy bears!
October 15, 2015
Rated

2

out of

5
 by
acp187
Close, but no cigar
The motion and music are great. However, the padding needs to be improved a great deal. The padding is so thin that the plastic can be felt underneath the pad as if nothing was there. We had to use a soft towel underneath the pad to give it a bit of cushion. Until Graco improves this you might want to consider some other product.
May 27, 2016
Rated

5

out of

5
 by
Mihaela
Great soothing system set!
I have been using the glider for a few weeks now and I am so in love with it. This system gives you 4 different products in one. You can use it as a regular swing chair, bassinet glider, a portable bouncer, or a portable bassinet. It was very easy to assembly and I love it that the bouncer and bassinet are interchangeable without no extra effort or buttons that get stuck. The glider also has several sounds to entertain your little one. Another feature that I love about this glider is that it either takes batteries OR you can just plug it in so you do not need to worry about buying batteries every few weeks. This system is also great if traveling and it would also make a great gift for the grandparents to have handy at their house. I highly recommend it!(Disclosure: While I received this product for free, the opinions and thoughts included in this review are mine.)
October 21, 2015
Rated

5

out of

5
 by
Doubledutymommy
So many awesome features!
As a mom of 3 I've tried many, many "must have" baby items and by far this is THE BEST and truly a must have! You can replace so many baby items with just this one purchase. 4 different modes - glider in a regular swing type chair, glider in a bassinet, portable bouncer and portable bassinet. Works great for traveling to the grandparents or if the grandparents want to keep this at their house for good. The glider doesn't fold up but it's still compact enough for any space. The glider takes batteries OR you can plug it in which is great for saving money on batteries. I remember the first swing I ever bought, 11 years ago, I spent SO much money on batteries and wanted nothing more than a plug for that thing. Another fav. feature of mine is how many sound choices Graco put on the glider. 10 different sounds and 5 nature sounds including white noise. I've been using this for over a month now and have not experienced any issues with performance, vibration, or music. All works great just like day one out of the box. (Disclosure: While I received this product for free, the opinions and thoughts included in this review are mine.)
October 9, 2015