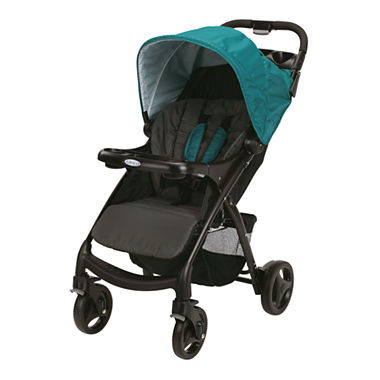 Graco® Verb Click Connect™ Stroller - Sapphire
pp5005000103
PRODUCT DESCRIPTION
Transport your sleeping baby with ease in this Click Connect™ stroller, featuring unique suspension for the smoothest ride possible, a large storage basket for extra supplies and locking, front swivel wheels for easier maneuverability.
accepts all Graco Click Connect car seats
one-step attachment
18x25x40½"
partially assembled, instructions included
for rear-facing infants from 4-40 lbs.
polyester seat cushion
aluminum frame
wipe frame with soap and water
imported
meets CPSIA/CPSC and CARB requirements
Rated

1

out of

5
 by
VeryMad
Folds up?!?!?!?
We got ours for our baby shower and knew we wouldn't be using it for a few months. Our WONDERFUL guests didn't give gift receipts and so when we finally opened it today and out it together, it went together fine and then DID NOT FOLD BACK UP!!!!! Really hoping the company does something for this because we don't have a store we can take it back to! We have tried everything short of launching it down the stairs or driving over it with our car to get it folded back up again >:-( it's just completely STUCK!!!!
September 8, 2016
Rated

5

out of

5
 by
Jamilu
Great Stroller for the Money!
I am a new Grandma and I wanted a stoller to keep at my house when I have my 2 month old grandson at my house. I had no idea what to buy with all that is out there. I bought the Graco- Verb online from Walmart for a great price. It needed to be put together and I was able to do that in minutes, everything clicks together and the instructions are easy to follow. It is well made and folds up easy and quickly. We love the bright green, it stands out. I am very happy with my purchase!
August 19, 2016
Rated

5

out of

5
 by
Albion
Easy to Use One-Handed
While I received this product for free, the opinions and thoughts included in this review are my own. I used this stroller with my 18 month old, who is the youngest of four kids. We've been through a lot of strollers over the years and my needs have changed as my family has grown. It was important for me to have a stroller that was lightweight and easy to open and close. I am almost always wrangling multiple children, and it honestly caught me off guard just how easy the Verb was to use. I could open, close, and get it in and out of the car one-handed. I could push it one-handed and maneuver it easily, even while holding onto my four-year-old. The baby was comfortable and the straps proved the right amount of resistance to keep her in, but enough freedom that she didn't feel trapped. I love this stroller and would recommend it to anyone, but especially to people who, like me, need an easy but safe stroller because of lots of little hands to hold.
May 29, 2015
Rated

5

out of

5
 by
sumsuuum
Love the look and feel of this stroller!!!
I love this stroller! All I wanted was a simple 5 point harness, black stroller, which is very hard to find. This is a lightweight stroller, not quite an umbrella stroller, but light enough. I can lift it into my SUV with one hand using the carrying strap. The basket is a little small, but since I use this for everyday outings, the only thing I usually use the basket for is my purse. I love the adult cup holders, nice and deep so your drink won't fall over. Your baby can be reclined however you choose pulling or releasing a strap in the back. It doesn't lay down flat, but lays down comfortable enough. The biggest problem I have with this stroller is that the harness covers are not sewn onto the straps. It's nice to be able to take the covers off to wash them or readjust the straps, but nearly every time I take my baby out of the stroller, one of the covers falls off of the strap. Other than that, this stroller is a great, lightweight option!
May 4, 2015
Rated

5

out of

5
 by
kratzy
so easy to use everyday - even a dad can handle it
I love the way this stroller is set up. The assembly literally took 15 minutes and is very intuitive. The stroller continues to impress with its great functionality, yet it is lightweight and very sturdy. What I really feel is that this stroller was designed for a busy parent. You can lift the stroller out of the car with one hand, unfold it with one hand and fold it up again with one hand. This allows you to take care of your child the whole time, not having to leave it in the car, but you can hold it. I like the dual trays for child and parent. I love the spacious seat and sunprotection that is included. I also was impressed with the sturdy wheels and the easy to use breaks on the stroller. The stroller is set up for the long run, two different ways to put your youngster in the stroller make sure that little ones and not to little ones can feel secure and your investment in this quality stroller was really for the first few years, not just a season. Disclaimer: While I received this product for free, the opinions and thoughts included in this review are my own.
May 7, 2015
Rated

5

out of

5
 by
sab327
Perfect for us!
I bought this a couple months ago because I wanted a lightweight stroller that was more than just an umbrella stroller. I wanted something that had a basket underneath for storage and a parent tray with cup holders. And I didn't want to spend a fortune. This was perfect! Takes up alot less space in my trunk as my jogger but still has the features. I wish it condensed a little more, but the wheels are easy to take on/off if you really need the extra room. Def recommend!
May 26, 2016
Rated

5

out of

5
 by
kraft49
Great features!
This is a great stroller! It's light, has all the adjustments needed, has several places for storage and carrying things, and grows with baby!
May 14, 2016
Rated

5

out of

5
 by
sacox65
The PERFECT Every Day Stroller!
I have been on the lookout for a easy to use and manage stroller for months. The Graco Verb Click Connect Stroller was worth the wait! A few reasons I love this stroller are: 1) I am able to put this stroller together easily. It took maybe 15 minutes top. 2) It fits perfectly in the trunk of my car, which is amazing because I don't have a ton of room to work with. (Chevy Cruze) 3) My 2.5 year old LOVES this stroller. I've had issues with him fighting me when he is in a stroller but he loves this one. I think the multi-position reclining seat is what makes this a more comfortable ride for him. 4) I've used this stroller while walking and even jogging along with visiting a local kids event that forced us to walk through tall grass and bumpy fields. It's been perfect on and off road. 5) Lastly, the front wheels turn which is a BONUS for me since I plan to use it until my little guy grows out of it. Having front turning wheels makes for such a smoother ride. While I received this product for free, the opinions and thoughts included in this review are my own. I would recommend this exact stroller to anyone shopping for one!
May 19, 2015