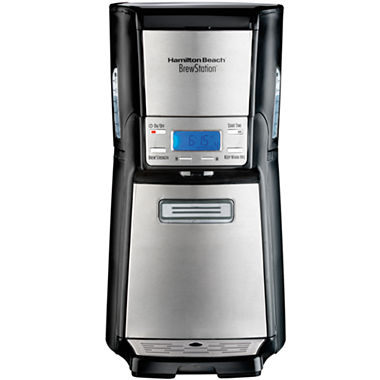 Hamilton Beach® Ultra 12-Cup Dispensing Coffee Maker
web ID: 7805460
Take the guesswork out of your morning routine with a programmable, 12-cup coffee maker that dispenses one fresh cup at a time for quality and convenience.
no carafe means no pouring, spilling, breaking or burnt coffee flavor
coffee stays fresher longer
choose from bold, regular, iced coffee or small-batch brewing options
24-hour clock timer with 20-hour automatic shutoff
gentle heater maintains coffee temperature
Plastic. Measures 9¼x12¼x16"H. Wipe clean with a damp cloth. Imported.
Rated

5

out of

5
 by
Blancoshopper
Excellent Coffee Maker & Dispenser in One!!
I LOVE this coffee maker! It's soooo easy to use and easy to clean as well. It's also attractive. There is no fragile coffee pot to worry about, especially when you're half asleep and not that coordinated. Just push your mug against the dispenser button and you get a nice stream of hot coffee. It pours faster than a Keurig, less expensive than a Keurig to make coffee, and the machine itself is about 1/2 the price of a Keurig. I highly recommend this
April 1, 2015
Rated

4

out of

5
 by
bden
Really Like It
This is the first time that I have bought a single dispensing unit before. It is easy to program. Keeps coffee really hot. I like being able to pick the # of hours I want it to keep coffee hot & then it shuts off. It can be kinds loud as the plate works to keep coffee hot.
March 4, 2015
Rated

5

out of

5
 by
dizzyfizzles
Perfect Cup!
I love my coffee maker the best first thing in the morning before my eyes are fully open. I just need to press my cup against the dispenser and it fills it without spilling a drop! Since I can easily program it the night before, my perfectly brewed cup is ready when I am. I am really happy I made this purchase.
January 29, 2015
Rated

5

out of

5
 by
fuzzymitton2
So Simple to Use & Clean, Brews quickly
I love this coffee maker! I was so sick of the broken pots, long brew times and drips & dribbles that left a trail on my counters (for which I blamed my husband unmercifully) that I determined to find something better. This Hamilton Beach unit couldn't be anymore perfect! Eliminating the pot, reducing the amount of pieces to clean and making the whole process so easy made this an excellent purchase for the house. The brew time pre-set, 4 hour keep warm and the one-cup-at-a-time press dispenser is wonderful and the unit is good looking, too. Nobody's pouring, splashing or dribbling coffee anymore!
October 31, 2013
Rated

5

out of

5
 by
Christmaself52
Husband in love
I purchased this for my husband for Christmas. Surprised and in love!! He had one previously an old model. Great purchase.
January 21, 2015
Rated

5

out of

5
 by
Aristacat
Excellent coffee maker
This works great and looks great on the kitchen counter. Would definitely buy again.
January 14, 2015
Rated

4

out of

5
 by
jam48
Is a great coffeemaker BUT!!!
Brews a great cup of coffee, well worth the cost (and it is low for what you get), does everything they say it will do and better, the only problem is they made it too light you have to use two hands or have it pushed up against something it likes to slide. Other than that little design flaw BUY IT, I am not sorry I did.
September 24, 2014
Rated

5

out of

5
 by
Jodi45239
I love this Coffee Maker
This is a great coffee maker, this is the third one that I bought, second one for my house and I bought a third one for our lake house. My sister and my daughers have also gone and bought it as well. The best part is no cofee pitcher to clean, you just put your cup right up to it. The brewing is a little slow but he coffee is delicious, settting up is easy and Cleaning up is effortless ! Love it!
June 25, 2014