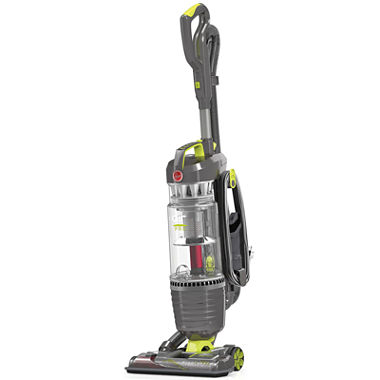 Hoover® Air™ Pro Bagless Upright Vacuum Cleaner
pp5006210525
PRODUCT DESCRIPTION
Get professional results with this lightweight, compact, easily maneuverable vacuum that's designed for efficient whole-home cleaning.
WindTunnel 3 technology creates 3 channels of suction to lift and remove surface debris and deep-down embedded dirt
steerable technology navigates smoothly around furniture, corners and other obstacles by simply twisting the handle in the direction you'd like to go
multi-floor electronic brushroll with on/off control allows for switching from carpet to hardwood with the touch of a button
high-capacity dirt cup holds more dirt, dust & debris
convenient bottom-release cup is easy to empty
12 cyclones are engineered to drop filter-clogging dirt out of the airstream
HEPA filter traps 99.97% of dirt, dust, and pollens down to 0.3 microns
removable D-grip handle and wand let you easily get to stairs without carrying and lifting the vacuum
up to 15' of cleaning reach with wand and tools
30' power cord
AC current
plastic
12.5x14.7x31.1"H; 14.4 pounds
assembly required
imported
Rated

2

out of

5
 by
Mr Fixit
Cleans well!
I am registering a replacement for my original Hoover Air Pro. I appreciate that Hoover stood behind their Warrantee and sent me a new replacement. Your Customer Service was very helpful. I love this vac, but it is labor intensive to keep clean. The motor in the vacuum head on the replacement doesn't seem to be as powerful as the original vac. The original vac pulled itself along, this one you definitely have to push. Changing the belt is difficult at best.
August 30, 2016
Rated

1

out of

5
 by
Tigerlilly
Would be perfect if only it allowed manual carpet
This vacuum was the most wonderful vacuum I ever owned with the exception of one aspect, and sadly that was a show stopper.  The auto adjust carpet height for the brush, without fail, cause the vacuum to quit when trying to clean short pile rugs.  I have three oriental rugs and it could not clean any of them.  The auto brush height set itself too low and the brush would continually catch overheating the motor and triggering auto-shutoff.  I also tried the bare floor setting and it did not work.  Adjusting the amount of suction also did not keep the problem from occurring.  With customer support unable to offer any working solutions to this unfortunate design flaw, I had to return the vacuum to the point of purchase while I still could.  I really loved this vacuum otherwise.  I have literally been trying to beg Hoover to come out with this same model except to include the ability to manually adjust the brush height.  So far no dice.   Hopefully if they ever do fix this problem they will let me know. 
November 22, 2013
Rated

3

out of

5
 by
Jbaldwin
Does good job but hassle to maintain vacuum
I have had this vacuum almost two years and I am generally satisfied with my purchase. The vacuum does a great job on my carpet, hardwood, and tile. I find it a hassle to maintain the vacuum. Rinsing the filter and tapping out the hepa filter is easy. I do not like emptying the canister- I would purchase a bagged cleaner next time. When you empty the canister the dirt and dust fly up into the air. So I empty it outside- hassle especially during the winter. The cyclone part is what is difficult to clean. In video is shows you simply wipe it down. Well my cyclone is full of dirt. It is endless. I'll take it apart and do my best but dirt can always be tapped out of the cyclone. I've tried looking up easy ways to clean cyclone and only find videos that say "wipe it down". That is not enough. Like I previously stated the vacuum works well but I find it a hassle to maintain- emptying canister gets dust back into air and cyclone has endless dirt that I cannot get clean.
May 12, 2015
Rated

3

out of

5
 by
IWILLTRAVEL2
GREAT UNTIL.....
BOUGHT XMAS EVE...DID A GREAT JOB. LIGHT AND SUCKS DIRT FOR SURE. LOST BEARINGS ON ROLLERS IN 7 MONTHS. MELTED BEARING CAP. WILL TAKE 4-6 WEEKS TO REPAIR UNDER WARRANTY. MUST BE SHIPPED BACK TO FACTORY
July 25, 2016
Rated

4

out of

5
 by
shmoliken
Air filter question -
For the most part, i like this vacuum. it has a great deal of suction and seems to make short work of dog hairs on the carpet. I'm not crazy about the attachment brush or emptying the dirt cup as i usually wind up pouring at least part of it on the floor. my real concern is with the replaceable filter - directions tell me to clean it every two months - i can't even vacuum the house once without it clogging up. and, trust me, the house isn't that big. we do have a dog, but that was kind of the whole point in buying this vacuum. also, i vacuum once a week. but the filter gets clogged, and i have to take it apart, scrape the dirt and hair off it and proceed. reason i can tell that it's clogged? it looses suction, and i can hear the change in the air flow. so what gives? is there something wrong with my vacuum or is this to be expected? i did purchase another air filter to swap them out, but i don't think i should have to do that on a weekly basis.
December 1, 2013
Rated

5

out of

5
 by
DennisC
Powerful and Versatile sweeper
I bought this sweeper for its power and versatility. After a demo in store I bought two. One for my daughter for Christmas and one for my own home.  The cleaning ability and ease of emptying the unit is terrific.  It switches easily from vacuum only on tile/hardwood to vacuum + roller brush on carpets. One big negative is the lack of a height adjustment.  Doing the in-store demo on the rug glued to the floor it moves and turns easily.  However at home on my plush rugs it takes more effort and on my thick wool oriental carpets it extremely difficult to push and pull.  It definitely needs a height adjustment.  They also give use a small attachment with a rotating brush to do steps.  Nice touch but there is no place to store it on the unit with all the other pieces that fold or store on board. I also purchased a Hoover rechargeable stick vacuum which you might also consider.  It is light and easy to use and that is what I vacuum my oriental carpets.  When you see all the dirt these two units capture, you will think your carpets were never really clean! 
January 5, 2014
Rated

1

out of

5
 by
ramfan101
Don't waste your money!!
I bought this vacuum about 2 months ago. I wanted to give it some time to see if I just needed to get used to it. So it is definitely the worst vacuum I have ever owned. I would not have another one if they gave me a lifetime supply of them!! I do have pets so there is a lot of hair but I have to stop and clean the carpet brushes more than once each time I vacuum. Also if you can even get the carpet brush to turn you will have to clean the filter a couple of time every time you vacuum. I cannot vacuum my sons room at all with it. We have a vinyl linoleum in his room and it either sucks down and I can't move it or if I take some of the suction off so it doesn't suck down there is not enough suction left to bother to vacuum. It also make so much noise with the suction reduced it is impossible to hear anything else. I totally hate the vacuum!! Never will I buy another one.
December 18, 2015
Rated

5

out of

5
 by
93geotracker
Best vacuum I have ever owned
I had considered buying a new vacuum and went to a local vacuum shop to look at them. The owner told me he had some good used ones that had been serviced and had a lot of life left in them, I tried two and this was the second one, I liked the features and the way you can turn off the brush roll to go from carpet to hard wood flooring, and this thing has great power, so I bought it, and I can surly say I will be buying Hoover from now on. Thanks for making my house cleaning so quick and easy. You see I am a 56 years old male who lives alone. With this machine I get my cleaning done and still have time to putt around in the garage.
May 8, 2016
$5

An oversized item surcharge may apply to some heavy or bulky items due to size, weight or special handling required. This item surcharge is in addition to standard shipping rates.

?
oversized item surcharge
true