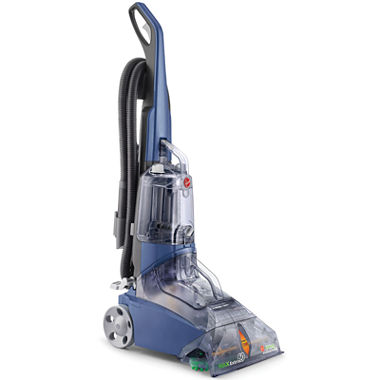 Hoover® Max Extract® 60 Pressure Pro™ Carpet Deep Cleaner
pp5006210514
PRODUCT DESCRIPTION
Designed to thoroughly clean carpets and rugs, this easy-to-use machine removes water, dirt and grime with pressurized cleaning.
Hoover SpinScrub brushes gently loosen dirt and clean all sides of carpet and upholstery fibers
MaxExtract Dual V Nozzle technology
pressurized edge-to-edge cleaning
SpinScrub counter-rotating brushes engineered to surround carpet fibers
powerful motor with forced heated air to help speed dry time
auto conversion tools conveniently positioned where they should be, right at your fingertips
SmartTanks system keeps clean and dirty water separate and are easy to fill, empty and rinse
includes 16-ounce bottle of 2X CleanPlus Carpet Cleaner and Deodorizer, 9' clear active hose and upholstery tool
AC current
plastic
13x19x43.8"H; 22.5 pounds
assembly required
imported
Rated

2

out of

5
 by
HeatherH
Leaked from day 1
leaked from day 1, I called and they just had me make adjustments and try again! It just ended up doing it again. then the handle parts broke and I had it about a year and a half!
September 13, 2016
Rated

5

out of

5
 by
AishaH
Highly Recommended
When I received the Hoover Max Extract, I was excited to use it. The instruction manual was easy to follow. I'm glad it came with a Hoover carpet cleaner solution. When I first tried it, it was a bit heavy for me. It's also a bit louder than what I expected. However, it didn't matter! It did a good job cleaning. Suction is really good. You can tell if there's still more water on the carpet when you see there's water passing though the water tank lid. I saw the waste water and I could just tell how well it cleaned my carpet. I had dried rice and dirt that a regular vacuum cleaner couldn't remove but the Hoover Max Extract Deep Cleaner got it out. You have to do the stroke slowly that way it will have time to work on your carpet. I also thought it would take a lot of cleaning solution in order for it to work but I was wrong. Doesn't take a lot of time for drying. I love this carpet cleaner! I received a sample of this product to facilitate my review, but my opinions are entirely my own.
August 14, 2012
Rated

5

out of

5
 by
Verified Reviewer
Awesome Cleaner!
We had an older Hoover carpet cleaner and while it worked good, there were things we just didn't like. When we got our Hoover MaxExtract60 Carpet Cleaner, we immediately noticed a difference in weight. The Hoover MaxExtract60 Carpet Cleaner is lighter and easier to push back and forth. We also love the longer hose and especially the separated tank. A small tank within the water tank holds the cleaner allowing you the option of rinsing the carpet before or after you clean. The clean/dirty tanks are also so much easier to remove. The dirty water tank slides in and out easily, without extra latching. The only thing we don't care for, and it's minor in our opinion, is the dirty water tank can leak as you're emptying it. If you're careful, it's not bad but you do have to be aware not to tip it otherwise it will run out. Overall, we are thrilled with this new model and we'd definitely recommend it! I received a sample of this product to facilitate my review, but my opinions are entirely my own.
August 14, 2012
Rated

5

out of

5
 by
Happy Happy Happy!
VERY GOOD PRODUCT, EXCLNT RESULTS
After reading the reviews online about this product, I decided to purchase one. I also own a Hoover vacuum cleaner which is several years old but still works very well. About this product, there really isn't anything negative to say. It was easy to put together and very easy to use. The only thing that can be said is that you will have to have patience because it will be necessary for you to go over the high traffic areas several times to get them clean. But, that should be expected anyway, because the more dirt that you have, the harder you have to work at cleaning it up. My carpet was in desperate need of a deep cleaning. This machine has worked very well and really did a fantastic job! I am so pleased with the results. When your carpets are dirty it makes your home smell bad as well as look bad. And, to be honest, that's very embarrassing. After using this shampooer, I feel good about my home again, my carpet is almost like new again! Thanks Hoover for putting out another great product!
May 5, 2012
Rated

1

out of

5
 by
mgrisar16
Major issue with leaking fluids
I bought this unit less than a month ago through American Express. I used it and the very first time, when tilting the handle back upright, fluid pours out this little hole in the back. As quick as i thought i cleaned my carpet, i now have fluid leaking out rapidly. I called Hoover and they told me to bring the unit to a local store that fixes Hoover vacuums. The store told me it might be 8-10 weeks to remedy any issue. This was before i even brought my brand new cleaner in! I passed and called AMEX. They told me to send my unit back (free of charge) and would send me a new unit. I just got the new unit and tried out the new unit and sure enough, FLUID LEAKING OUT THE BACK AGAIN!! Before i simply say give me a new unit or my money back, i want to know if this is normal I read other comments and i found others who stated the same issue but no one explained any resolution. Hoover....can you suggest a solution for me please? It cleans great but no way am i continuing with leaking machines. 
June 8, 2013
Rated

5

out of

5
 by
CMAND
Lifts Dirt Away
We manage an apartment building, so there are a lot of traffic from humans and pets. This carpet cleaner is very easy to install and any staff can use it. Lifts away dirt and pets liquid waste from carpet easily - in only one drag over. Doesn't leave overly wet trails afterwards, very fast drying.
September 2, 2016
Rated

1

out of

5
 by
Carpet Cleaner
Cleans well when it works-flawed design
This carpet cleaner appears to work well when it is working, unfortunately there is an obvious weak link. The spinscrub unit comes with an included spare shaft. When this broke the first time I used this unit, I assumed that it was just a fluke and was grateful for the spare. Now that I have gone to use the carpet cleaner a second time and the spare shaft broke after cleaning only a 10 square foot area, I realize that this is a known weak link. This shaft should be made of metal! I now recognize that by shipping this product with a spare part Hoover is essentially admitting that they know the product has a problem. Instead of one spare shaft they should ship a dozen, or do the right thing and build the shaft out of brass with a nylon bushing where the shaft rubs against the plastic body of the SpinScrub unit. This rubbing is obviously causing friction and therefor heat that is obviously the downfall of this cheap plastic shaft. Shame on Hoover for building a product that they know is faulty!
November 15, 2011
Rated

1

out of

5
 by
WendyM526
Very Disappointed
I bought this carpet cleaner about 3 years ago. The only carpet that is in my house is in a guest room and an area rug. It had been used about 3 times after I first bought it when the brushes stopped spinning. I called Hoover to find out that I had to take it to an approved repair place that was 45 minutes away from where I lived. I took it there and it stayed a few weeks. After picking it up, when I went to use it, then it wouldn't suck the water up. I couldn't help but laugh. Obviously, I wasn't calling the repair place back because I didn't have the energy to drive to downtown Nashville again for another repair and then to drive back to get it again. My time is more valuable. After spending over $200 on this item from Best Buy and the time and gas that had been spent taking it for repairs, I was over it. It seems that the lid on the tank is missing a spring or something. I haven't decided if I'm going to purchase this part as I would rather chuck this thing in the trash and go buy a Bissell.
August 16, 2015
$5

An oversized item surcharge may apply to some heavy or bulky items due to size, weight or special handling required. This item surcharge is in addition to standard shipping rates.

?
oversized item surcharge