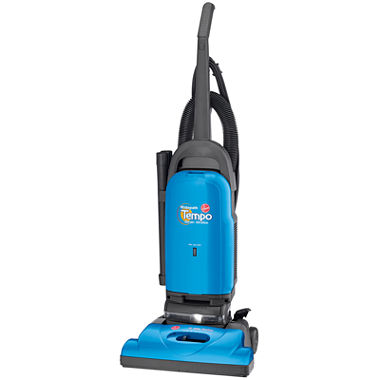 Hoover® Tempo™ WidePath® Bagged Upright Vacuum Cleaner
pp5006210519
PRODUCT DESCRIPTION
Quickly cleaning large rooms with less passes, this powerful vacuum's wide path gets floors truly clean with superb filtration.
allergen media bag filters and traps 99% of dust and pollens down to 5 microns
15" cleaner width gets the job done quickly
24' power cord allows plenty of cord to vacuum larger rooms
5-position carpet height adjusts as needed to clean all flooring types
powerful 12-amp motor provides superior cleaning performance
includes 2 extension wands, a crevice tool, upholstery tool and dusting brush
AC current
plastic
9x11x43½"H; 10 pounds
assembly required
imported
Rated

4

out of

5
 by
BryanL1969
It doesn't get any better than the Tempo
I bought this 5 months ago and I love it. This is extremely lightweight, not over complicated, and it uses a bag!! The belt change is quick and easy, the wind-flow channels by the rollerbrush disassemble for cleaning. The vac has multiple height adjustments which is great for us because we have higher pile frieze carpeting and dogs. Being able to set the vac to a higher setting lifts the carpet pile up instead of it folding over like vacuums that do not have a height adjuster. I've found that having the adjuster removes more fur because it allows more airflow around the rollerbrush instead of the suction pulling the vac head down and burying it into the carpet like with non-adjustable vacuums. I have only one disappointment: after 5 months my roller brush or motor is making "moaning" sounds when it powers down. I just put a new belt on it a few weeks back then I started smelling metal a metal-on-metal odor. Now I'm getting a moaning. I cannot tell if it's a roller brush or a motor. Is this a warranty issue?
November 13, 2015
Rated

5

out of

5
 by
Verified Reviewer
Owned this vacuum for over 10 years
It was the first thing I bought when I moved into an apt with carpet. I have used it forever 9 years. Best suction ever. I wish the hose was longer, but I will tell yah why I am writing now, I just got wood floors and we all know how uprights are with them. So instead of buying yet another vacuum. I have 4( the hoover,eureka baggless upright, dirt devil hand held, and bissel stick). For the hoover ,which is the simplest to take apart and clean,..2 screws,I took the brush & belt off, bought a simple floor brush from [@] for a kenmore tag along. put it on the end, it fit perfect. I now have a Pull along upright to do my hard wood floors. No other vacuum has the suction with a bag. Frankly the baggless are messy cause you have to clean them after use or they lose suction and get gummed up. Yah, Bells and whistles are nice, but bottom line, if it doesnt suck, it may be the one using it. Love it no matter how I use it, you have to take care of it and it will take care of you.
March 12, 2012
Rated

5

out of

5
 by
Jellie
Best value for a household vacuum
I've gone through many vacuums over the years. No matter how expensive, how many attachments, or how great the promises on the box are, they inevitably fall apart, lose suction, and become useless. I've owned this vacuum for about 3 years and use it every other day on about 1,000 square feet of carpet. It's utilitarian, a bit on the loud side, and not the most modern looking vacuum out there, but its solid design, hardy components, and straightforward usage is a delight in a world filled with fussy gadgets with short lifespans. I did a lot of research before buying this vacuum, and other reviewers unanimously agree: This is the *best* value for a household vacuum out there. I anticipate I will have this vacuum for years to come, replacing parts from Hoover as necessary. I would recommend buying the cloth Hoover brand "Y" type bags. I bought a pack of generic brand "Y" bags recently, and they are much smaller and thinner. They fill up faster and do not filter dust as well. With my usage, I fill up the Hoover brand bags about every 3 months.
September 19, 2011
Rated

4

out of

5
 by
Miss Dell
Easy to use
This product is light weight and easy to use on hardwood floors and carpet
July 2, 2016
Rated

4

out of

5
 by
LoveJulia
Still a bit heavy
nice vacuum cleaner, however, was surprised to find I need to buy filters. I wanted a simple vacuum with just bags to buy. Also found the vacuum to be still too heavy to go up and down stairs. But, overall, it's a good machine and pretty simple to vacuum with since it seems to move forward almost by itself.
December 2, 2015
Rated

3

out of

5
 by
Eventlady
Too Noisy
I've had this van for 3 yrs.  Had to buy it because my Hoover Sprit vac (I'd had for 10 yrs.!!) had bristles worn down to pointy nubs (& was tearing up the carpet) & would no longer stay upright (the lever broke).  I wanted another Spirit, but Hoover doesn't make it anymore.  I took the Spirit to work & made it the vac @ work, 'cuz those carpets are the indoor/outdoor type, so the worn-to-a-point bristles don't matter, nor does the fact that it flops around.  I mention this because the Spirit still works and so I'm able to compare it to the Tempo which I bought to replace it.  The noise the Tempo makes is 3 TIMES LOUDER than the old Sprit & I HATE that.  The Tempo is a decent vac & actually has more suction than the Spirit did, but the noise!  I live in an apt. so every time I vacuum I bug the neighbors.  I miss my Spirit. Hoover needs to make the Tempo quieter.  Or remake the Spirit.  I LOVED that vac.
December 13, 2013
Rated

4

out of

5
 by
Labecca
GREAT SUCTION!
This is my second tempo widepath. It is a great upright for small apartments. The onboard tools are well placed and more than adequate. The cord is just right for a one bedroom. I did a little experiment and discovered that absolutely NO dust comes out of the vents while vacuuming. The carpet is clean, the filters are washable, and the dirt and dust accumulating on the inside of the Hoover can be easily wiped and does not blow into the air. This is a very good vacuum for the price. I am disabled and vacuum the carpet twice a day due to my condition, as well as my furniture and bed, and the machine just lasts and lasts. [This review was collected as part of a promotion.]
April 27, 2016
Rated

5

out of

5
 by
Mjpare
Durable machine
This is my second one of these. I clean a large office building and have tried several vacuums. The Sears lost its wheels after a few short months, the Electrolux same thing. Then they bought the Widepath and it has endured the longest, by far, for a fraction of the price of the others. I change the brushes and belts occasionally and just keeps doing its job and doing very well. [This review was collected as part of a promotion.]
May 23, 2016
$7.50

An oversized item surcharge may apply to some heavy or bulky items due to size, weight or special handling required. This item surcharge is in addition to standard shipping rates.

?
oversized item surcharge
true