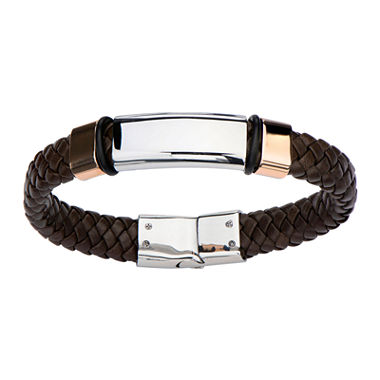 Inox® Jewelry Mens Stainless Steel & Brown Leather Woven Bracelet
web ID: 2879929
Give your style a little urban flair with this unique bracelet. A brown woven band lends a bold masculine look, while the stainless steel accents brighten up the piece.
Metal: Stainless steel
Materials: Brown leather
Closure: Hidden push-button clasp
Width: 11.94mm
Length: 8½"

Jewelry photos are enlarged to show detail
Product Q&A
Ask your questions. Share your answers.
1 month, 3 weeks ago
by
Brockton Ma
0
out of
0
found this question helpful.
Was this helpful?
helpful
0
unhelpful
0
http://answers.jcpenney.com/answers/1573/product/pp5003590043/question/2423288/undohelpfulness.djs?format=embeddedhtml&sessionparams=__BVSESSIONPARAMS__&return=__RETURN__&innerreturn=http%3A%2F%2Fanswers.jcpenney.com%2Fanswers%2F1573%2Fproduct%2Fpp5003590043%2Fquestions.djs%3Fformat%3Dembeddedhtml%26scrolltotop%3Dtrue%26expandquestion%3D2423288&user=__USERID__&authsourcetype=__AUTHTYPE__&submissionparams=__BVSUBMISSIONPARAMETERS__&submissionurl=__BVSUBMISSIONURL__
Answers
Answer: 
This product cannot be engraved through JC Penny.
1 month, 3 weeks ago
0
out of
0
found this answer helpful.
Was this helpful?
helpful
0
unhelpful
0
http://answers.jcpenney.com/answers/1573/product/pp5003590043/answer/2409391/undohelpfulness.djs?format=embeddedhtml&sessionparams=__BVSESSIONPARAMS__&return=__RETURN__&innerreturn=http%3A%2F%2Fanswers.jcpenney.com%2Fanswers%2F1573%2Fproduct%2Fpp5003590043%2Fquestions.djs%3Fformat%3Dembeddedhtml%26scrolltotop%3Dtrue%26expandquestion%3D2423288%26expandanswer%3D2409391&user=__USERID__&authsourcetype=__AUTHTYPE__&submissionparams=__BVSUBMISSIONPARAMETERS__&submissionurl=__BVSUBMISSIONURL__