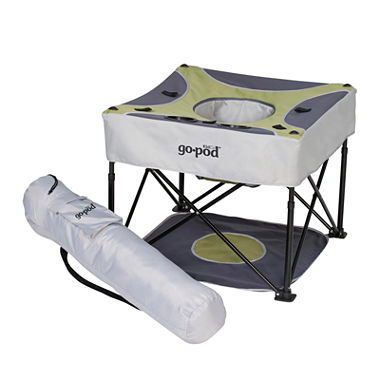 KidCo® GO Pods Pistachio Activity Center
pp5007250040
PRODUCT DESCRIPTION
Lightweight, portable and safe, this KidCo GO Pods activity center is a compact alternative to bulky stationary activity centers for your little one.
locking button ensures secure placement
floor pad keeps baby from undesirable surfaces
convenient drink and snack holders
4 seat height positions grows with baby for leg/feet adjustments
includes handy pocket for personal items
5 nylon toy loops to encourage visual stimulation
recommended for ages 4 months to walking stage
meets CPSIA/CPSC requirements
comes assembled, ready to use
overall: 24x24x19.5"H; folded: 6.5x6.5x29.5"H
durable steel/nylon construction
wipe clean with damp cloth and mild detergent
imported
Rated

5

out of

5
 by
Terayns
Great seat!
Has been a favourite play place and superb waiting place for this gentleman at a wedding reception!
September 11, 2016
Rated

5

out of

5
 by
Parent
Great Product
Bought this for a 5 month old who is on the cusp of sitting up and has great head control, with the hope that it would - in a parent-hands-free manner - allow him to see what's going on and have a clean place to play at the beach, in the yard, on the patio, etc (vs being in a rocker or something). He seems to love it. Lightweight, quality product, good features. Very happy.
July 10, 2016
Rated

5

out of

5
 by
TopDaddies
We Used The GoPod A Lot!
We've had the opportunity to use and review the GoPod in both Cardinal and Pistachio colours. It's a fantastic product that is very convenient especially while travelling. During our summer road trips, it was great to be able to have a clean place for baby to sit and play. We used it while camping, at the airport, hotels, beach, picnics, at grandma's house, and more. Check out our full video review below! (Disclosure: Although we received product to review, TopDaddies was not financially compensated for these reviews)
January 16, 2016
Rated

5

out of

5
 by
ashley10
We love our GoPod!
We are always on the go and spend multiple days a week at the ballpark so it is nice for baby to have a clean place to play!
March 23, 2016
Rated

5

out of

5
 by
TheMommaWhisperer
Best Travel Product We've Tried!
We are a family on the go. Always. On. The. Go. Seriously, Baby Eliza has been to 7 states and on 11 planes in 8 months. So, when I come across a product that makes our travels a little easier, I'm obviously interested. Tell me that this product is light-weight, folds up small, and will contain my little tornado of an 8-month-old, and I'm sold! I love how versatile it is. I just leave my GoPod in my trunk for when I need a place to put the baby (strange old ladies always seem more than willing to hold her, but, ick, you just never know where those hands have been). It is SO LIGHT and easy to tote around. Whether you are running errands, visiting family, or flying across the country, having a totally mobile baby seat is just dang convenient. Eliza's not usually thrilled with being anywhere other than strapped to me in a carrier or in my arms, but I can get my hair cut, back adjusted, makeup on (who am I kidding, there's no time for makeup anymore...), or clean up the disaster our new lab puppy has made in the backyard without having to schlep her around under my arm. When camping season starts back up and when Parker starts karate lessons and baseball practices, I know the GoPod will be even more of a lifesaver. Favorite Features: Easy to wipe clean Cup/snack holders Very light Folds up compact Adjustable seat height Baby can practice standing without falling Floor to catch toys and snacks and keep little feet clean I blog at www.themommawhisperer.com and have tried a TON of baby products (especially travel products), and I cannot say enough how much we LOVE the GoPod!
January 15, 2016