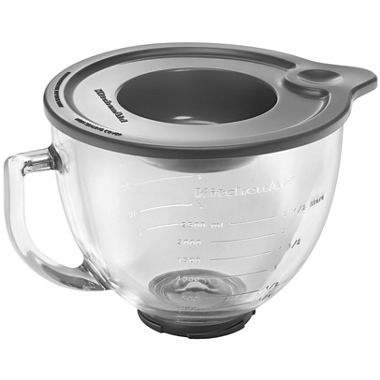 KitchenAid® 5-qt. Glass Bowl K5GB
web ID: 7804035
Whether you're mixing savory sauces or sweet batter for baked goods, the roomy KitchenAid 5-quart glass bowl will become one of your favorite culinary tools for the job.
handles large batches
easy to clean
Dishwasher safe; hand wash recommended. Imported.
Rated

1

out of

5
 by
FC
Poor quality
I love my KA and always wanted to have the glass bowl. After saving some money, i went and splurged on one. It was great! The measurements are somewhat accurate, and the bowl is heavy. I treated with such good care and I always hand washed it. Then this morning my 6yo was helping me making banana bread. He had smashed the bananas on a regular plate and his job was to add the bananas to the bowl. The playe slipped from his hands and fell into the bowl, which caused to break it!! I was expecting the PLATE to break, not the heavy, solid glass bowl. I was very disappointed with the quality because I have some Pyrex bowls that went through way worse beatings and are still standing strong. So I guess this bowl is more for decorative purpose rather than regular uses. I am so upset specially because of the steep price I have paid for it. Also, i have to agree with the previous review that stated that the cover guard doesn't fit the bowl, so there is always going to be flour "splashed" all over the counter.
October 10, 2015
Rated

1

out of

5
 by
Betty
Poor base quality
I bought this over the summer and used it about 4 times. Yesterday as I was getting ready to use it and remove it from the base the plastic piece on the bottom of the bowl that screws into the base got "stuck" in the base and broke the bottom of my glass bowl as it became detached. This was not an inexpensive item to purchase and I am disappointed in the quality.
November 3, 2015
Rated

2

out of

5
 by
Misi
Bowl breaks & lid isn't secure
I was SO excited to receive this last Christmas and only use it on special occasions. The lid has NEVER securely fit on the bowl and I've used it a total of 6 times and this last time the bottom cracked and came off!?! So disappointed in the glass bowl, I took great care and even kept it in original packaging! =(
November 4, 2015
Rated

1

out of

5
 by
spazmccoy
Poorly designed product with no compatible add-ons
My wife and I received the KitchenAid with the K5GB glass bowls as a wedding gift. We have used it many, many times for various cooking projects and have thought to ourselves EVERY time, "It sure would be nice to have a shield for these bowls to keep ingredients from shooting out while mixing." Alas, KitchenAid does NOT make any shields that are compatible for this model of bowl. Add in the additional weight of the glass bowl and it has created an equation for dissatisfied customers.
August 1, 2015
Rated

5

out of

5
 by
Mrs Betty Bowers
Love this bowl!
I bought this some time ago to dress up my Artisan mixer. I think it looks great and works just fine. Of course it *is* heavy, but that's because it's solid glass. And that being said, you have to treat it as such. Glass breaks. Glass chips. However treat it with care and it'll last. The grey base unscrews from the bowl so you can put it in the microwave when needed, just twist it counterclockwise and it comes off. The lid it comes with is a nice touch too!
January 28, 2015
Rated

1

out of

5
 by
Suzinewman67
do not waster your money!
Second time this bowl has broke. It's Christmas Eve and my kitchen is covered in glass and Chicken Dip!!! The bottom doesn't attach well and the bowl breaks easily!! Never AGAIN. I will buy a metal next time. Love my mixer. Kitchen Aide needs to fix this problem
December 23, 2014
Rated

5

out of

5
 by
Rthelper1
The KitchenAid 5-qt. glass bowl is extra large for no spill out mixing.
I love the size of the 5-qt. glass bowl for whipping mashed potatoes with no mess clean up on the counter or stand.
January 21, 2015
Rated

5

out of

5
 by
grannys8
I love the fact the bowl is glass
I love the fact Kitchenaide gives you so many options with their mixer. I got this mixer and the glass bowl for my daughter and son-in-law for Christmas. I figure the other attachments for it ,they can get as they need them. Kitchenaide is such a great brand and J..C. Penneys is a store that stands behind the products they sell that I couldn't go wrong. I have never been dissatisfied with products or personnel either in the store or dealing with internet personnel. All I can say is I love the bowl, very nice weight to the glass and I love J.C.Penneys!!
January 5, 2014
Product Q&A
Ask your questions. Share your answers.
THIS KITCHENAID MIXER IS THE 550HD LIFT MIXER.
2 weeks, 3 days ago
by
Roseburg, OR
How often do you shop at JCPenney? 
Occasionally
0
out of
0
found this question helpful.
Was this helpful?
helpful
0
unhelpful
0
http://answers.jcpenney.com/answers/1573/product/257786/question/2471038/undohelpfulness.djs?format=embeddedhtml&sessionparams=__BVSESSIONPARAMS__&return=__RETURN__&innerreturn=http%3A%2F%2Fanswers.jcpenney.com%2Fanswers%2F1573%2Fproduct%2F257786%2Fquestions.djs%3Fformat%3Dembeddedhtml%26scrolltotop%3Dtrue%26expandquestion%3D2471038&user=__USERID__&authsourcetype=__AUTHTYPE__&submissionparams=__BVSUBMISSIONPARAMETERS__&submissionurl=__BVSUBMISSIONURL__
Answers
Answer: 
You can use the glass bowl on that mixer.
1 week, 1 day ago
How often do you shop at JCPenney? 
Frequently
0
out of
0
found this answer helpful.
Was this helpful?
helpful
0
unhelpful
0
http://answers.jcpenney.com/answers/1573/product/257786/answer/2469004/undohelpfulness.djs?format=embeddedhtml&sessionparams=__BVSESSIONPARAMS__&return=__RETURN__&innerreturn=http%3A%2F%2Fanswers.jcpenney.com%2Fanswers%2F1573%2Fproduct%2F257786%2Fquestions.djs%3Fformat%3Dembeddedhtml%26scrolltotop%3Dtrue%26expandquestion%3D2471038%26expandanswer%3D2469004&user=__USERID__&authsourcetype=__AUTHTYPE__&submissionparams=__BVSUBMISSIONPARAMETERS__&submissionurl=__BVSUBMISSIONURL__