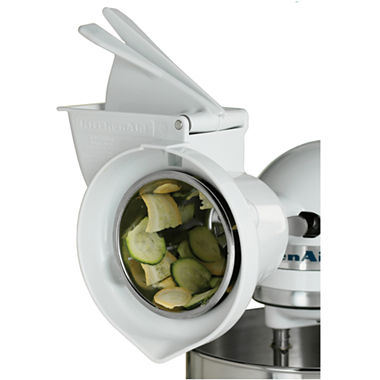 KitchenAid® Slicer/Shredder Mixer Attachment RVSA
web ID: 7804027
Easily attaches to the front of your KitchenAid® mixer. Includes 4 standard cones for different textures. Plastic. 6½x7x7"H. Shredder is made in America.
Rated

5

out of

5
 by
blakabarb
KitchenAid Slicer/shredder Mixer attachment
this is the greatest thing since ice tea. I love it. It makes slicing cucumber for salad easy and slicing carrots and celery for chicken soup is a breeze. The shredder is wonderful for shredding cauliflower for the pizza. Everyone loved the pizza said it was the best. I am thanking that I received the Slicer/shredder to make my life more enjoyable as I had Guillian-Barre Syndrome makes me extremely tired and I need all the help I can get in cooking.
October 28, 2015
Rated

1

out of

5
 by
Betty
very disappointed
I am very disappointed with this attachment. The cones are extremely difficult to remove from the shaft for which I cannot remove myself. Neither shredding cone works. The teeth are so dull that it does not grab the food and if used for cheese it just smears or pulverizes around the cone. If used on an apple or orange it totally juices the fruit and the skin doesn't shed at all, it pushes the skin between the cone and the housing. Totally disappointed, I bought this attachment for the sole purpose of being able to get a lot of use from the shredder. The slicing cones seem to work fine when I do use them. I love my stand mixer but would not recommend this slicer and shredder attachment, a total waste of money.
October 9, 2015
Rated

1

out of

5
 by
RebeccaSuzan
All of the above...
Blades/holes too dull to process food. Half gets jammed between the cone and housing that requires extreme effort to remove. Will not stay tight during processing. Have had this for five years and used it twice. Coleslaw...took 30 minutes for a cup and a half of properly processed (uneven still) cabbage. Gave up on carrots. Tried to slice cucumbers for a salad and got about half slices and half mascerated per cuke. Gave up, gathering dust. Would have gladly paid the extra $20 for the next better unit, IF it works either. Took me a long time to review because I rarely think to complain but wanted to save other people money when I found this page. Get a mandolin.
October 19, 2015
Rated

1

out of

5
 by
egorun
Useless
Brought this as a gift for my wife - as per other reviewers we have had the same experience. It basically doesn't work. Blades are dull & do more mashing/juicing than slicing or shredding and large amounts of food get stuck between the housing and blade. Terrible design. Very disappointed.
November 2, 2015
Rated

1

out of

5
 by
kay
Do not buy! Poor design
When I tried to remove the cone, it didn't remove from the shaft. We have tried everything with no luck. What good is this when you can't change cones. Now I'm stuck with only using one cone. The shaft is the turning device that turns the cone. Poor, poor design.
September 28, 2015
Rated

1

out of

5
 by
anna
rotor slicer/shredder by kitchenAid
verry cheap for the price i have the shredder and tow times use and it brock
September 12, 2015
Rated

1

out of

5
 by
Deb
Do not buy!
Received this as a Christmas gift. So excited to use for slicing vegies for salads and slaws. Difficult to attach and remove. Does not provide uniform shreds or slices. Very slow and takes a lot of pressure to push vegies through. Leaves a big chunk of vegetable not processed. Some is just a pulverized mess. Wish I could return. Will contact customer service.
August 21, 2015
Rated

5

out of

5
 by
Marty
Old and reliable
I have owned this attachment for the past 20 years and I love it. We use it at least once a week to shred cheese, vegetables, and slice veggies. We have never had any problems. The only reason I checked the website was to see what it cost for a new one. I know some day this one will wearout. By the way, I have given this attachment to family members and they also love it.
August 15, 2015