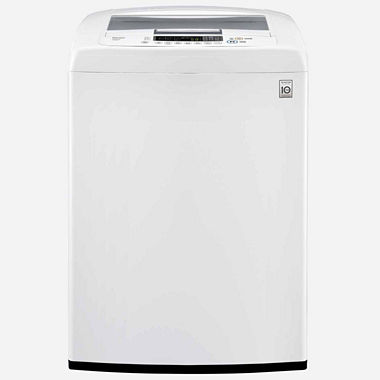 LG 4.1 cu. ft. Large Capacity Top Load Washer
ppr5007145028
PRODUCT DESCRIPTION
true
Capacity: 4.1 Cu Ft
Control Location: Top Front
Amperage (amps): 10a
Weight (lb.): 132 Lb
Country of Origin: Imported
Product Specifications
DIMENSIONS

| | | | |
| --- | --- | --- | --- |
| Capacity | 4.1 Cu Ft | Door Opening Width | 27 Inch |
| Depth (in.) | 28 3/4 Inch | Height (in.) | 40 5/32 Inch |
| Depth With Door Open | 28 3/8 Inch | Height with Lid Open (in.) | 54 1/3 Inch |
| Door Opening Height | 54 1/3 Inch | Width (in.) | 27 Inch |
DETAILS

| | | | |
| --- | --- | --- | --- |
| Agitator Type | None | Matching Gas Dryer Model Number | Dlg1102w |
| Amperage (amps) | 10a | Matching Pedestal Model Number | N/a |
| Appliance Series | Not Applicable | Max. Spin Speed (RPM) | 1100 Rpm |
| Appliance Types | Top Load Washers | Portable | No |
| Compatibility | Electric Dryers | Programmable Wash Cycles | No |
| Control Location | Top Front | Rinse Cycles | 3 |
| Control Types | Electronic Touch | Rinse Temperatures | 1 |
| Cycle Status Lights | Yes | Stackable | No |
| Cycles | 9 | Stacking Kit Model Number | N/a |
| Energy Consumption (kWh/year) | 140 Kwh | Temperature Control Type | Adjustable |
| Features | Not Applicable | Voltage (volts) | 120v |
| Finish | White | Wash Cycle Types | Brilliant Whites |
| High Efficiency | Yes | Wash Cycles | 8 |
| High Efficiency Detergent Required | Yes | Wash Temperatures | 5 |
| Included Items | None | Washer Dispensers | Fabric Softener |
| Interior Finishes | Stainless Steel | Water Levels | Adaptive Fill |
| Interior Lighting | Yes | Window In Door | Yes |
| Matching Electric Dryer Model Number | Dle1101w | number of Wash Speeds | 9 |
WARRANTY/CERTIFICATIONS

| | | | |
| --- | --- | --- | --- |
| ADA Compliant | No | JCPenney Exclusive | No |
| CEE Tier Qualified | Cee Tier I | Labor Warranty | 1 Yr Parts And Labor |
| Certifications and Listings | Csa Listed | Manufacturer Warranty | Lifetime - Drum |
| ENERGY STAR certified | Yes | Parts Warranty | 1 Year Parts + Labor |
Rated

1

out of

5
 by
JDCONSUMER
Frequently stops due to unbalanced load
We have had this machine for nearly two years and it has been a disaster. Anytime we include towels or cotton bedding or anything that tends to be heavy when wet, the machine unevenly distributes them repeatedly. We have to remove each item and manually redistribute them. Not worth buying. [This review was collected as part of a promotion.]
September 19, 2016
Rated

4

out of

5
 by
CrashNebwy
Water efficient & energy efficient
I bought this Washer this summer.. it is now December. I love the energy and water efficiency with this washer. I have noticed a decrease in my electric bill. Also it does a good job cleaning clothes and has quite a few "options" whether you are washing bulky or delicate items. The only thing you have to be aware of is that you need to load the washer in a balanced manner. If you just throw your clothes in the wash "willy/nilly" this is not the washer for you. It will try to correct its balance by itself, but it does that by putting more water in the washer and trying to separate out the clothes. You end up wasting a ton of water. Sometimes it can correct it self and sometimes you need to separate and balance out the clothes. I have only had this happen like 3 times, and always when I just threw the clothes in with out thought to balancing the load. Anyway beside the washer requiring me to take a few minutes only when loading.. this washer is simple and great to use. I love it!!!
December 5, 2015
Rated

5

out of

5
 by
IMA LG Fan
An LG Believer
Something works with none of the problems with might come with new ideas and is the best washer I've owned in my 83 years! This jewel is now two and 1/2 years in my utility room working like a charm and so convenient. LG really means Life is Good! Long live LG!! [This review was collected as part of a promotion.]
September 14, 2016
Rated

5

out of

5
 by
giyoung
Great investment
It senses the load so if I have to do a small load, it uses less water. It leaves the clothes very clean. Great product! [This review was collected as part of a promotion.]
September 14, 2016
Rated

4

out of

5
 by
Happy in Washington
Look no further for another washer
We purchased this washer after moving into a new home with an old washer and dryer with agitator. We had never had an HE appliance and were a little hesitant after we had heard/read people's horror stories of unbalanced loads, expensive repairs, etc. We researched quite a few different brands and models before choosing this washer and matching dryer. This washer has SO many great options/features that we love, my wife actually enjoys doing laundry now! The load capacity is great, a little difficult for shorter people to reach the bottom, my wife is 5'2". It takes a little longer on a normal wash cycle than out last one with the agitator, but the clothes are spun so quickly that they are barely even wet when you get them out, so drying time is less. It does spin quite fast and ours shakes a little when it really gets going but it still really quiet and efficient. Our clothes come out clean and we have noticed that they smell better and look better since getting this new washer. We love it!
November 14, 2014
Rated

1

out of

5
 by
DQ 907
This is the worst Washer I have ever owned
This washer goes out of balance all of the time and takes up to 3 hours to complete a load. Had service done for problem did not fix. Wish I never bought it. [This review was collected as part of a promotion.]
September 7, 2016
Rated

1

out of

5
 by
Verified Reviewer
This product is awful
I purchased this washer because it was Consumer Reports top rated machine. I have had issues with it from the beginning. Because it uses less water (like most newer models), the water barely covers the items being washed (if at all) so it doesn't seem as though the clothes get clean. I washed a load of clothes containing a pair of baseball pants - everything in the load came out with an orange tint from the dirt on the pants. I've been washing baseball pants for over 10 years and never had this problem. To avoid this problem, I know have run an entire wash cycle for a single pair of pants. Unless the load of laundry is very small, the unbalanced load detector detects an unbalanced load nearly every time; meaning that the machine is constantly refilling with water to rebalance the load and I have to manually redistribute the load often. A normal run cycle for a load of laundry averages 2 - 2 1/2 hours. This machince cannot possibly be energy efficient with all of the extra cycle time involved.
June 3, 2015
Rated

2

out of

5
 by
River Queen
Okay but not great
Water level doesn't cover all the laundry in the load. Action does not move clothes around enough to get the articles on top into the soapy water below. Cycles are very long. Since most of our laundry is not overly dirty it does seem to get clean. Don't like front controls as difficult to keep dirt and water from falling on the controls. Front controls were advertised as advantage for short people, but actually makes it more of a stretch to retrieve articles from the bottom of the washer as have to lean over the control area. Bleach dispenser also in position where dirt and water can easily fall into it. [This review was collected as part of a promotion.]
August 16, 2016
ppr5007145028
8550720
Protection Plans
true
select all options before proceeding
select all options before proceeding
select all options before proceeding
Questions?
1-844-JCP-APPL
(1-844-527-2775)