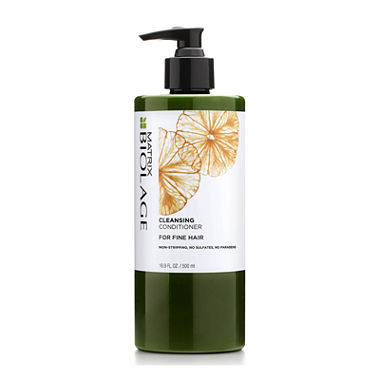 Matrix® Biolage Cleansing Conditioner for Fine Hair - 16.9 oz.
pp5005340422
PRODUCT DESCRIPTION
Low-lather conditioner with citrus enhances shine, suppleness and anti-static control. Suitable for daily use or in between traditional shampooing.
for fine hair
fast-rinsing
soap-free, non-stripping formula
suitable for color-treated hair
no silicones, sulfates or parabens
Made in America.
How to use: Apply to wet hair. Use 6-8 pumps depending on hair length and density. Distribute evenly and massage until hair is completely saturated. You will see little or no lather. Leave on for 5 minutes. Rinse.
JCPenney limits the sale of all salon products and salon special purchases to 8 of any one item, up to a maximum of 12 items, per customer, per month.

Rated

5

out of

5
 by
sweetTea
Impressive formula for Fine Hair!
I have -alot- of fine texture, color treated hair. It's quite long and I have struggled for a while to find the perfect balance of clean, well conditioned hair. Initially I thought there is no way a conditioner can actually clean your hair and scalp,but after taking inventory of all the bottles of 'nope didnt work for me' in the bottom of my cabinet, I decided to give it a try. The consistency is a nice balance of creamy,yet not heavy. The scent is fresh and very clean...not cloying or overly perfumed I massage 8 pumps into my scalp very thoroughly,then work it down the length. I take 1 or 2 more pumps sometimes to clean the lower 1/3 of my hair. I use a wide tooth comb to get it evenly distributed, clip my hair up on my head and let it soak in for full 5 minutes. It rinses beautifully, and ohmy, when its time to style, my comb just glides through my hair like a hot knife in butter. The end result is shiny, tame, conditioned ,lovely hair.
April 23, 2015
Rated

1

out of

5
 by
Starr
Zero Stars- and I NEVER write reviews!!!
My stylist first used this exact product on my hair about 6 weeks ago. It smelled wonderful and I was excited about trying a new product. Everything was fine, until 3 days later. My scalp was itching as though it hadn't been washed in ages. When I went to scratch my scalp a very oily clump or yuck was in my nail. I thought....what in the world?!?! This is totally gross. I never questioned the product at the time, I was just kind of like gross and washed my hair. So last Wednesday 3/4/15, I returned as usual, to get my hair done...by the same person who has been doing my hair for 13 years. Again, she washed my hair, I commented on how good the product smelled when it was applied..etc etc. Saturday my hair was itchy and I was like okay...what is going on. I thought what is she doing different and it occurred to me that this conditioner was the new element. My scalp is covered in oily pockets of oily itchy mess, resulting in my hair looking as though it's having its own snow storm (flakes everywhere and they are huge!). For the record I have never had this problem and I am 100% sure it is this product. Stay away!!!!
March 13, 2015
Rated

4

out of

5
 by
ryuzaki6
i bought this product after my colorist suggested it as an alternate to wen, which I have been using periodically for the past few years. while I like the creaminess of wen, I felt like this would be more suited to my hair type. I was not disappointed. this product gave my hair a good amount of slip in the shower and after I rinsed, and gives your scalp a nice tingly feeling while cleansing. my hair is noticeably shinier than when using shampoo and i haven't noticed any color fading or washing out, like I was having with wen. the only thing that keeps this from being 5 stars for me is that I have to use more pumps than suggested, as this is thinner than wen and therefore more difficult to distribute throughout my hair. otherwise, a great product!
March 21, 2015
Rated

5

out of

5
 by
Kristajd
Love this cleansing conditioner and the smell
I bought this product at a hair show this week. Didn't know Biolage had this line. Love it. It has a wonderful natural earthy smell and my hair is manageable and feel great. I don't think a lot of people know how to use Cleansing Conditioners. It doesn't lather. Its not supposed to. You don't have to use the recommended pumps. Its an estimate. This product is basically for people trying to get back to natural. Not washing your hair everyday like you do with shampoo. You rub a small amount around your scalp and then you use additional to run it down the length of your hair to condition it. This is not shampoo. I use this product every third day, rinse it out and spray the anti static spray on my hair lightly. I used to have a hard time styling my hair because other products softened up my hair to much and it was flat all day no matter what I did. With your cleansing conditioner for fine hair it doesn't strip my natural oils from my scalp like Shampoo does. I have tried when and it has way to much alcohol in it. I used to get blisters or pimples on the back of my head from it. This stuff leaves my hair and scalp feeling refreshed. Thank you biolage matrix for giving me another option of cleansing conditioner. One that actually works. :)
June 3, 2015
Rated

5

out of

5
 by
shanu
love!
Let me start by saying that I never write reviews on products. I am too busy to do it, although I appreciate those who do. But, this product is so great that I had to share. I have long, fine hair that tangles easily. I have tried so many products and had settled on the fact that I will never have great hair. I was just not genetically blessed in that way. Until I started using this product! My hair is shiny, clean, non-greasy, healthy, soft, full of body! Seriously! I pump about 10 pumps in my hair, it is long, and leave while I all of my other shower stuff and rinse. I use Living Proof "Perfect Hair Day" for styling and protection and I have great hair. I hope this review helps someone to decide to try it. You won't be sorry!
April 28, 2015
Rated

3

out of

5
 by
jennifer116
Wondering...
The first few washes were great, minus the few chunky areas of waxy feel that I attributed to not using enough product or not rinsed well. Love that I didnt have to color my greys for 2 mo. Hair overall healthier looking, but I was losing LOTS of hair in n out of shower. I have alot of fine hair n was told by a stylist MED HAIR Acai would be fine for me, most everyone she sd (This was only one they had left :-/ ) I dont have a receipt, n I hate to go back n complain, but I am wondering if the fine would b the magic bullet for me.? I have near full product left of co wash and leave in. It came with a comb too. Can u guys help out in anyway or no? I do not have the box it came in. Hope u can help.
March 27, 2015
Rated

5

out of

5
 by
Kari
Excellent I never use shampoo anymore. My color stays on longer and my hair in no longer dry like straw.
Excellent. My hair is no longer dry and my color last longer. I only use this product no more shampoo.
May 31, 2015
Rated

2

out of

5
 by
kcladyz
smells great but...
Pump stopped working after the second use so i was not motivated to try to use it again.
June 3, 2015