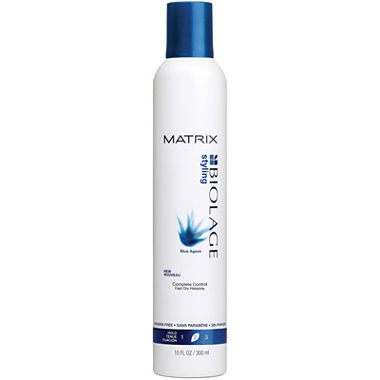 Matrix® Biolage Complete Control Hairspray - 10 oz.
pp5004960548
PRODUCT DESCRIPTION
For a natural-looking style, use our fast-drying Complete Control hairspray that delivers added body and volume while giving you adjustable control.
soft- to medium-hold formula
enriched with its own unique blend of botanicals and styling agents
Made in America.

How to use: Hold 8-12" away from your hair to spray.

JCPenney limits the sale of all salon products and salon special purchases to 8 of any one item, up to a maximum of 12 items, per customer, per month.
Rated

5

out of

5
 by
CEGates
Good Product
Smells good and does just what it should, holds hair in place.
September 10, 2016
Rated

5

out of

5
 by
Char
Perfect For Me
I use Freeze Fix under my hair and this is my finishing spray. Both products together take care of what I need. The products work!
August 30, 2016
Rated

1

out of

5
 by
Cranky
Bring back the old formula!
The Blue Agave Nectar is a dreadful, dreadful product. It's gummy. It attracts humidity. It doesn't smooth out the cuticle. It deposits a nasty white residue on my hair forcing me to wash it daily...which is terrible for my dry, frizz prone curls. Why in the world did you change the Complete Control Hairspray formula? Bring back the old product. It was remarkable. No residue, cuticle controlling, light to the touch, but a strong hold. I was a total devotee -- many years, many, many cans. There is no sense in "upgrading" a product line to attract new customer energy if you're replacing a product that worked flawlessly with something inferior. This is a fail. Please fix it.
August 28, 2015
Rated

1

out of

5
 by
JJ55
Blue Agave Finishing Spritz #3 Hold
If it's not broke no need to "fix" it! I have used your non aerosol firm hold finishing spritz for many years with no intention of changing no matter what the price is. I purchased your blue agave spritz out of desperation because I couldn't find my usual one. Like the previous reviewer stated, its like spraying water on your hair! For quite a pretty penny I might add! Biologe has so many "new and improved" products on the market now there's no room for the tried and true products that work? Like I said, if it ain't broke don't fix it! Bring back FIRM HOLD NON-AEROSOL FINISHING SPRITZ WITH NO ADDED ANYTHING!
September 14, 2015
Rated

1

out of

5
 by
CT1019
Very Unhappy
I have always loved Biolage's Complete Control Hairspray, but I find the new hairspray with blue agave is dreadful! I hate the way it sprays on like water and just drenches my hair. Why did the product have to change? I loved it the way it was and now I am going to need to find another hair spray provider unless you can bring back the old product. So unhappy that this change took place.
September 24, 2015
Rated

3

out of

5
 by
Cranky Grandma
I have used the Biolage hair spray for quite a while now and was always very happy with the hold it had for my fine hair and I also loved the fragrance. I ran out of the product and asked my hairdresser last week for a new one but she could only sell me the new finishing spritz. I am not very happy with it and am hoping the original Biolage hair spray will be brought back.
September 10, 2015
Rated

1

out of

5
 by
Limp hair
Worst hold ever! Just like water!
I have always used Biolage products and purchase the liter size from my hair dresser. When I ran out and got the "new formula" I was so disappointed! When I sprayed it on my hair it was like spraying a fine mist of water. It has very little hold and I need something that will hold my baby fine hair. I returned the bottle for a full refund.
August 22, 2015
Rated

4

out of

5
 by
Laurie
Complete Control Hair Spray
I like but don't love the medium hold spray. It holds the style, but is a little crispy. I used to use (and prefer) the Light Hold but can't seem to find it anywhere. The medium hold does work well to add and hold volume when you hold up a handful of hair and spray underneath. It dries quickly, so does not create frizz, and also helps prevent frizz, like a barrier between the humidity and your hair. Still, I would like a slightly less crunchy hold.
October 7, 2013