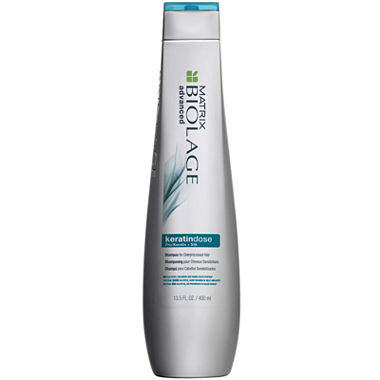 Matrix® Biolage Keratin Dose Shampoo - 13.5 oz.
pp5004960640
PRODUCT DESCRIPTION
Formulated with pro-keratin and silk, our Keratin Dose shampoo gives life to over-processed, weak or fragile hair, restoring it to its natural shine.
rich, sulphate-free lather cleanses while maintaining the integrity of over-processed hair
provides targeted reinforcement and moisture balance to the hair
gives your hair increased elasticity
sulphate- and paraben-free formula restores lost essentials
Made in America.

How to use: Apply to wet hair with a massaging motion. Rinse.

JCPenney limits the sale of all salon products and salon special purchases to 8 of any one item, up to a maximum of 12 items, per customer, per month.

Rated

5

out of

5
 by
Rose
Awesome!!!
This stuff is great leaves your hair feeling so soft and amazing!
September 6, 2016
Rated

5

out of

5
 by
PurplePrincess
Excellent shampoo!
When I use this shampoo with the Matrix conditioner, my hair is so smooth and soft! It has more shine as well. My hair feels great! Love this product and I'm so glad I chose to try it while it was on sale!! My hair feels so much healthier!!! The only problem was with the shipment, they didn't secure the lid and it leaked a little bit, but luckily it didn't get on anything else.
March 11, 2015
Rated

5

out of

5
 by
Debpr
Wonderful product
Once I realized the product was sufate & paraben free, I tried it. I cannot use the other biolage products because of sulfate itch. I have thick, wavy, lightly curly hair. It doesnt take much to make it so dry, & frizzy looking. As another had said, other products while washing, makes it like wool/straw. Keratindose shampoo & cond. has totally changed that. I'm much much happier now!!. Also, I do not blow dry all the time, which helps. But that didn't matter before, if I did or not, it'd be so woolly. And I've tried many products, cheap or expensive. There is no more itching also! I will have to try the spray! Thank you for listening & helping your customers Biolage.
July 24, 2015
Rated

5

out of

5
 by
Kelly
Biolage Keratindose Shampoo
I tried the Keratindose line after a horrific color process that left my hair dry & brittle. After trying some very nice product lines without good results (Kenra, AG, Redken), I didn't have much confidence that this line would help either. I was wrong. Keratindose totally changed my hair texture from straw to silk after only one usage. I used the whole system of shampoo, conditioner & leave in. The difference in my hair was incredible - it felt like hair again. Prior to this awful color-gone-wrong episode, I had been using Biolage Colorcare for years and had been happy with it. Since trying the Keratindose, I'm sure I'll continue using it to bring my hair back to being healthy. Very impressed with this line!
August 24, 2013
Rated

5

out of

5
 by
Verified Reviewer
Biolage Keratindose Shampoo
I have very long hair and it is very damaged from coloring, heat and everything else it seems that has damaged my hair. I have tried NUMEROUS different products to try and smooth my hair and make it manageable again. I have recently been thinking about chopping my long hair off just to not deal with this damaged mess anymore. That was until I received my free sample (for review purposes) and I have fallen in love! I will be purchasing this shampoo and conditioner and it will be my go-to combo from now on! I also plan to try the other products from this line as I am very excited to see what wonders I will discover with ALL of the products from this line! Thank you Biolage, you have stolen my heart! :)
September 10, 2013
Rated

5

out of

5
 by
amycg
Keratindose Shampoo and Conditioner
I color my hair about every 8 weeks. I am a brunette and my hair pulls red, especially if I use a shampoo that strips color or has SLS. I have tried ALOT of products to prevent my hair color from going down the drain and to make it look healthy. As I have gotten older, my hair looks drier and frizzier. It is also fine and naturally curly. This system really does work. Normally when I wash my hair and rinse it feels like a wad of dry straw. This shampoo makes it feel like silk when I rinse but does not weigh it down at all. In fact, it gave my hair loads of body. The conditioner is heaven. I cannot wait to buy the spray! Please continue this product!
September 12, 2014
Rated

5

out of

5
 by
Sam
Biolage Keratindose Shampoo
I received a sample from Matrix to review. I loved it. It made my hair feel soft and healthy, which is needed, since I've been lightening my hair a lot lately. I'm a hairstylist and caring for your own hair when you can see the flaws up close is hard. I see and feel things that arent there because it's what I do for a living. But this shampoo made my hair feel healthy, soft, strong, and look shiny. I love it. It's an amazing product. I feel like its repairing the damage I've caused it and Its been hard for me to find something similar that doesn't make my hair feel greasy and weighted down. Great job, Matrix. You did it just right.
September 4, 2013
Rated

5

out of

5
 by
Verified Reviewer
Biolage Keratindose Shampoo
I love everything about this shampoo and conditioner. First I have fine processed (permed) hair that was starting to get crunchy at the ends and some breakage. I also have scalp issues with a lot of hair products. but not with the Biolage Keratindose Shampoo & Conditioner. No more break outs on my scalp. My hair has went from straw like to soft and smooth and mostly tangle free. Also I have very little breakage or fall out since using these products. Doesn't weigh my hair down or over moisturize. My hair is much healthier and seems to improve every day. Love Love Love. I will continue to purchase such a wonderful product.
November 22, 2013