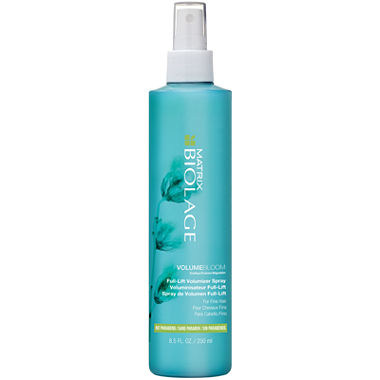 Matrix® Biolage Volume Bloom Rootlift - 8.4 oz.
pp5004960580
PRODUCT DESCRIPTION
Inspired by nature's expanding cotton flower, this Volume Bloom rootlift takes fine hair that can be difficult to style and adds bounce and movement.
expands hair's volume by multiplying inter-fiber space for a fuller look that doesn't fall flat
paraben-free formula is suitable for color-treated hair
Made in America.

How to use: Apply to wet hair and lather with a massaging motion. Rinse thoroughly.

JCPenney limits the sale of all salon products and salon special purchases to 8 of any one item, up to a maximum of 12 items, per customer, per month.
Rated

1

out of

5
 by
Renee Ross
PLEASE BRING BACK THE PREVIOUS FORMULA!!! LOVED IT
I have been using the Full Lift volumizing spray for a very long time. Several years, I'm sure. I loved it! I have very fine hair and have, in the past, had trouble finding a product that worked really well without making my hair feel like it has product on it. But this is exactly what the previous product did. It was great. I had great volume and body and at the same time my hair felt soft and had movement. My mother used this product, as well, and was very satisfied. We do not like the new product at all. It makes my hair feel like I have sprayed hair spray on my wet hair. I DO NOT LIKE THE RESULTS AT ALL!!! Please bring back the previous formula!!! I have been forced to search for another product and have settled on a different brand but am still not at all as satisfied as I was with the previous Full Lift product. Please help!!! I would not recommend this product to anyone.
October 27, 2014
Rated

5

out of

5
 by
pal1185
biolage volumebloom volumizer
I have thin colored hair. I was going to buy the agave gel product but was talked into the volumebloom instead. I love it. It gives my hair a fullness that it didn't have. Question: Should I try the agave gel for my hair type.
October 17, 2015
Rated

1

out of

5
 by
lady with hair
what are you thinking?
I have been using the previous version of this product for many years, and it was excellent. Do you (meaning the manufacturer) realize that I need to go find a new product now? Once I do find a new product I will never come back and buy your products again. Not out of any meanness or anger, but that's just how it works. This new product smells bad and doesn't work. Do you really think people will continue to buy it? Get with it!
November 7, 2014
Rated

5

out of

5
 by
vegas62
Great product and the fragrance is wonderul!
My hairdresser used this on me and I bought it that day! I absolutely adore the fragrance and then had to have the shampoo and conditioner as well! I have thinning fine hair and it helps to add volume and shine. I hope the company will add more types of products to this line. I know that I will use them!! ;)
April 16, 2015
Rated

5

out of

5
 by
meganrenay12
All Around Wonderful!
I bought this shampoo & conditioner about a month ago & I love it! Normally, after washing my hair, I always have to blow dry it with a round brush to really get the volume I desire. However, with VolumeBloom I can just wash my hair & let it dry naturally without being flat to my head! It also helps that it smells amazing!!
October 9, 2014
Rated

5

out of

5
 by
Lma127
Great volume product !
I was quite impressed with this volumizer . It gives a good amount of natural feeling thickness and added texture . My hair felt and looked fuller & thicker . I did use it in conjunction with the coordinating shampoo & conditioner and I am hooked ... My new favorite hair product !
May 9, 2014
Rated

5

out of

5
 by
Stacia207
Great Volume
I bought this product when my stylist suggested it and it does really work. I use a clay texturizer on the ends and a light spray and have volume with movement all day!
October 7, 2014
Rated

3

out of

5
 by
KimG
Full Lift Spray in Volumizer
Its difficult to find a product that works for me. When I finally do find one, it's very disappointing that it gets discontinued or changed. Please bring back the bodifying gel spray that my hair loves!
June 19, 2014