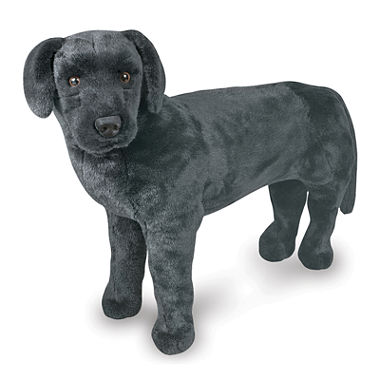 Melissa & Doug® Black Lab Plush
pp5006100247
PRODUCT DESCRIPTION
Man's best friend is all the fun without the work with this soft, Black Lab plush.
30.5" long
for ages 3+
polyester/metal/plastic
spot clean
imported
Rated

4

out of

5
 by
Slappy
Helps with a loss of a fur baby
My sister bought this for me because my black lab (Slappy) had to be euthanize due to having liver cancer. It was and is extremely difficult because he was a big part of our family. Every night I actually hug him and tell him I love him and miss him and it makes me feel a little better. I only wish this was a little bigger as to be the adult size he was. As you can see in the photos Slappy's collar fits perfect which makes it even more realistic for me. This has helped me so much with the loss of our fur baby and I would recommend to anyone especially when you have to say good bye. I have attached a picture of Slappy when he was a puppy so that you can see how realistic they look.
April 27, 2016
Rated

5

out of

5
 by
Mr. Bigglesworth's Owner
Get this product!
Since I can't own a real dog, this is as close as it gets! We ordered Mr. Bigglesworth online and he was shipped to our house. I have had mine for 2 years and it has been excellent!!! Alothough it took quiet a while longer to ship than expected- it was worth every day waited! If you are considering buying this, please do, it will enhance every day you spend playing or looking at it! I babysit toddlers and they ADORE him! The only problem is that they want to ride him like a rocking horse. But there are truly no better toys to buy for children! This toy will never get "old" or boring for children. Over vacation we sit him inside near the front door as our "gaurd dog." He has several collars as well! We even put Build-a-Bear Workshop rollerskates on his feet so we can pull him around the house or driveway! Please, do yourself a favor- get this product!!!
June 1, 2009
Rated

5

out of

5
 by
Jack
Black Lab stuffed dog used at SPCA
At our SPCA we use this to test aggression in dog to dog assessments. It is so real and life like we use it instead of a real dog to test, in a very controlled environment, aggression with shelter dogs. We have named him Rowdie and he gets quite a bit of abuse from live dogs. We actually have videos of this.
February 6, 2016
Rated

4

out of

5
 by
LD Crowley
Very life-like, she fools visitors and others all the time.
I got Chippy (chocolate lab)in a shop in Folsom, CA 10 years ago. She has guarded our home since, not a break-in during that time. She also helps me with Yard Sales, by being there she draws people who try to buy her, or other dogs thinks she real also and come over to play or avoid her. It's a shame she has no voice to welcome nice visitor & kids or a growl to ward off the unwanted. (great for the single person that needs companionship/protection of a dog without the fuss real ones require. How about making available a baseni with thier unique yoddle instead of a bark.
September 14, 2015
Rated

5

out of

5
 by
beth the horse back rider
rellistick black lab
i have 4 of these relistic dogs and i love them i have a black lab named midnight, a coker spanial named chole, ia have a shetland shep dog named shyanne, and a chihuahua named roxy. I use this product to trick my neibors because my neibors are my friends and we joke around with each other.The great thing about them is that they are so life like my mom was walking around the car and she saw midnight and the others and she thought they were real dogs. The only bad thing about them is that is my sister thinks she can ride them a they can hold her waite. and i hope to get another one for my birthday.
March 19, 2010
Rated

5

out of

5
 by
lab ma
so realistic!
I am in the Coast Guard and I am at sea for up to 9 months out of the year. I have a black lab who is my baby, and my best friend. I get incredibly homesick without him because I can at least e-mail my husband and call him during portcalls. So when I go to sleep at night I have this monster taking up my rack just like my monster takes up me bed, it couldn't be anymore realistic unless it dropped toys on my face while i was sleeping, haha. I love it! I recommend it to anyone and the wires for posing are very sturdy! because sometimes I hand him standing, sitting or laying around my boat to scare people because they always think it's real!
December 25, 2010
Rated

4

out of

5
 by
Apalapadingdong
Great Product!
This product is very realistic and a great gift for any dog lover. Amazing for people who like dogs, but have allergies. I bought this for myself, and LOVE it. The only thing I would change, is how his head is facing one side. I want the basset hound, because it is standing, and looks straight. If you took your dog on a "walk", you'd have to drag along a sitting dog across the floor on it rear. You should definantly buy this produnt, and it is great for everyone.
October 29, 2010
Rated

4

out of

5
 by
Emily
great pet
I got Mena 5 years ago when I was 8 years old. I love her so much. She's soft, fun to play with and she's so adorable! What I also love about her is that, everyone who walks into my house thinks that Mena is a real dog! But if I could change something about her I would make her easier to pick up becauce the dog can only stand in one way. But other then that I think she's a great pet. ( and my parents liked her because she was "easy to train")
April 18, 2010