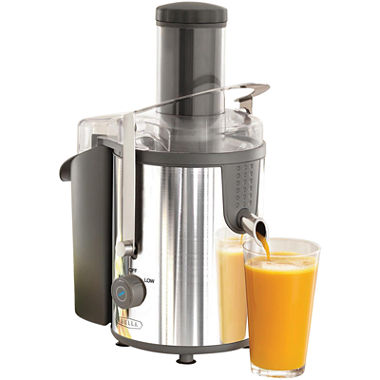 Bella™ High Power Juice Extractor
web ID: 7803209
Make your favorite fruit and veggie juices, or create superior frozen beverages, with this two-in-one, high-power juicer and blender with customizable settings.
large capacity for all sized juice jobs
1000 watt motor lets you quickly extract juices from your favorite fruits and vegetables
stainless steel housing includes a locking clamp to prevent spillage
detachable and dishwasher-safe parts make it easy to clean
removable pulp container and micro mesh filter included
1-liter, easy-to-use juice cup with splash-free lid and pouring spout
3" diameter food chute accommodates most large fruits and vegetables
2-speed function with pulse for ultimate pulverizing
customize your juicing and blending with varying speeds
nonskid feet prevent juicer from sliding on countertop
delicious Bella recipes included
1000 watts. Plastic/stainless steel. Imported.
Item number: 13694
Rated

1

out of

5
 by
sailor
DO NOT BUY THIS PRODUCT
Do not buy this product unless you want tiny pieces of broken plastic in your juice. My husband and I used this juicer twice. Thankfully we noticed the broken part right away although it was already too late. I am pretty sure we have ingested those parts. Now, all the removable parts of this juicer will not fit unless they are properly put it. So there's no other explanation for this to have happen other than this is a flawed design. There is about half a centimeter distance between the super sharp blades and the edge of the tube (where you drop the fruits). As the blades chop (or grind?) the fruit they get stuck in between and rub against the plastic tube edge thus the broken edges. A much stronger material must be used to withstand the pressure during the juicing process. At the moment, my husband and I are worried about the consequence of having drank those plastic to our health. Bella, can you please address this concern.
October 9, 2015
Rated

5

out of

5
 by
AnnieFaj
Great qaulty juicer
I was really surprised at how well this Juicer worked. I know some juicers can be really expensive some over 300 hundred dollars and you think you need to pay that much to get a high Quality juicer. It turns out that its not the case. This juicer is very well priced and works great. One of the things I was most happy with was how easy it was to clean, literally took me minutes to take apart and clean. I have been able to juice many types of fruits and veggies with no problem at all. I like that it had a wide feed tube so I didn't have to do too much prep work. The sound was not as loud as some juicers are so I didn't wake the whole house up when I make my morning Green juice. It comes with a juice cup that has a pouring spout and lid which was really nice. The only thing I noticed is that the catcher stained a bit but besides that it is a wonderful juicer and I highly recommend it to anyone that is looking for a high quality juicer but doesn't want to spend too much money.
September 20, 2014
Rated

1

out of

5
 by
Funn
Stopped working :-(
I bought my juicer early this year and I used it once but when I brought it out to use it would not work.lights on but it wont juice. Anyone. Any Idea? Cant locate my receipt
September 21, 2015
Rated

2

out of

5
 by
Henry8
Not the best juicer
After about 10 uses, the juicer quit working. I'm very disappointed that it stopped working this soon.
April 20, 2015
Rated

2

out of

5
 by
George25
plastic products not good in dishwasher
We bought this at Christmas and the juicer itself works well.. however once you wash it in the dishwasher the plastic parts get out of shape. The catch container cracked. And the juice container, the lid doesn't fit anymore due to the heat from the dishwasher.. Now having to pay to replace those to items
July 17, 2015
Rated

5

out of

5
 by
GAMomOf4
Awesome Juicer/Great Value
I received this juicer to try and I must say I was very impressed. I liked how easy I was able to put it together and start using it. I love how tight the suction cups hold the juicer in place. I felt at ease allowing my kids to help make their own juice because the chute was tall enough that I didn't have to worry about them getting hurt. My kids enjoyed watching whole fruits and vegetables go in and juice come out. The only thing I did not like was that the amount of waste it produced but I found a way to use the skins and waste, I put it in our smoothies. We tried several different mixes but my favorite was apple, celery and pineapple. It was DELICIOUS!!!! The clean up was very easy especially with the brush that is included. I just hand wash the parts and let it air dry. I also liked the pitcher it comes with because it is lightweight that my kids can pour their own juice.
June 25, 2014
Rated

4

out of

5
 by
juicing49
Easy to assemble
This is my first juicer and I like it....easy to put together and take apart...kinda hate that the veggies and fruit want all make it down to the disregard container.But most does.though..easy clean up..
February 6, 2015
Rated

5

out of

5
 by
Preet
Great juicer ever
Hi, We have a great experience using this juicer for 2 years but unfortunately we have one part broken today. The speed button. It has 2 speed function: High and Low. I wanted to know, where can I get its part replaced? Thanks, Preet
July 8, 2015