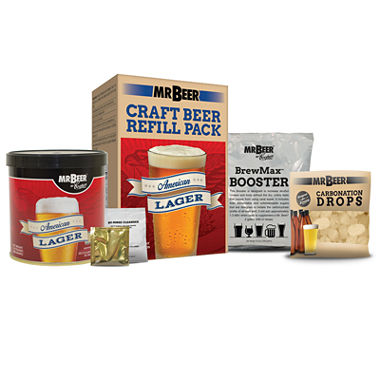 Mr. Beer American Lager Craft Beer Making Refill Kit
ppr5007133086
PRODUCT DESCRIPTION
Base Material: Pvc
Country of Origin: Made in US
Rated

4

out of

5
 by
Coach0927
Time confusion
When making the direction on the package says to let it set for a week before bottling but in the video it says 2 weeks. Which is it? I let my Lager set the extra week and it turned out great but now I make the Honey Blonde Ale and want to be sure to give it the correct time. Anyone else done Honey yet?
August 7, 2016
Rated

5

out of

5
 by
sportin woody
This brew always exceeds my expectations.
This is tied for first on my all time favorites list! This lager is ALWAYS able to quench my thirst and satisfy my love of beer! Hoppy, malty, and never varies, unless I make it with honey for a changeup. Oatmeal Stout is tied for first for that warm feeling you get with delicious beer. Chocolately notes and coffee notes also make this a treat, also.
April 29, 2016
Rated

4

out of

5
 by
TedK
Excellent beer for summer.
Years ago Mr. Beer had a refill called Cowboy Golden Lager. Unfortunately, it was discontinued. However, American Lager is very close in taste and smoothness. It's light and fresh, just perfect on a hot summer's day after mowing the yard. Better yet, enjoy it while mowing the yard.
April 27, 2016
Rated

5

out of

5
 by
milesthedeputy
A great drinkable homebrew
Made this brew using the American Lager refill and the booster. The result was a clean easy drinking beer. Nice light appearance and poured well with the perfect amount of head. A great brew to drink on any occasion.
April 28, 2016
Rated

5

out of

5
 by
Papakupz
Party favorite with great reviews
Easy to brew. Since I started using Mr. Beer, the Anerican Lager has been a very popular in demand beer at our get-togethers.
April 10, 2016
Rated

5

out of

5
 by
Timk1976
Great beer!
This is by far my favorite refill! It taste so much like Budwieser my friends can't tell the difference!!
April 27, 2016
Rated

4

out of

5
 by
Ernie
2nd time brewer
Being that this is only my second time brewing I think I will experiment a little. The first time I brewed I think I was to excited and just couldn't wait.... It turned out good and was drank in just a couple days. This time I am going to wait give it a little longer to ferment an extra week .. My advice to anyone trying it for the first time DON'T RUSH IT...
January 14, 2016
Rated

4

out of

5
 by
samnzeus
getting it
I also enjoyed this brew the condition doesn't take forever like some other brews great for beginners
January 7, 2016