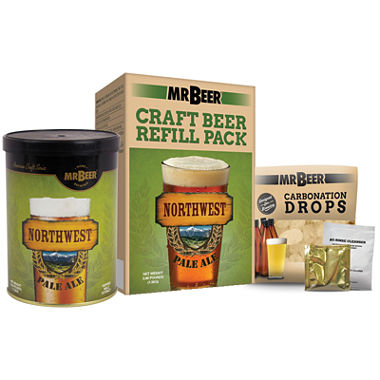 Mr. Beer Northwest Pale Ale Craft Beer Making Refill Kit
ppr5007133087
PRODUCT DESCRIPTION
Base Material: Pvc
Country of Origin: Made in US
Rated

4

out of

5
 by
jonbeer
very versatile
Ive tried this refill several different ways. Straight up hme only is good, but i agree with the other reviews who used cascade hops. I give the hops a 12 minute simmer in pale lme and then add the hme. Good amber color, balanced taste with a very slight hop aftertaste. Not to bitter at about 5 percent abv. I recommend three weeks fermentation and at least three weeks in the bottles.
April 28, 2016
Rated

5

out of

5
 by
Pip101
Great Beer!
I bought this refill kit and decided to put a little twist on it. I added a 15oz can of mangos that I puréed and 1oz of citra hops. It came out great, however next time I will double the hops! I'm a huge ipa fan and it wasn't really hoppy. Anyways this a great base to experiment with and I will definitely recommend it to any pale ale fan.
May 2, 2016
Rated

4

out of

5
 by
Scott1
Good results
My third brew, after 4 weeks tasted just average, but after 8 weeks much better. Nice color, great carbonation, smooth drinking.
April 27, 2016
Rated

5

out of

5
 by
reupguy
Awsome Beer
I brewed this as my second attempt at making my own beer. It turned out great. The flavor is wonderful. It is very similar to Henry Wienhard's Private Reserve, A very smooth drinking beer. This is the beer I have been looking for the past 30 years since I was stationed in the Northwest while in the Army. So far all my friends and family who has tried it, love it.
March 1, 2016
Rated

1

out of

5
 by
Jprobus2
Expired Can
When I went to sample before bottling tasted HORRENDOUS! I didn't notice anything wrong when I opened the can smell wise. But luckily I kept the can cause of the instructions on the side and it is 3 months expired. I kicked myself in the teeth cause I blame myself for not catching that before brewing. I do not have anything negative to say about mr beer on it I should've spotted it to and asked for a replacement can just frustrated I wasted all that time. But lesson from this to y'all is check the dates on your cans I wish I did so I could've gotten a replacement one! Still love mr beer again I'm not angry at them probably could've been fixed before I opened it.
December 30, 2015
Rated

5

out of

5
 by
Davz13
Tastes great!
Pours darker than I expected; more amber-orange compared to the golden color I thought. Anyways, the color doesn't matter to me. What does matter - this tastes delicious. Some orange and honey tastes, and slight caramel. Great combo. Very smooth, too.
February 1, 2016
Rated

5

out of

5
 by
shotgun
Good all around beer.
I fermented the brew for three weeks at 70 -72 degrees. I also added some cascade hops half way through. Tried one three weeks after bottling. Very good hops flavor. Not quite ready. Looks like five weeks and will be a great beer. I am a IPA fan, so after the hopy flavor.
February 2, 2016
Rated

5

out of

5
 by
Big Sarge
Outstanding craft refill!
This was my very first craft refill brewed and I was pleasantly surprised how well-rounded of a beer it was! I don't traditionally opt for a hoppy style, but a 43 IBUs, I would almost lean towards this beer being closer to balanced than hoppy. If you are looking to expand you horizon a little bit, this is a great place to start.
January 7, 2016