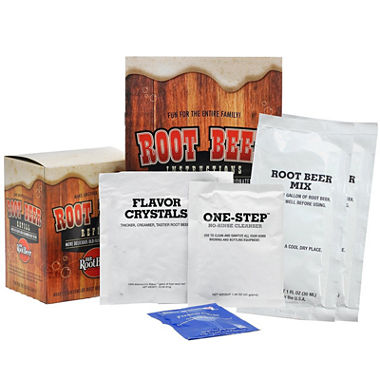 Mr. Beer Root Beer Refill Kit
ppr5007133097
PRODUCT DESCRIPTION
Base Material: Pvc
Country of Origin: Made in US
Rated

2

out of

5
 by
Walt_Felix
A bit of a disappointment.
I was really looking forward to this batch but it just didn't live up to the expatiation. Started with a nice Root Beer aroma, but tasted like a bitter beer with a little Root Beer flavor. And the trub is awful so plan on pouring a little more than usual down the sink. I may have done something wrong so I'll give this one another shot, but if the next batch turns out the same, I will probably avoid this kit in the future.
June 1, 2016
Rated

5

out of

5
 by
Madsdad1
Who doesn't love Root Beer?!
*Disclaimer - I actually wrote this review in the Hacked Root beer section by accident. It was meant for here* Santa brought this kit to my daughter for xmas this year because she had an interest in brewing with dad. Instructions were simple and the process was so convenient and time valuable. After 5 days we refrigerated a bottle for her NYE party with some of her 11 year old friends. Needless to say, the bottle went in 5 minutes because it was so tasty. The next bottle we opened the next day and I wasn't ready for the carbonation...it fizzed, then shot up into my face. Giving us both a great laugh. We still had half the bottle to drink and loved it. We will definitely be brewing this again for the taste, partnership between father and daughter, and the laughs it created. Thank you Mr. Beer for making the brewing process a family thing. Jason Rhodes Higganum, CT
January 6, 2016
Rated

5

out of

5
 by
Learningtobrewandstew
Smells great, can't wait to try it!
I just finished bottling this beer and I can't wait to try it! It smells amazing! If it tastes as good as it smells I will be super happy.
April 27, 2016
Rated

5

out of

5
 by
Rokitman
You'll LOVE This Root Beer!
I was given a Hacked Rootbeer Kit for Christmas by my son. I had only brewed one other batch of Mr. Beer until then, from a new kit with the Classic American Light. I enjoyed it so much I thought about trying something different. The HRB was even easier to make than the CAL. Requiring the same fermenting time, but only 5 - 10 days in the bottle before you can chill them. There is one extra step that has to be taken. After the fermentation is complete, the wort is transferred to another 2 gallon keg and additional ingredients are added. White and brown sugar, root beer flavoring liquid and vanilla extract (optional). Once mixing is complete, you're free to bottle. 5 - 10 days later, they go in the fridge and they are ready to drink in another 3 - 5. I found the first couple bottles were a bit bold. A little bite of an aftertaste but definitely drinkable. After a week or so the flavor settled in was greatly improved. And no aftertaste. You can definitely taste the alcohol in this beverage and it doesn't take many to start feeling it. I used two cups of white sugar and two cups of brown and a tablespoon of vanilla extract. I found it a bit sweet but not overpowering. I'll probably reduce the white sugar to one cup next time. The only issue I found was a fairly good amount of sediment in the bottles. And if they get stirred a little too much while pouring, it adds a bitter flavor. I solved this by straining it through a piece of cheesecloth into the glass. Worked out fine. I may try to liquify the sugars before adding them to the next batch and see if that helps. Overall, I was VERY happy with this brew. Easy instructions and not too long of a waiting period. The taste was exceptional and very much like the old A&W root beer we had as kids. I highly recommend you try Hacked Root Beer for yourself. - Dean -
February 26, 2016
Rated

5

out of

5
 by
rfromr
Best Rootbeer
Makes best Rootbeer every, fast and easy. Fast shipping
February 12, 2016
Rated

5

out of

5
 by
RevRatcliffe
Best Root Beer - Guaranteed
Only downside? I can buy quality extract cheaper at a local brew store, make up to four gallons at a time, and save money. However, the quality and flavor of this root beer pack/recipe can't be beat. Easy to make and you will enjoy it!
December 22, 2015
Rated

5

out of

5
 by
nichalicious
Great refill
Everything you need to make a new batch of root beer with the hacked root beer kit!
January 12, 2016