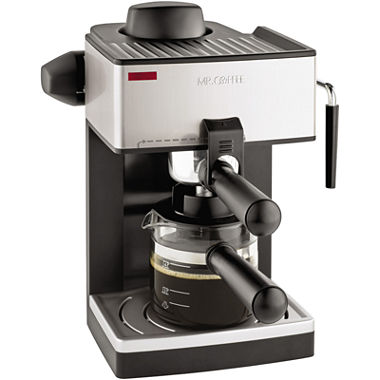 Mr. Coffee® Café Espresso Maker
pp5002700059
PRODUCT DESCRIPTION
Nothing starts the morning off, or completes a dinner party, like a delicious cup of espresso. This steam-technology espresso maker uses the Italian system for creating your favorite drinks, including lattes and cappuccino.
steam espresso machine
brews 1-4 cups at a time
makes cappuccino and lattes
powerful milk frother for creamy cappuccino
decanter with measuring marks for your convenience
stay-cool handle to keep you safe
drip-free pouring spout minimizes mess
cup warmer
removable drip tray is easy to wash
self-cord storage
measuring scoop included
Metal/plastic/glass. Imported.
Rated

1

out of

5
 by
smnh
The Worst of the Worst
I had a simlular Mr. Coffee Espresso maker that did ok for home use until it wore out. I just bought another one and I cant believe how much cheaper they made these machines. The filter holder and filter are made with such cheap aluminum that plastic would be thicker. Don't be misled that this is an espresso maker, like it claims to be. It is not. But, it is exactly what ELSE the box says it is, "3 Perks". This machine does not warm up, pressurize and then run even flowing water through the filter. You have to turn it on and be ready for the water to drip out into the filter. It could take 3 to 5 minutes for the water to flow through the filter, just like the instructions say. BUT, it drips into one spot and most of your espresso never even gets water to it. When my first shot was done,I emptied the filter and I still had grounds that never got saturated. The espresso really stank, it was not property made. I wasted a good shot of Hawaiian espresso.
September 3, 2016
Rated

3

out of

5
 by
LaLaG
It's ok but not great
I owned a previous model of this product and was very excited to upgrade. It looks very nice. I love the locking feature that allows you to dump out the coffee grounds. However I have found this model to be more difficult to use than my previous model. At least as far as the milk frother goes. I wish that the arm was adjustable. I also wish there was some indicator of when to switch to and from the steam feature. While I understand, per the instruction booklet, that there is a learning curve to frothing milk it seems nearly impossible for me with this product. I had no issues using my previous model. I'm not sure what is different other than the cover on the steam wand. I haven't been able to make a decent cappuccino yet. It's a disappointment. I will keep trying, and hopefully get it right. But as that is one of the two main functions or the appliance it is frustrating to have such a difficult time using it. It is possible it is completely user error. But at this point I don't know. * I received this product as a sample in exchange for writing a review.
September 26, 2016
Rated

4

out of

5
 by
daspiel
For the money it is a good machine...
For the money the machine works as advertised and expected. The machine worked brewing the espresso, but the included spoon does not work well has a tamper. Highly recommend purchasing a good tamper to be used when compacting the coffee and invest in a small metal cup for when you steam the milk. I wish they were included in the box and would make it well worth the additional cost, but something to consider picking up if you purchase the machine. I received this as a gift to review and would recommend it as it functions as one would hope, but get the tamper and metal cup for steaming :)
September 26, 2016
Rated

5

out of

5
 by
Danielle R
Great Expresso and Cappuccino Maker
The Mr. Coffee Steam Expresso and Cappuccino Maker is the perfect piece of kitchen equipment. I love the compact size and the fact that it makes both Expresso and cappuccino. It is an easy to use machine and the clean up is effortless. It quickly brews up the perfect Expresso and the milk frother makes a perfect cappuccino. This machine surpasses my expectations and is definitely worth the counter space in my kitchen. I foresee myself using this machine for many years to come. Disclaimer: I did receive this product for the purpose of reviewing however all my options are my own.
September 26, 2016
Rated

4

out of

5
 by
Gira
Espresso, anyone?
When I first received this item to test out to review, I was so excited. After thoroughly reading the instructions a few times, I finally had some espresso. All the features worked just fine and it's pretty simple after you use it a couple of times. The machine is a great size and doesn't take up too much counter space. The stainless steel design looks very classy and I'm very happy with the overall product.
September 26, 2016
Rated

3

out of

5
 by
Bbobloblaw
Decent espresso machine
This is a decent espresso machine and is good for beginners to learn how to make cappuccino and espresso. It's fairly inexpensive and can produce decent quality drinks. The steam wand is a great function that really adds to the drink. It does take some time and experimentation to figure out how to make a good cup, but after several tries I was happy with the results. I really like that it's compact and not very loud too.
September 26, 2016
Rated

5

out of

5
 by
Farolito
Great product
I really like this product , my family always says how great cappuccino you made with this machine
September 27, 2016
Rated

3

out of

5
 by
Apwilliams01
A shot of coffee
I received this to review and try. I like that you can have a shot of espresso and coffee that is a little stronger. However, the frothing tool was not working properly. I was unable to make cappuccino with the foamy froth. I would definitely give more stars if this feature worked.
September 27, 2016