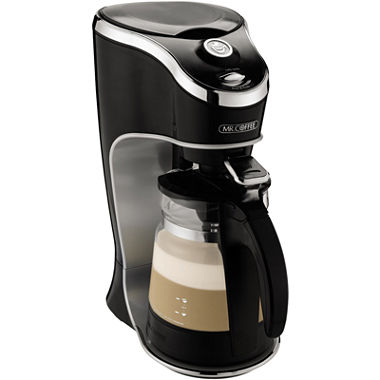 Mr. Coffee® Café Latte Maker
web ID: 7801329
There's no need to venture to the coffee shop for an overpriced beverage when you can brew a delicious latte with the touch of a button, in the comfort of your own kitchen.
brews 2-4 cups at a time
makes lattes and hot chocolate
24-oz. capacity
easy-to-use, one-touch operation
Plastic/glass/stainless steel.Measures 11.9x6.9x13.8"H. Imported.
Rated

5

out of

5
 by
Qiuhua
It is the BEST coffee machine!!!
I love latte and this machine is perfect for making latte. Very easy to use and clean. The flavor of the the coffee is also wonderful! I love it!
November 21, 2015
Rated

4

out of

5
 by
Shahram
Excellent Unit and Work Great; However....
I had received a unit last year as gift and really enjoyed it. Still works perfect and makes very hot latte; which is the way I like it. However, I purchased another [back-up] unit when it was on-sale a while back and came to notice recently that this one did not come with a permanent filter; which the one I had gotten as a gift did. I was just very disappointed and would have returned it, had I opened it earlier and noticed the difference...Anyhow, otherwise I would have given a five star rating!
November 9, 2015
Rated

5

out of

5
 by
Mama of 7 month old
My new best friend
I bought this almost a month ago and use it daily. I am someone who went to Starbucks every day. It is so expensive but I am very picky about my coffee. I decided to try this in hopes to save me money but was very skeptical. I absolutely love it!! It makes delicious lattes. In fact, I went back to Starbucks recently and had my usual. No joke I like my Lattes at home better. Crazy but true! I also have made lattes for others because I'm always raving about them and everyone has loved them as well. You can make skinny lattes, soy lattes, and almond milk lattes which You can not get at Starbucks. Great Machine!
October 28, 2015
Rated

5

out of

5
 by
Stefan
This little gadget delivers on its promise...
I'm not a fan of "frothy" coffee, but my wive LOVES it, and this thing is so much easier than an espresso machine. We own one of those and almost never use it. This machine gets used a LOT. I use espresso beans, grown fine. We use sugar free syrups, skim-plus milk, and a little bit of sugar-free creamer in the pot. YES - the pot has a "hot spot" at the bottom, but after months of use, it looks just as it did the moment it came out of the box. I make a point of washing the pot immediately after pouring the drink. It takes just a moment, and if you do that, everything stays perfectly clean and looking great!
November 1, 2015
Rated

5

out of

5
 by
svr828
Latte every night
We love our Mr. Coffee Cafe' Latte machine. It is super easy, super quick and makes wonderful Lattes/Cappucinos. My husband and I enjoy our evening latte after dinner each night. I had a recent issue with my machine and customer service was awesome to help correct it.
November 5, 2015
Rated

5

out of

5
 by
Sakary
Best Latte Machine Ever!
A coworker bought this machine and brought it into work for a day. I was hooked! The latte was amazing! Light and frothy with minimal effort! I ordered two machines from the Mr. Coffee website, one for my son and one for our kitchen. We also have one now at work, and our two o' clock lattes are what keeps us going! I have had latte machines before, but this is by far the best latte machine I have ever owned. Thank you, Mr. Coffee!
November 11, 2015
Rated

5

out of

5
 by
MIgal
Great latte
I was hesitant to buy this because of all the reviews about the fragile carafe which cannot be ordered separately if broken. But I bought it and I love it. I use soy milk, and had to try a few brands because Silk made little froth. Simple Truth and Organic Valley both work well. So I'm being very, very careful with the carafe because I'd be disappointed if I couldn't make my morning latte.
November 1, 2015
Rated

5

out of

5
 by
SN11
Nothing better!
This was a 2nd purchase of the same item for me ... for backup when my 2-year-old Cafe Latte eventually wears out from constant use (multiple times/day), purchased on sale here because I simply cannot be without this product. I don't drink regular coffee anymore because this is so perfect, the best latte right at home! I was ordering a replacement whisk because I dropped my older one and it broke (entirely my fault) and picked this new Cafe Latte up while I was here because the price was great. If you like $5/cup coffee at one of "those places," you need this at home with some skim milk, fresh-ground espresso, and a favorite flavored syrup ... and whipped cream and caramel or chocolate sauce on top ... you'll save a bundle AND love it!
October 16, 2015
$4.95 oversized item surcharge

An oversized item surcharge may apply to some heavy or bulky items due to size, weight or special handling required. This item surcharge is in addition to standard shipping rates.