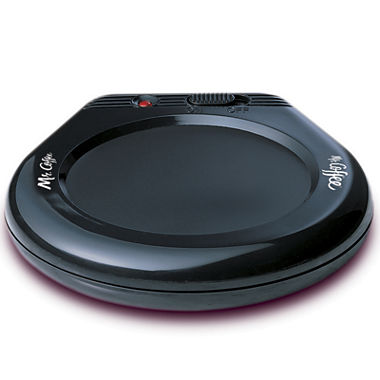 Mr. Coffee® Mug Warmer
pp5005940505
PRODUCT DESCRIPTION
Don't you just hate it when you've poured yourself a nice hot cup of coffee (or brew a steaming cup of tea) and then get called away only to return to a tepid drink? Now you can keep your favorite beverage hot with this mug warmer.
keeps your mug warm
great for tea, cocoa and other hot beverages
on/off switch
on indicator light
convenient cord length for use almost anywhere
Plastic/metal. Measures 5.2x8.3x1"H. Wipe clean. Imported.
Rated

5

out of

5
 by
Frank
Works as advertised
Exactly what I was looking for to place in my office.
November 18, 2015
Rated

1

out of

5
 by
Marylynn
Not hot enough
I bought this because it had good reviews about keeping beverage "hot". It does not keep my coffee hot enough even though I cover my cup to contain the heat. I am very disappointed in this product.
July 13, 2016
Rated

4

out of

5
 by
NorCalRico
Keeps Coffee/Tea/Soup Warm
I performed a test of this product in my kitchen with a 12 oz. cup (porcelain) of hot water (166F) from a hot/cold water dispenser which I immediately placed on the warmer after being on for a couple of minutes. After 30 mins. on the warmer the temperature decreased to 133F and another 30 mins later to 123F. I used a candy thermometer for temperature readings. This was a ventilated room with an open window nearby from about 5 ft. The tea was still very warm and most likely would need to be reheated for those who enjoy a very hot cup of coffee/tea. The product works as advertised as it is not intended to reheat the contents. It is a very convenient product, safe to use and maintain. I am still happy with my purchase.
May 10, 2016
Rated

5

out of

5
 by
Gizmo
Great Product
I received this as a gift for Christmas 2015. I love it. Had to leave my desk for 3 hours forgot to turn it off and when I returned it was as hot as I had left it. It keeps my tea very warm all day long. Make sure your cup fits within the warming spot and sits as flat as possible to touch the warmer.
May 10, 2016
Rated

5

out of

5
 by
Lady Di
Keeps beverage warm until the last drop.
I purchased two mug warmers for my sisters because they always want mine when they visit.
April 6, 2016
Rated

5

out of

5
 by
HappyCamper
Great product!
I've had one of these for years and absolutely love it and use it every day. I recently bought a second one so that I wouldn't have to take it with me every time I visit our cottage upstate. Even if I'm there for just a long weekend, I don't want to be without it. It keeps my coffee just the right temperature. The one I've had for years has endured a lot of abuse - spilling on it, knocking it on the floor many times, etc. - and it just keeps working beautifully. Amazingly durable product. It's one of those rare little devices that solve an every-day problem in a convenient, low-cost way.
January 18, 2016
Rated

1

out of

5
 by
carlton1975
Clunky
Overall, this unit is so-so at best. The warming function barely keeps the coffee warm, the "on" light is so dim, it's easy to forget it is on; only to come back a day later and find it still on. Thank goodness it's only $9.99. I've had it 3 weeks and am already looking for a replacement. I'd steer away from this product.
February 28, 2016
Rated

5

out of

5
 by
NeedleNtz
Hot to the last drop!
Great ... an arms length from my PC n phone what more could I need?
March 9, 2016